Bonnie B. Lee writes about the four-part structure from Chinese poetry that informs the ceramics of Kawase Shinobu.
After a half-century in the field, Kawase Shinobu is regarded as Japan's most outstanding artist working within the ancient tradition of celadon. In this latest dazzling body of work, Kawase moves beyond the Song Dynasty models and showcases his brilliance on the wheel, paired with a command of celadon glazes in a range of luscious and delightfully surprising colors. This exhibition also marks nearly forty years of a fruitful and fulfilling partnership between the artist and Joan Mirviss. It was over this long period that Kawase distinguished himself as an artist who honored historic precedents in celadon while also pushing its limits beyond anyone working in the medium. Seven years since his last solo show in New York, these latest works—flawlessly elegant, and with an easy perfection—attest to his unrivaled mastery of celadon.
… his illustrious career in four parts that mirrors the structure of Chinese poetry: Introduction, Development, Turn, and Conclusion (or, kishōtenketsu)
Reflecting back on his decades-long journey as an artist, Kawase Shinobu (b. 1950) frames his illustrious career in four parts that mirrors the structure of Chinese poetry: Introduction, Development, Turn, and Conclusion (or, kishōtenketsu). A thoughtful ceramist as well as an erudite scholar of his craft, Kawase has drawn inspiration not only from the earliest celadon types from ancient China but also from the flourishing literary traditions that defined the Song Dynasty era.
As the third generation of a distinguished family of ceramists, Kawase started a serious career in clay as a young man by learning from his father and grandfather. At the age of twenty, he became totally enamoured with Song Dynasty celadon and sought to emulate its classical forms and styles. It was while he was still in this Introduction phase of his career that he initially met Joan Mirviss. She had seen his work at the Smithsonian Institution in Washington, DC as part of Japanese Ceramics Today, the 1983 exhibition of masterpieces from the collection of the venerable Mme. Tomo Kikuchi, and was intrigued and captivated by his exquisite works in celadon. Their first meeting the following year was the beginning of a decades-long collaboration and friendship.
Already celebrated for his work in this vein, earning him numerous prestigious awards, Kawase began to look beyond the orthodoxy prescribed by historic precedents. His subsequent Development phase was marked by a creative restlessness as he searched for more freedom in his forms. He sought out flashes of inspiration from Nature such as begonias, stingrays, cranes, auroras, waves, and lotuses. He translated those shapes and movements into clay, and the resulting works played with asymmetry and surprisingly dynamic effects. With the unique opportunity to present his works outside of Japan through Joan Mirviss, Kawase found an immediate audience in the West for his new approach to celadon with his signature lustrous seiji (blue-green) glaze.
According to the artist, the Turn phase began when "I awakened to the world of color." Challenged by their mutual friend—a Chinese ceramics expert—to create a birthday present for Joan in red celadon, Kawase was commissioned to create a gift not only unique and exceptional but also in a color he had never achieved before. He succeeded after a great struggle, and it was this unexpected success that sparked a new approach to his art. The subsequent ten-year exploration resulted in works in an astounding array of colors, including his distinctive suiji, or kingfisher celadon. Having started on the journey of color, Kawase became absorbed in producing the most challenging hues to execute through a notoriously difficult process: enji, or lychee-inspired blush celadon. When done successfully, enji merges red and green in a seamless gradient reminiscent of ripening apples.
Having at long last mastered the enji glaze, Kawase recently remarked, "Once past master ceramists entered the world of color and surface patternings, they became so absorbed in them that they were never able to leave; now I understood why." He, too, was seduced by, luxuriated in, and ultimately felt restricted by creating works in color. Now as an experienced artist, Kawase is satisfied with his foray into color, and he finds himself looking again at historical celadon – but this time with decades of experimentation imprinted in his hands, and with renewed eyes. His Conclusion phase is what he calls a return to the world of seiji (blue-green). In his most recent works, he has refrained from any other colors or unusual forms, seeking to fully express himself through the clarity of a seemingly simple hakuseiji chawan (white-blue celadon teabowl).
This exhibition features works from his Turn and Conclusion phases that are presented for the first time outside of Japan. "After forty years, Joan Mirviss has seen all my phases and witnessed my evolution as an artist. I am greatly pleased to present to my audience in the West these latest works, so that they too may experience and understand the transformation of my work," says the artist. It is therefore only fitting that Kawase's ongoing evolution continues to be exhibited with Joan Mirviss and that it continues to find a global audience.
About Bonnie B. Lee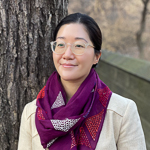 Bonnie B. Lee lives and writes in New York. She has been in the art world for over ten years and currently works at Joan B Mirviss LTD in New York.
Tags