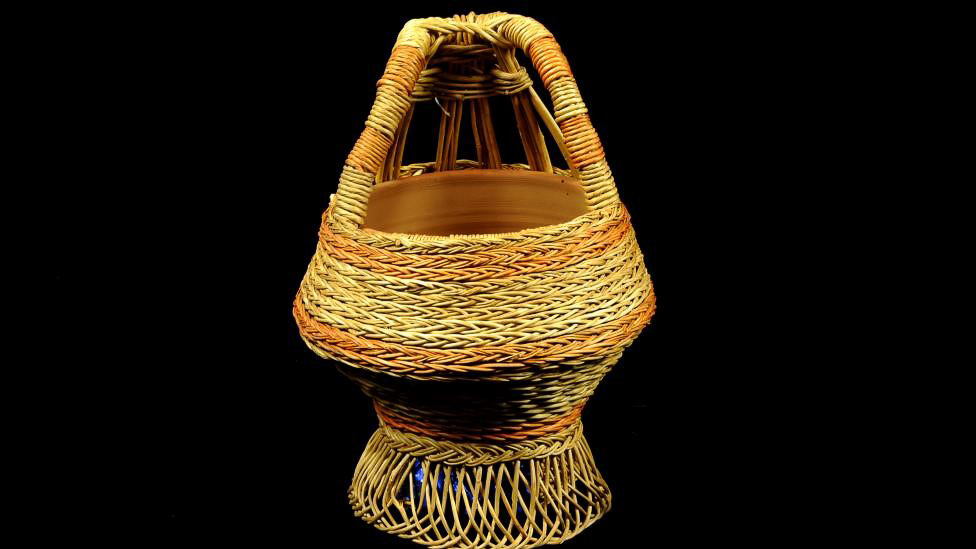 Irfan Ahmed documents the distinctive Kashmiri personal heater, which despite its heritage is destined to be a dying craft.
(A message to the reader.)
---
Kangri is an indigenous fire pot that is snuggled between the legs and abdomen to provide warmth, especially during the cooler winter months. The Kangri is a clay bowl woven with willow wicker that is draped beneath the pheran, the traditional Kashmiri dress. In Kashmir, the customary kangri, or fire-pot, keeps people warm during the harsh winter months, when temperatures can drop below minus 20 degrees.
Kashmiris store a portable and moving heater in their pheran, a long woollen cloak that reaches down to the knees and is used by people during the cold winters (Bhat, 2014, 16). The kangri is earthenware filled with shimmery cinders and is embedded in handcrafted wooden baskets. It is carried as a personal warmer. Kangris range in price from Rs 100 to Rs 300 each piece, depending on the craftsmanship and design.  Kangri has grown in popularity as a traditional handcraft. Apart from being used for heating, it is a long-lasting, environmentally beneficial, and cost-effective commodity.
Tourists are drawn to the city's vibrant colours, creative designs, and artwork. A kangri is not something that just anybody can do. It necessitates the use of expertise, labour, and local craftsmanship. Twigs are gathered from deciduous bushes, scraped and peeled, then soaked, dried, and dyed before being wrapped around bowl-shaped earthenware ornamented with multicoloured thread. With the increasingly chilly winter, the markets are selling new heating devices that have begun to replace our traditional Kangri.
Anyone visiting Kashmir in winter, experiencing variation in culture, social status and dialects, will find kangris across the valley. In a region where temperatures drop to sub-zero between December and February, Kashmiris consider the kangri is the most effective heating system. Despite the introduction of electric heaters and fashionable woollen outfits, the traditional kangri remains valuable. The kangri's most interesting feature is its mobility: the wicker handle allows them to carry it within their pherans wherever they go. "At first, the kangri was made of sun-dried pot (also known as kung), but as time passed, Kashmiris evolved to utilise oven-fired pots, and it was only later that wicker was used" (Hussain, 2010, 16).
Kangri always has remained an important aspect of the social life of Kashmiris since earlier times. During the winter season, it has served them as a vital hand-made device and an essential item, allowing them to avoid the stinging cold. This remarkable heater developed by the Kashmiri artisans by their own creativity and imaginations is embellished as a treasured belonging of a person and remains tied to his body beneath the pheran in Kashmir. While one moves around the neighbourhood or elsewhere, kangri can be taken under the pheran. Children, young and old in a household, remain mentally attached to their own piece of kangri (Saki, 1985, 16).
History
In Kashmir's heritage and culture, the kangri occupies a prominent place. Kashmiri is supposed to have learned from the Italians during the Mughal era from 1526 to 1757. In Italy and Spain, Scaldinos (a device akin to kangri) and braziers were made in a great variety of shapes. However, there is no documentary proof to substantiate this claim (Nizami, 2012, 16). There is archival evidence of Kangri use even earlier than 1526. A profound relation between Kashmiri and Kangri was noted by Revered Saint Sufi, Sheik Noor-u-din Wali who lived from 1377-1440. Among his most prized possessions was his own Charari Kangri, included in the possessions with which he was entombed.   The use of Kangris is part of everyday Kashmiri life, which is essential to important ceremonies celebrating the culture of Kashmir (Bhat, 2014, 1. According to Dr W.F. Elmstic, Kangri was initially introduced to the valley by Italians in India under Mughal rule, when one of the Italian priests, Jesuit Father, the first Wanderer, visited this part of the world and brought numerous parts of Kashmiri culture and customs back to Italy. During this time, Kashmiris in many areas of the valley learned the technique of Kangri weaving and chose it as their major source of income, resulting in the flourishing of the craft in Kashmir in the twelfth century. Others believe that the companions of King Akbar introduced Kangri to the locals during his conquest of Kashmir in the early era of Sultan Yousuf Shah Chak, a legendary ruler of Kashmir, during his assault of Kashmir (Saki, 1985, 16).
Types of kangris
Kangris manufacturing has decreased over time as substitute heating equipment has become more readily available. Kangris are created across the Kashmir Valley, however, craftsmen in particular places specialise in the craft. Chrar Sharif and Bandipora Kangris are famous throughout the state (Shafi, 2017, 16). Kangris is woven in a wide range of styles. Some of them are known as willow Kangri, Safeed or Kachoo Kangri, Dabdar and Fine Kalan". "Fine Kalan" is the king of all the types of Kangris (Saki, 1985, 16). Different socioeconomic classes utilise different forms of kangri. The most popular form of kangri in Kashmir is the Islamabad kangri, which has a large base and a wide-mouthed pot. These are commonly used by those who are engaged in outside activity and want a higher degree of heat. They cost approximately Rs100. The Bandipora kangri, which costs around Rs200 per pot and is manufactured of wicker with a finer weave, and is often used by the middle class of the society.  The majority of these are produced in the Bandipora area in north Kashmir, around 60 kilometres from Srinagar, the summer capital. The Chrar kangri is the most costly kind, with prices ranging from Rs200 to Rs400 for a slim, embellished pot with minute wickerwork (Hussain, 2010, 16).
There are a number of designs made out of this item and their use is restricted to different occasions.
Sada Kangri: It is used by everyone to keep warm throughout the winter.
Zaildar Kangri, Dub Dar Kangri, Door Dar Kangri: These are elegantly crafted  Kangris that are given to newlywed brides by their parents and in-laws on special occasions such as Shlvratri..
Shikari Kangri: This is a special type of Kangri because it has a big size and is used by boat-men (Saki, 1985, 16).
Popularity of Kangri
Kangri, the basic product of the willow works craft, is primarily utilised in the valley during the winter, and nearly all of the finished products are sold solely inside the State. Because the commodity has no potential for disposal outside of the state and is of little use elsewhere, it is rarely exported, and its distribution is mainly limited to state authorities. (Saki, 1985)3. However, it is also used in Kishtawar and Baderhwah, in Jammu region, and Leh and Kargil, in Ladakh region. Kangri is also in use in parts of Azad Kashmir and Gilgit-Baltistan region, including Neelam, Leepa and Rawalakot valleys, Poonch and Skardu (Hussain, 2010, 16).
Process and manufacturing of Kangri
The artisan families that manufacture the kangris are found in many places around Kashmir. The earthen bowl is made by a potter. The kangri-maker weaves a wicker basket around the bowl, adding two handles for easy carrying and a base for supporting the kangri on the floor. Kangri requires a huge amount of time and talent to make. The slender wicker twigs are collected by men and women in the wild. They prepare them by scraping, peeling, boiling, and drying the twigs before weaving them into kangris. As each process requires skilled hands, thousands earn their living in the production of kangris (Parvaiz, 2018,16). The clay pots are made by potters and then sold to craftsmen who decorate them with twig baskets. The baskets are adorned with colourful threads, mirror work, and sequins, according to the designers (Nizami, 2012, 16).
Manufacturing the kangri involves labour and local artisanal craftsmanship. Twigs are gathered from deciduous shrubs, scraped and peeled, then soaked, dried, and dyed before being wrapped around the bowl-shaped pottery. The earthenware is about six inches (150 mm) in diameter and is embellished with colourful threads, mirror work, and sequins. Kangris may be lit with just 250 g of charcoal and costs between Rs 70 ($1.12) and Rs 1,500 ($24). It is less expensive than oil, gas, and wood-fired heaters. In modern times, when electrical heating devices are available, the classic fire-pot is an effective and cost-effective heating solution. It does not disappoint people in the absence of power or load-shedding and keeps them warm during hard winters. The kangri is an enduring symbol of eco-friendly and cost-effective indigenous workmanship (Bhat, 2014, 16). After willow trees are cut in mid-October to November, the raw material for Kangri produced from the willow-wicker plant is collected. The process begins with harvesting, which involves cutting mature stems of approximately 6 to 8 feet from the base, followed by post-harvesting of green willow-wicker plant stems, which are kept in a water body to retain moisture before boiling. These plants are cultivated in clusters with a length of 5 to 8 feet and a diameter of 5 mm to 12 mm (Saki, 1985, 16)
The next stage is to prepare the Wicker, which involves boiling harvested green stems for 24 hours in a large community-boiling chamber. The sap may be removed from the useable wicker by boiling.
After boiling and de-skinning, the wicker is wrapped in bundles and placed inverted to dry in the sunlight. Splitting is the next step. Split the wicker sticks into two, three, or four pieces. After splitting, the wicker is passed through a machine with a fixed sharpened steel blade to remove the core or pith, resulting in strips of consistent thickness. The kangri cover is handwoven with delicate interweaves of the sticks in the last phase.  These sticks are soaked in water to make them more flexible and easier to weave. After drying, the finalized products are sold. The two types of twigs involved in the manufacture of kangri and rough baskets, namely kachoo and pahoo, are acquired from the nearby forests of Oki & Sadrakote Pain villages.  Because access to the forests is currently limited by the State Forest Department, a special permit is given for the purpose by the area's Forest Range Officer (Saki, 1985, 16).
Kangri producers lament that the firepot has been dealt a death blow due to inexpensive electrical appliances flooding the market before winter. Twigs cost Rs 600 for 5 kilogrammes for craftsmen. They weave seven different kinds of kangris.  The basis of distinction is quite uncanny. Parroptiopsis shrub, the primary twig, is decreasing. The seed must penetrate through the Black bear's and Hangul's gastrointestinal tracts. "The acids in their stomach effectively destroy the seed's outer coat or shell, allowing it to germinate," says Wildlife Warden Intesar Suhail. The seed regeneration has suffered as the Hangul population has declined. The majority of Pohu Hatab growers now rely on budding to rejuvenate their crops. Its accessibility has also been hindered as a result of its increased usage in the manufacture of spade, shovel, and axe handles, as well as firewood for the locals. Apart from modern heating methods, a rare form of Kangri cancer among frequent users is another factor leading to the loss of its lustre (Mir, 2015,16).
The craftsmen initiate the weaving of the bottom, which involves ten to fifty willow twigs, in the stage-by-stage methods of making kangri. The amount of twigs depends on the kangri's quality, design, and size. Immediately thereafter weaving of bottom is undertaken. The second phase of manufacturing is called "Zainagir".  This is the practice of embossing the earthen clay pot by raising the bottom at an angle of 1200 to a height of around one foot with fine twigs. This pot (kundal) is then inserted into the woven shaped willow twigs. The smaller twigs are subsequently woven around the body of kundal which is called "Dub". Ten to fifty twigs are used in the weaving of Dub. The fifth and final process of its manufacture is known as koap: the handle by which one holds the kangri.  The handle is woven from fifteen to twenty willow twigs, and the kangri is then ready for sale and usage (Saki, 1985, 16).
Demand & sale of kangri
Kangri's demand increases as winter approaches. "It's not costly — a Kangri costs around 80 Indian rupees. And they're sold like hotcakes in the winter," says Shabir Ahmad, proprietor of a Kangri shop in Srinagar's Batamaloo neighbourhood. "Profusely decorated Kangris, typically composed of an earthen pot and twigs, are expensive — and only the well-off can purchase them," Ahmad says. Kangri has grown in popularity as a handcraft. Kangri is regarded as a decorative item in drawing rooms in addition to being used for heating. "It attracts people because of its vibrant mesmerizing colours, unique designs, and artwork," Ahmad explains. Kangris are crafted all across Kashmir Valley, although some craftsmen are specialised in them. The Kangris of Chrar Sharif and Bandipore are popular across the state (Nizami, 2012, 16). Mohammad Sultan, a septuagenarian who works in a business on the outskirts of Srinagar doing wickerwork for kangris, says he has had consistent sales throughout the years. He estimates that over 40% of urban Kashmiris now utilise electrical appliances and hot-water bottles, but the kangri is still widely used. "The kangri will always be there." (Hussain, 2010, 16).
Rituals
On the top portion of Kangris, there are 2-7 rows of designs. Bridal kangris are named after the number of rounds they possess: ze-zal (two chains), trea-zal (three chains), tchor-zal (four chains), and so on until sath-zal (six chains) (seven chains). On their wedding day, Kashmiri brides are given special kangris. These kangris are brightly coloured and embellished (Willow-wicker). A silver-chained variant of the Chrar kangri typically accompanies Kashmiri brides as dowery (Hussain, 2010, 16). It's also used in various good luck ceremonies and is said to be a positive omen. Fragrant and aromatic seeds such as isband (Peganum harmala) are burned in it at weddings and traditional celebrations, and a live kangri is made to move in circles by young girls dressed in their finest. Traditionally, a new kangri known as "Sheesh Dair" was sent to the newly married daughter's wariv (in-laws house) by her parents as a first winter gift. At the end of winter coinciding with the culmination of Shivratri on the Tila Atham/ Ashtami day a customary puja is performed and kangris are burnt after taking out the earthen pots from the shell and ignited by putting in bundles of dry grass and thrown in water bodies. It marks the end of winter and the beginning of spring with the emergence of a new life and young boys and girls chant "Ja Taein Taein" (Kaul, 2021, 16).
Economic importance
The earthenware is about six inches (150 mm) in diameter and is embellished with colourful threads, mirror work, and sequins. Kangiri can cost anything from Rs.200 to Rs.30000, depending on the artistry, craftsmanship and materials utilised. The delightful presence of Kangris at all the markets in Kashmir can be seen from the beginning of November. The sale will run only until the beginning of spring. The price of a kangri varies depending on the manufacturing technique and the materials used, ranging from Rs 250 to Rs 1,500 (Majeed, 2020, 16). It creates crests and drips when the wicker is braided around the pot. The crests are the Pohurs or columns. A  twelve kangir column is the cheapest while 32 kangir columns are costly. "Prices vary," for instance, 12 pohur sells for Rs 100, 24 pohur for Rs 500 and so on. However, it currently feels that Kangri's taste decreases among Kashmiris." Some manufacturers fear that customers are less inclined to spend money on Kangri. Surprisingly, the production of kangri is connected to the ecological balance of Kashmir. Kangri production is the cornerstone of the economy for over 600 households. Chrar manufactures over 50,000 firepots per season alone. It utilises around 3500 metric tonnes annually most of which is harvested from Keller, Shopian and Lar, Ganderbal (Mir, 2015, 16). In the contemporary day, when technological heating gadgets are accessible, the traditional fire-pot has not only helped people stay warm, but it is also an effective and cost-effective heating solution (Javed, 2020, 16). The field data reveals that the manufacturing of various items accounted for around 7 lakh pieces over the past few years (Kangri 3 lakh and baskets 4 lakhs), bringing in about As. 10 lakhs per year in income (Saki, 1985, 16). Although there is no comprehensive assessment of kangri production at present time, it is believed that two million Kangris are produced each year. The tremendous production is believed to have put a burden on deciduous shrub regeneration at altitudes of about 1200 – 2800 metres in Kashmir's Himalayas (Mir, 2015, 16).
Effects of prolonged use of kangri
Though Kashmiris derive great pleasure and excitement from using kangri to remain warm, kangri is responsible for the destruction of numerous homes each year due to irresponsible handling. It is also believed to be responsible for generating burns which sometimes become cancerous in spite of the fact that it aids as an external digestive system for the stomach. (Saki, 1985). While Kangri hold a treasured place in Kashmiri culture, its use comes at a price. Kangri Cancer, a kind of heat-induced skin cancer seen in the belly and inner thighs of Kashmir residents, is caused by continuous usage of the kangri. The cancer was initially connected to the kangri in the early twentieth century, and it is still a concern today, despite its rarity. Regular kangri users may be harmed, but individuals who live in impoverished sections of the community have a higher risk of acquiring cancer (Bhat, 2014, 16). Because of the way kangri pots are used and positioned, kangri cancer is more commonly seen in the belly, thighs, and legs. The usage of kangri to keep warm causes erythema, a precancerous keratotic development that appears as superficial reticular blackish-brown coloured lesions over time. Cells at the lesion site eventually become increasingly irregular in shape and form. The ulcers may become itchy and bleeding, and the lesions may become ulcerated (Shafiq, 2020, 16).
Gas and electric heating alternatives are becoming more widely available in the region, although they are still a costly option. Kangri usage is so firmly established in the region's tradition and culture that it remains an apparent option for many, and as a result, Kangri cancer is a direct outcome of the region's socioeconomic and environmental circumstances. The kangri is an excellent illustration of how items can shape and build social identity and meaning. The community treasures it, and it remains a potent emblem of what it means to be a Kashmiri (Bhat, 2014, 16).
Conclusion
In a typical koshur (Kashmiri) household, the Kangir continues to be the main, inexpensive source of keeping an individual warm during the winter. As Kashmir faces the tariff of electricity especially during winters, however, history is witness to the invention of kangri, a traditional way to keep warm and this helps people to survive during subzero temperatures. But as people are heading towards modernization, the demand for the kangri is decreasing, they prefer modern heating appliances over kangri, as a result, the culture of kangri in Kashmir is dying. The succeeding generation won't carry the legacy forward if the situation remains unchanged. Kangri may be completely extinct in the next decade and we may lose an important part of our culture.
REFERENCES
Aasif, Shafi. The Kashmiri Kangri and why it's synonymous with winter in the valley.
Bhat, A. Kangri The fire-pot that keeps Kashmir warm. 7 Jan 2014; Aljazeera.
Hussain, A. KeepingwarminKashmir,17 dec2010;mint;livemint.com.
Javed, D. Kangri-The Darling of Every Kashmiri in winter. January 27, 2020,
Kaul, U. Kangri: The eternal saviour, 17 Jan, 2021. Greater Kashmir.
Majeed, S. Traditional kangris still keep kashmiris warm every winter; 11 Dec 2020; The Wire.
Shafi, A. The Kashmiri Kangri and why its synonymous with winter in the valley, 29dec, 2017, thecitizen.in.
Mir, S. Craft Kangri, 21 Dec 2015 by Kashmir life, kashmirlife.net.
Nizami, A. For Kashmiris, a walking heater keeps chill at bay; published in The Express Tribune, January 24th, 2012.
Parvaiz, A. Kangri still keeps Kashmir warm in winter, 10 Jan 2018, villagesquare.in.
Saki, M.L.1985. Article Kangri. Published by Cultural Academy.Vol.22, No.6.
Shafiq, U. Kangri cancer in Kashmir, 07 Dec 2020. Kashmir Reader.
Shakir Mir, Craft Kangri.
Upendra Kaul. Kangri: The eternal saviour.
About Irfan Ahmed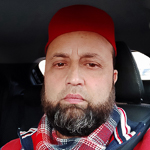 Presently working as an Associate Professor in the Faculty of Fisheries. SKUAST-Kashmir. India. I hail from Kashmir, a picturesque Valley and am passionate about photography and love to document Kashmir culture in its real form. Our next project is on the Pashmina Fabric industry, the queen of fabrics in Kashmir and a real economic source.
Saima Andleeb is a Kashmiri who has completed her Masters in Fisheries from the Faculty of Fisheries, SKUAST-Kashmir. She is interested in reading books and likes to pen down her experience with nature. Presently she is focussing on some important aspects of Trout Fishing in Kashmir.
✿
Like the article? Make it a conversation by leaving a comment below.  If you believe in supporting a platform for culture-makers, consider becoming a subscriber.
Tags