Ana Sincu reflects on how making spoons helps her form a deep connection to the trees she loves.
I was born in Moldova in 1992, in a village by the river Prut. There I enjoyed my childhood as a confidant of the land, the river, the sky, and the stars. I was a goose herder and livestock caretaker; in short, a mini helper for my parents, at the time young farmers. We lived humbly, but we lacked nothing, as we learned from the land, which gave us food, health, and joy.
Although this was my idea of abundance, my parents decided to leave the country in search of a better life. At the age of 9, we moved to Portugal, the country that still welcomes me to this day.
I had an education focused on the arts. I graduated in Sciences of Art and Heritage at the Faculty of Fine Arts in Lisbon and fell in love with ceramics. I deepened my knowledge at CENCAL (Professional Training Center for the Ceramics Industry) in Caldas da Rainha, a city with a deep and historical connection to the tradition of ceramics, where I now live.
Raw things from nature have always fascinated me. Since I was a little girl, I have had the need to work with my hands, so clay molded perfectly into those needs.
In 2020, society's pace slowed down for the reason we all know. I chose my parents' country house as a refuge. Surrounded by a land that is home to many fruit trees, we used the wood from their pruning to heat the house.
One day, while I was splitting the branches that would be consumed by the flames to heat our house during the night, I smelled the fruity scent of the wood and watched, in amazement, the unique patterns and colors of each specimen. It made me want to keep a branch of each. The next day, I start carving the branches I had saved the night before into the shape of a spoon, to add utility to the contemplative element. Even then, I was already prone to collecting spoons made from distinctive materials and shapes.
One spoon a day, carved with an old tired-bladed kitchen knife, a makeshift gouge, and sandpaper. The irregular logs resulted in organic, twisted shapes. This experience resulted in a fascination with discovering shapes, colors, scents, and properties in the logs that I still can't quite explain. Surely there are significant attributes in wood that surpass the physical and mechanical qualities for which it is so highly regarded. There must be other senses to be nurtured beyond the visual, touch, smell, sound, and taste.
Nowadays I feel the rhythm of life speeding up again. But I hold within me the thought that, in this day and age, there are still things that are not done in a hurry; things that can only be done slowly, demanding subtle and acute senses. What we do makes a difference, and so does the way we do it.
Therefore, I chose to work slowly, continuing to make utensils by hand. Their use at the table is intended to enhance a more serene attitude towards food, inviting attention to the celebration of the meal, making it fuller and more satisfying, and restoring its sacred character.
Unique utensils, such as spoons, forks, knives, boards, and combs, among other objects, are born with the purpose of adding uniqueness and specialness to the small rituals of everyday life. This encourages satisfaction and gratification of life's simple moments and sensory experiences.
Besides having medicinal qualities, wood has properties not found in other materials we use in our kitchen. As such, wood can greatly enhance the experience of food preparation and tasting. As the flavor of wood can be sweet or bitter, it can influence aromas when in contact with food. Of course, the effect is most evident with long exposure, as is the case with fermented and distilled beverages that are aged in wooden barrels. The most common thing that happens with spoons is that, when we cook, they absorb the strongest flavors of the food, released by the contact with fat and heat. There they can enrich cooking, or in some circumstances, some spoons can be kept for specific flavors. No spoonful escapes the curry flavor!
With every tree being a source of respect, I choose to use wood waste, such as residues of tree pruning from orchards or forests and small recycled pieces left from carpentries and joineries. I intend that each piece pay homage to the trees, those beings that are connected to the depths of the earth while also embracing the sky, providing us food, warmth, medicine, oxygen, structure, shade, and shelter.
I especially enjoy using wood that has a special meaning or provenance, for example, when someone offers me a log from a tree in their home, or from a relative's home, or a specific forest. Or when I gather the wood myself in specific places and circumstances. In general, I create a relationship with the wood even before I carve it, and I enjoy knowing its origin and characteristics.
I have already given use to wood from plum, apricot, olive, walnut, carob, sour cherry, orange, cork oak, ash, acacia, laurel, and many others, sometimes exotic trees. Waste has become the main resource that shapes the sensory perception of food at the table. Whenever possible, I highlight the natural imperfections, such as knots, warps, and the irregular grain of the wood itself, which is why the pieces are often born crooked. However, the form is an accomplice of the matter without being conditioned by it.
I occasionally give workshops where I share with others the pleasures of the process of creating spoons. My making process takes about four to five hours, and only hand tools are used: axe, saw, chisels, gouges, knife, and sandpaper. In this way, practitioners can get to know the most uncomplicated ways to make a spoon and develop their skill even with little resources.
The finishing of the pieces is done with oils and natural waxes and requires some maintenance and care, contravening the logic of the instantaneity and disposability that shapes the present age. I feel a need to combat the idea of productivity reflected in the speed by which things are done, their massification and standardization. Instead, I cultivate in myself manual acuity.
Being able to work skillfully with my hands makes me feel connected to a certain ancestry, so I try to make my calloused hands work delicately. It is through them that I communicate with matter.
Ana Sincu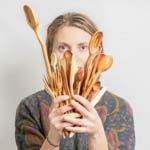 I was born in Moldova in 1992 and majored in Sciences of Art and Heritage at the Faculty of Fine Arts in Lisbon. Currently, I live in Caldas da Rainha, Portugal, working in my studio with local wood, ceramics, and occasionally scenography. Follow @ana_sincu.
Tags