I'm walking through a maze of computer terminals. It could be any office in the world, with humans in neatly ironed clothes staring into screens. Ironically, the purpose of their work is to help those whose lives are exempt from this very activity, the blind. At the end of the corridor, I finally come across a cluster of people served by Vision Australia, carefully weaving fibres into basket shapes. Bobbing between them is Adrienne Kneebone, for whom this kind of work helps support her artistic ventures.
I'd first seen Adrienne when she was giving an artist talk in 2012 at the symposium to commemorate the 20th anniversary of the Floating Forest exhibition at Ararat Regional Art Gallery. She showed images of fibre works called mukuy. The elongated limbs of these figures seemed to magically animate the pandanus fibre. In Adrienne I glimpsed the story of a second-generation fibre artist, taking further the heritage of figures like Nalda Searles and Virginia Kaiser.
Adrienne takes me to a couch and we talk about how she got there. She sees her life in 12-year chapters, beginning in Tasmania, then moving to bayside Melbourne, Brisbane and then being swept up by a group heading for the Territory. "It was tribal Gen x, wanting to live on the land." Sounds idyllic. "It felt safe up there, travelling around, swimming. We were rebelling against suburbia." It was in this environment that fibre arrived. "I was instantly attracted to the weaving: the heat the colour and the lifestyle."
She came across others who taught her key techniques. Katie Campbell-Pope showed her coil stitch, then how to work with banyan root. Meanwhile, Fiona Gavino had come up to Darwin and was helping an old Yolŋu lady collect fibre and dyes for her baskets. She didn't speak English so Fiona had to learn Yolŋu Matha and also discovered how to make very traditional forms.
What does the Northern Territory conjure up? In Australia, we've been saturated with tourist images of rocks and gorges. For the rest of the world, Baz Luhrman's Australia reinforced the manly culture of cattle and beer. But Adrienne's journey exposes an alternative picture of NT as a creative space connected to Country. It offers quite a distinct northward passage compared to the conventional routes of young artists to Berlin or some enchanted far Nordic reach like Iceland.
Now with two children, Adrienne began to establish her practice. In partnership with Fiona Gavino, she organised Organic Matters (2001-2), which had funding to tour NT. The workshop component gave her the experience which has seen her through her career. An invitation to the exhibition Basketry Beyond exposed her to the skilful exponent of basketry art Virginia Kaiser.
Through fibre artist Philomena Hali, based in Alice Springs, Adrienne heard about Nalda Searles and a mentorship was arranged by Territory Craft. From this emerged the exhibition Amesh (2005), which evolved into the touring exhibition Absolutely Fibrous.
At the same time, Fiona Gavino took Gwen Egg as a mentor, who she credits for opening up her fibre forms. As Gavino recounted in a separate interview, "She said to me, 'Just take the coil and go out'." And Wendy Golden mentored Aly de Groot. A new generation of fibre artists was grafted onto the established stock. The exhibition Call and Response at Territory Craft showed the results in 2006.
After a move to Katherine in 2008, Adrienne was headhunted to work with Djilpin Arts in Beswick. It was here that the Pandanus Project emerged. It was a long-term program of exhibitions and workshops that aimed to develop the artistic potential of this fibre. It came out of the need at Djilpin Arts to have something smaller to stock their shop. WIth Adrienne's encouragement, local artist and law woman Sarah Bidinggal Ashley developed the mukuy, a doll version of the mythical creature.
Back at Beswick, many doors opened. Fiber Face 3 in Yogyakarta uncovered the capacity of fibre in cultural translation. As with Jenny Crompton, what impressed Adrienne was the depth of cultural life in Indonesia. She remembers particularly the ceremonies around the Sultan's Tomb. As Joanna Barrkmann wrote in Art Monthly (October 2011):
"Artworks by Adrienne Kneebone, Noreen Ashley, Patsy Forbes, Rita Cameron, Sarah Bidngal Ashley and Lucy Cameron, members of the Pandanus Project, reinforce the fact that weaving, stitching and making processes can be equally collaborative or solitary pursuits, and contain a universal methodology that transcends language and cultural difference"
A sculptural work from mukuy was eventually commissioned for Federation Square.
In the latest 12-year chapter, Adrienne moved to Warburton where she has been herself teaching fibre weaving techniques to local Indigenous women. Her riverside property gives her access to the dianella plant—"soft and juicy like pandanus". While not of Aboriginal descent, she is increasingly interested in her Cherokee ancestors, who settled in Gippsland to grow tobacco.
Like the plants which artists harvest, the fibre medium in Australia continues to grow through the generations. Fiona Gavino takes fibre into digital media. Aly de Groot casts it into bronze sculpture as public art. Ruth Hadlow weaves it into creative writing. And Adrienne Kneebone extends fibre into performance art, collaborating with communities. It's a unique art form that continues to grow organically across the continent.
Author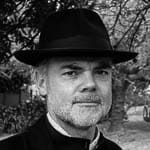 Kevin Murray is managing editor of Garland. Since taking up the Writer in Residence program at the Meat Market Crafts Centre in 1990, he has been dedicated to advocating the value of studio craft to a broad audience through writing and curating.

Tags