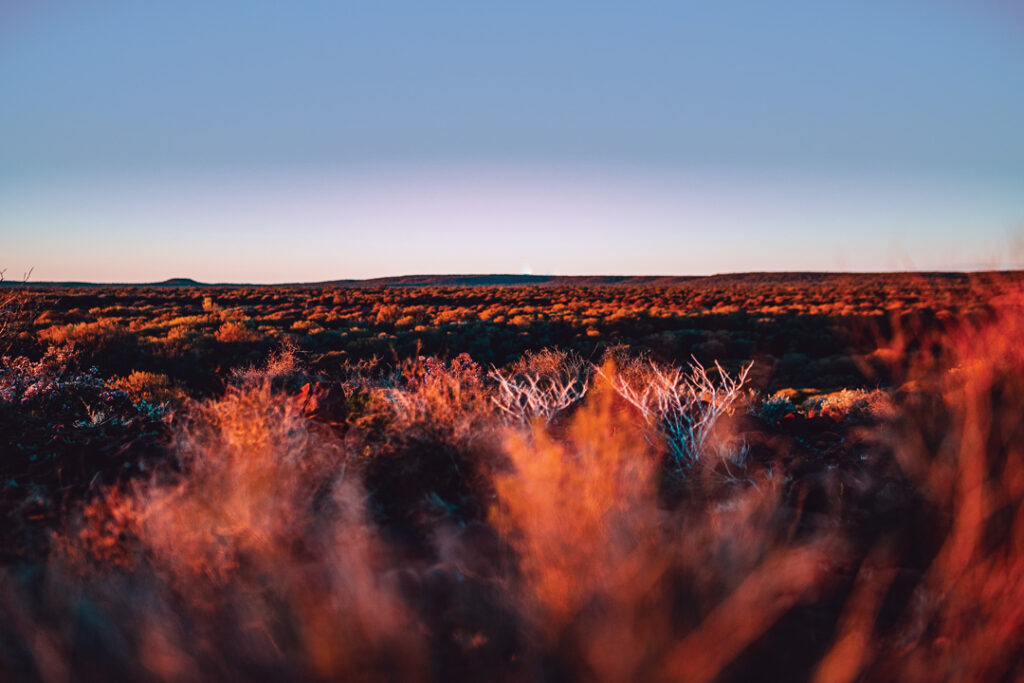 Angie Faye Martin finds a part Aboriginal-owned company that continues the ancient harvesting of sandalwood to produce much-coveted scented oils.
It is a place of undulating sand dunes, rocky gibber plains and marble gum woodlands, sprinkled with rock pools majestic in tranquillity. Reptiles of unparalleled character, like the thorny devil and perentie, reside in this vast arid terrain, as do mammals both large and small from red kangaroos to bilbies. It's a mecca for avian enthusiasts, being home to rare and unique birdlife like the spinifex pigeon and the elusive night parrot.
This is central Western Australia. It's where the Great Sandy Desert meets the Gibson and the Great Victoria Deserts. It's the lands of the Martu and Wongi people who have lived here and cared for the country for more than 60,000 years. It is also the lands of a unique species of sandalwood known as Santalum spicatum, or Dutjahn to the Martu and Wongi people.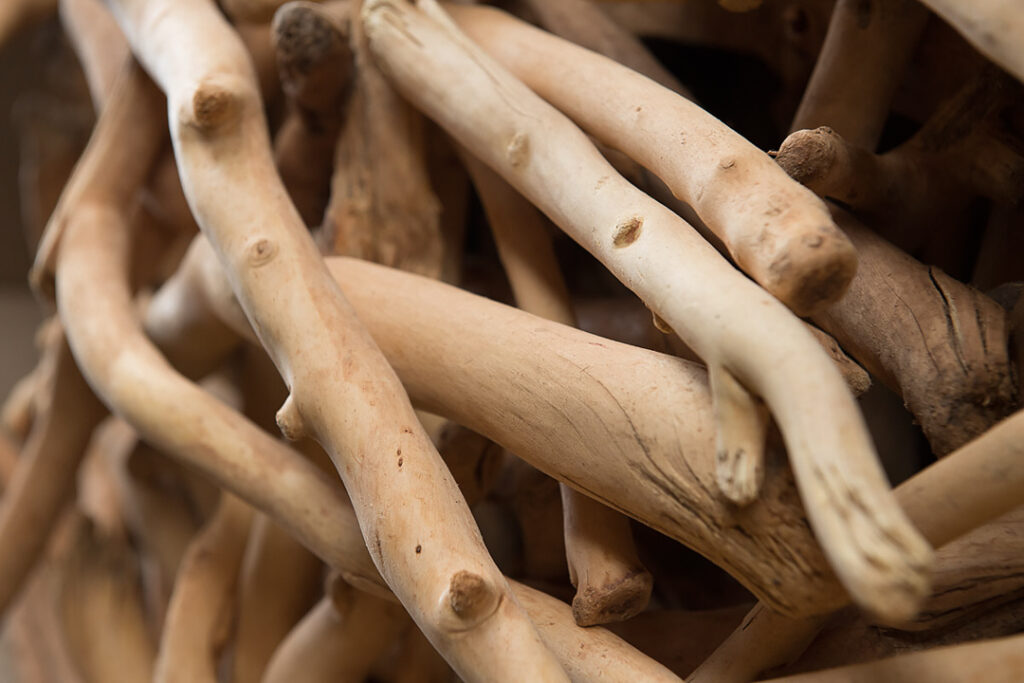 Unlike tropical species of sandalwood, Santalum spicatum thrives in these harsh conditions. Like the fragrance produced from its heartwood, it is an unimposing plant with unabashed elegance. It has finger-length, soft green leaves and produces a small orange nut during the warmer months. For sandalwood to grow well, its roots need to find a host (often an acacia) within the first few years of seed germination. Just like the fragrant oil it produces, the tree itself works best with others: complementing and intertwining.
Its scent is grounding with alluring earthy notes. Like sipping a cup of hot tea with a close friend, watching the sun set over an ocean horizon or delighting in gelato on an Italian summer afternoon, the smell of sandalwood will transport you to a place of comfort and clarity. For thousands of years, Aboriginal people have harnessed the power of sandalwood to captivate deep memory and emotion by burning it over campfire during ritual and ceremony. Many other cultures around the world have also cherished the ability of sandalwood to delight and mesmerise our olfactory senses. It is no wonder that these fragrant qualities became the driver for its trade.
In Sandalwood and Carrion, historian James McHugh beautifully explains that over time all things fragrant have been savoured and valued. As with other precious fragrant ingredients, like oud from the Middle East and Asia, sandalwood has been traded (and fought over) for hundreds of years. In They Came for Sandalwood, Dorothy Shineberg details the incredible extent of the sandalwood trade, and some of the bloody battles that resulted. Shineberg (1967) identifies how the initial demand for sandalwood arose when tea became the preferred beverage over ale in England, explaining, "The great problem became, however, what to sell to the Chinese in order to pay for the tea." During the 1800s, Europeans scourged the Pacific Islands for sandalwood to sell to the Chinese who had become rich from the tea trade, resulting in significantly depleted resources.
Although the initial boom of the 1800s settled to some extent, overharvesting continued to be a problem throughout the world. In Western Australia, the Sandalwood Act was implemented in the 1920s due to massive clear felling which peaked at more than 14,000 tonnes in one year, limiting harvests to conserve the species for the future. Then, at the turn of the century, overharvesting in India prompted global fragrance, cosmetics and aromatherapy companies to look to Australian sandalwood. With its warmth and vibrancy becoming better known, Santalum spicatum is quickly gaining worldwide attention due to a quest by elite perfume houses in Paris, Tokyo and New York to source the highest quality essences. The long-lasting creamy woodiness of Dutjahn amplifies other more extroverted scents like jasmine, orange blossom and magnolia. It also mixes well with woody notes like cedar and rosewood, and features prominently in renowned fragrances like Tom Ford's Santal Blush and Le Labo's Santal 33. Despite this new interest however, the Martu and Wongi people have always known the sacred value of Dutjahn.
Between 1956 and 1963, the British Government conducted missile testing in the Great Victoria Desert which pushed Martu and Wongi people off their traditional lands. Ken Farmer was one such person forced to leave his homeland, and as a result, he came into contact with white people for the first time. It was bewildering and devastating, but for Ken Farmer, the sweet, woody scent of sandalwood offered comfort and protection harking back to the days when he lived peacefully on his sacred country, which is why he always held on to his special relationship with sandalwood. His mother made a potion from sandalwood when he was a baby that protected him from a witch, and he passed this story down to his son, Clinton Farmer, who tells it today.
In addition to protection, the Martu and Wongi people have used Dutjahn: in medicines when ground into a pulp and placed on dry or sore skin; in ceremony, when Elders would release its fragrant powers over fire to clear their minds before taking part in important meetings; and for bartering for kangaroo, boomerangs and other goods. Reflecting on the importance of sandalwood to his people and culture, Ken Farmer had a vision: he would create a sandalwood company to keep his people healthy and connected to their traditional lands.
First, though, they needed Native Title. In Australia, First Nations people can apply for Native Title rights to their land. This usually comes without resource and extraction rights, however the Martu people fought long and hard and gained these rights. They fought the case and proved that there was, and still is, a system of cultural and commercial exchange.
We dreamed about it, we believed we could do it, and there was nothing stopping us from doing it. We have created a niche industry so that we can protect our cultural values by way of a more sustainable development model and at the same time grow an industry economically.
Darren Farmer, Owner, Dutjahn Sandalwood Oils
In 2017 Dutjahn Sandalwood Oils was born.
Dutjahn Sandalwood Oils is a 50 per cent indigenous-owned business with an innovative model that sees profits return to the community. The business is supported by Dutjahn Custodians, Kutkabbuba Aboriginal Corporation and the founders of WA Sandalwood Plantations. Land and community care are at the centre of everything Dutjahn Sandalwood Oils does. Care starts with the way in which the seeds are planted by thoughtfully considering seasonal and geographic elements: where the water will flow in the summer rains, which tree is ready to become a host and where previous trees were taken. It continues all the way through a plant's lifetime to the harvest. The Western Australian Government has strict rules around harvesting quotas, requiring harvesters to leave ten per cent. The Martu and Wongi leave thirty per cent. In deciding which trees to take, the custodians consider the age of the plant (it cannot be too young or too old) and the location.
We got the oldest species in the world– we don't harvest the old trees because we have respect for the land. And when the trees have young ones growing under the canopies, we leave them because once we pull them out, it destroys the young ones underneath.
Clinton Farmer, Owner, Dutjahn Sandalwood Oils
Foresters recently did research on growth rates in the area and found that by using traditional knowledge the regrowth in that area is better than anywhere else in Western Australia. This requires extensive knowledge of the land, so deep that the Martu and Wongi people say the land speaks to them.
Dutjahn has a unique model in that they fuse harvested wild wood from Native Title lands with sustainably managed plantation wood. This allows for innovative collaborations to take place between the two arms of the organisation, like seed distribution. Ron Moulder runs the plantation side of the business in the wheatbelt region of Western Australia. Here he has duplicated Clinton's provenance by planting seeds from his trees. Ron then gives the resulting seeds back to Clinton which helps him with regeneration of the native population.
Clinton has the highest quality chemistry of sandalwood. The wood that comes from Clinton's area is the best quality sandalwood in the country, and that's both the yield of oil and the perfect balance of alpha and beta santanols.
Ron Moulder, Owner, Dutjahn Sandalwood Oils
Given that biodiversity and sustainable land care is at the core of everything Dutjahn does, it is not surprising that in 2019 they won the United Nation's Equator prize which recognises innovative practices that place nature-based solutions at the heart of local development. Dutjahn contributes to the K Farmer Foundation which was established to build community capacity by revitalising cultural knowledge, supporting a First Nations collective voice in the sandalwood industry and facilitating employment and training opportunities. The Foundation runs a Youth Ranger program for young people in high school to learn from adult rangers about managing invasive pests and species and protecting native plants and animals.
Dutjahn Sandalwood Oils is a unique enterprise that facilitates Aboriginal people to live on country and work on country in one of the most remote places on earth. It's our hope for the future that we can increase the amount of people who harvest and benefit from sandalwood and improve the economic viability of their communities.
Katina Law, Owner, Dutjahn Sandalwood Oils
The way in which the country is cared for produces an end-product of exceptional quality. Careful consideration of all the land and biodiversity elements associated with planting and harvesting sandalwood not only ensures environmental sustainability, but top quality sandalwood oil. Take for example the age of a tree. Harvesting an appropriately aged tree, say thirty years old, not only means that the young and old trees are protected, but the sandalwood oil will be at optimum maturity, resulting in the finest essence.
We create a product that is so rich and deep that not only does it develop this beautiful olfactory profile it brings all of that energetic history right through. You're getting thousands of years' worth of knowledge right through to the product you buy off a shelf.
Guy Vincent, CEO, Dutjahn Sandalwood Oils
To experience Dutjahn Sandalwood Oils, visit www.dutjahn.com/shop or explore the Aesop products, many of which feature this sustainable and ethical oil.
References
Australian Broadcasting Commission (2020), The lesser known history of the Maralinga nuclear tests — and what it's like to stand at ground zero.
The Conversation (2021), Loved to death: Australian sandalwood is facing extinction in the wild
Dutjahn Sandalwood Oils (2023), Dutjahn Sandalwood Oils, Perth, Western Australia.
K Farmer Dutjahn Foundation (2023) K Farmer Dutjahn Foundation: Supporting Indigenous Sandalwood Communities, Western Australia.
United Nations (2021) Equator Prize 2021 honors trailblazing Indigenous and local solutions for people and planet
Shineberg, Dorothy (1967) They Came for Sandalwood: A Study of the Sandalwood Trade in the South-West Pacific 1830–1865, University of Queensland, Brisbane.
McHugh, James, (2012) Sandalwood and Carrion: Smell in Indian Religion and Culture, Oxford University Press, United States.
About Angie Faye Martin
Angie Faye Martin (Kooma/Kamilaroi/European) is a writer and an editor from Meanjin/Brisbane. Her debut novel, Melaleuca, a crime thriller, is out June 2024. Visit www.angiefaye.net
Tags