In a Tehran cafe, friends gather to imbibe Sepideh Ghasemi's redolent jewellery.

(A message to the reader in Farsi.)

(A message to the reader in English.)
---
In the culture of the Orient, as in my country (it is common in the popular culture), when something or someone is dear to you, you seek to expel evil and negative energies. For this purpose, we use an incendiary substance such as esfand (rue) or incense sticks. With this idea, I wanted to pay homage to the hand that facilitates my ideas' objectification.
In contemporary jewellery, objects are connected with the body, and the body as a context for presenting the work can create a different meaning and establish a different dialogue between the body and the work. In the materialisation of the thoughts and ideas of the artist, the presence of a hand, a skilful and capable hand, helps to facilitate the creation of the artist's artwork.
It should also be noted that in terms of shape, form, application, and semantic function, primitive human creations have characteristics that show valuable information about human ingenuity in all historical ages. The discovery of various materials and their use to meet humans' material and spiritual needs multiplied the attractiveness of these creations. Like the incense burners of the Seljuk era, which are among the finest examples of Iran's metalworking art, a unique look has been given to them. The incense itself and any other incendiary substance are used in the popular culture of Iranians to protect a person or space or something precious to us from malignancy. All these issues caused objects to be made in connection with the hand as a ring (use) and to honour it (semantic function)
This conversation took place in a cafe, a conversation between me and my friends. The owner of the cafe is one of the professors of sculpture at the university. He joined the conversation a little later and I heard very different and amazing words from him.
I allowed them to touch the works, wear them and check their performance and construction. My friends didn't know about my statement, so they commented on this and previous works.
"One feels that these objects come from the past as if they were used in the past and you discovered them. It's like we are in a museum, but we are allowed to touch the objects without any hindrance." These objects were conceived without time, it cannot be said that they refer to a specific historical period, but they have a completely primitive feeling, which is due to my passion and interest in historical objects, which they knew was my constant interest.
I asked about their use as everyday jewellery. Some of them saw them as usable and even saw variations of them as more appropriate, but they did not insist on using them as jewellery. They found the object itself so aesthetically pleasing that it would be acceptable for them if they were not connected to the body.
The conversation with the master of sculpture, Mr Rangchi, was long and included a philosophy of art. I will try to summarize and convey the meaning correctly.
At first, he mentioned how well-made they were, which showed craftsmanship. And visually, he saw everything balanced and harmonious. He pointed out that the objects that show order have deeper aesthetics. They bring many propositions in relation to that historical period and historical civilization.
He found the border in which I am working interesting (media and contemporary jewellery). The object can be both practical and aesthetic. The medium in which I work was placed on the border. It is not yet clear whether it is a sculpture or jewellery or a performance that is contemporary in its unconsciousness and essence. It has a desire to progress. It has a new proposal for the body. Objects that are not routine and can even be used in a different way, because it has no fixed boundaries. And this situation has countless possibilities for creating new things, so it is contemporary.
About Sepideh Ghasemi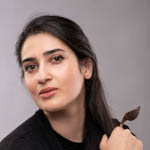 I am Sepideh Ghasemi, born in 1988 in Iran. I studied sculpture at Tehran University of Art and after graduation, I started learning traditional jewellery. In 2020, I became the best jewellery designer in South Korea. In 2022, I won the national award for Iranian jewellery and jewellery design. Also, in 2022, I attended the Romanian Jewelry Week and the Contemporary Jewelry Performance Exhibition in China. Follow @sepideh.ghasemi.art
Tags