In 2017, the Iranian city of Sirjan in the region of Kerman was successful in obtaining the designation World Craft City for Kilim weaving. Near the heart of production in Darestan village is a weaving workshop that takes a modern approach to authentic kilim techniques, emphasising natural dyes and original designs.
Garland spoke to Mahjabin Ilkhanipour from Moon Manufactory about how their workshop came to be.
✿ How were you able to take the path of study? Was it from support of your family?
I love art and I enjoy learning and knowing more about it. It was my desire to work and study in art field. My mum believes in me and says I always make the right decision and if I want to study art then I should do it. My father died when I was 5 years old, but I remember he drew portraits and I have also beautiful calligraphy from him.
After I finished my bachelor degree in graphic design, I started working in an advertising agency in Tehran. After a while, I decided to go back to university and study for my master's. I found that working in an advertising agency is more of an industry than an art.
✿ How did you decide to establish a workshop and what are its values?
During my research projects, I visited villages around Sirjan and talked to the weavers. That made me think that I don't want to be just an educated housewife. I want to work. I talked with my husband and he said, "I have always loved Persian rugs and kilim and I will help you in any way that I can." Then I started collecting information, mainly in Sirjan. Producers gave the weavers yarns, loom and the design and they would weave at their homes. But I could not do that because my designs take months and I don't want them to be copied quickly (unfortunately we don't have copyright). We thought of building a workshop where we could control our designs and also do the weaving.
About our workshop values:
One of my priorities is to produce with high quality, I believe that objects last much longer than humans. I want my works to last in their best condition.
I have designs which are done by me and not copied.
I also have kilim designs which were woven in the nineteenth century, but with slight changes.
✿ What influenced the design of the first rug produced in your workshop?
I had some designs ready and I didn't know which one should be woven first. As I was thinking in the workshop, I saw the pomegranate trees in front of me. I thought that this will always tell the story of my kilims. It all started from a pomegranate farm where we built the workshop. My first drawing just looking like a graphic poster of a pomegranate. So then I drew the borders. The first border shows the blossom and a half pomegranate motif. The second border is from nineteenth-century Sirjan, revealing the origins of the tradition. In Iran, the pomegranate is a symbol of love. Many people draw and weave it. This is the first page of my path and it shows how it all began. By the way, I also used pomegranate skin for dying the background colour the creamy colour.
✿ What kind of skills were needed for the production of this carpet?
This kilim combines the Shirikipich technique (a special type of weaving done in Sirjan) and conventional rug weaving. You need to weave a thinner weft through the rug. Sirjan kilim has weft on top of the knots and rugs have two wefts one thick weft and on top of that a thinner weft. When we weave rugs, we put an extra weft.
✿ Is it for sale? What kind of customer do you think would buy this? Is it more likely to be a foreigner?
Yes, this is for sale and there are people that choose kilim to decorate their homes. I am not producing any kind of kilim but those that are different from the others by design and material. I want to make something more to just a floor covering. I look at it as an artwork with particular media. I think foreigners have great attention to detail and this is what I want.
Artist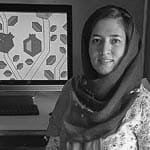 Tags