There is more to Swedish furniture than IKEA. Katarina Spik Skum has produced authentic iconic Sámi furnishings that reconnect with nomad roots.
(A message to the reader in Sami.)
---

(A message to the reader in English.)
---
My grandparents on my mother´s side were reindeer herders. They lived a nomadic life with their reindeer, moving between different dwellings.  I spent much of my childhood with them, and in this way became accustomed to their lifestyle. In each place, there was a new home of which I have fond memories.  Some of the dwellings were Sámi tent huts and turf huts, built with wood, birch bark and peat.
My master's focus is conceptual craftsmanship where I try to interpret and transform the traditional Sámi dwellings.  The round shape of the Sámi hut has been adapted to our present homes, which are mostly square dwellings. Through my work, I want to convey the feelings and memories of my childhood when we lived in huts during the summer and autumn. I tried to reproduce the smell of the wood in the huts, the feeling of sleeping on newly picked birch twigs and reindeer skins that covered the floor as well as portray the physical closeness to each other. In a Sámi dwelling, there are many "different rooms," all in the same room. A goahte is a place for rest, food and conversation.
The creations are named after geographical places where my extended family still have their homes, such as Sálltoluokta, Bietsásurre and Gievkesuoloj.  But some of the creations are named after different parts of the hut, such as luojddo, the birch twig sleeping area, sågge, the space closest to the outer wall.
Choosing a theme for assignments while studying duodje (Sámi handicraft)  was always difficult. When choosing a topic for my Master's thesis there were two paths I could choose from. I could work with traditional duodje or create new duodje based on traditional Sámi craftsmanship.  After working with duodje and studying duodje at the Bachelor's and Master's levels at the Sámi allaskuvla/ Sámi University of Applied Sciences for many years, I felt ready to choose a topic outside our tradition but still based on Sámi traditions.
In August 2015, I graduated with a Master's degree. 30% of my Master's thesis was theoretical and 70% was practical work. The title of the thesis is A concept of a room based on sustainable materials. A transformation from goade to home furnishings.  Goade is the Lule Sámi word for kåtor, the traditional Sámi dwelling place.
The issues I based my work on were sustainability, local connection and conceptual craftsmanship. The creation was planned and inspired by Adhi Nugraha's method ATUMICS.  Nugraha believes that one can transform the tradition of different elements of a culture into design. This inspired me. I took the idea that buildings could be transformed and wanted to transform the traditional Sámi dwelling, the tent hut and the peat hut. In the methodology, I used the hermeneutic circle, the indigenous method and Gunvor Guttorm's model.
In my handicraft, I have placed a great emphasis on the material I used.  Most of the material I have processed myself, following the old traditions. The rest of the material is largely recycled material. The wood for the craft has been gathered in my local area and on land I have a connection to. I have tanned reindeer skins and used the hide from the reindeer legs as well. The goahte is my interpretation of living in a goahte adapted to a home today.
The individual parts of the goahte:
Riehpenrájggen – ceiling decorations made of birch twigs with broadcloth and pewter thread embroidery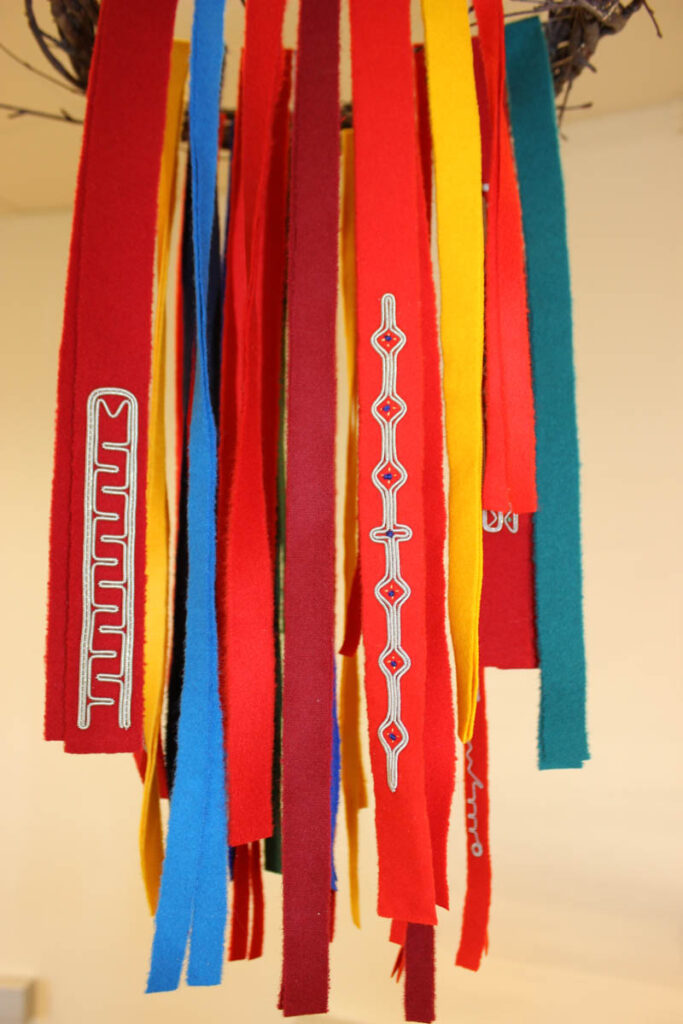 Gievkensuolon – bench of birch & bark and seat cushion of tanned reindeer skin and woollen felt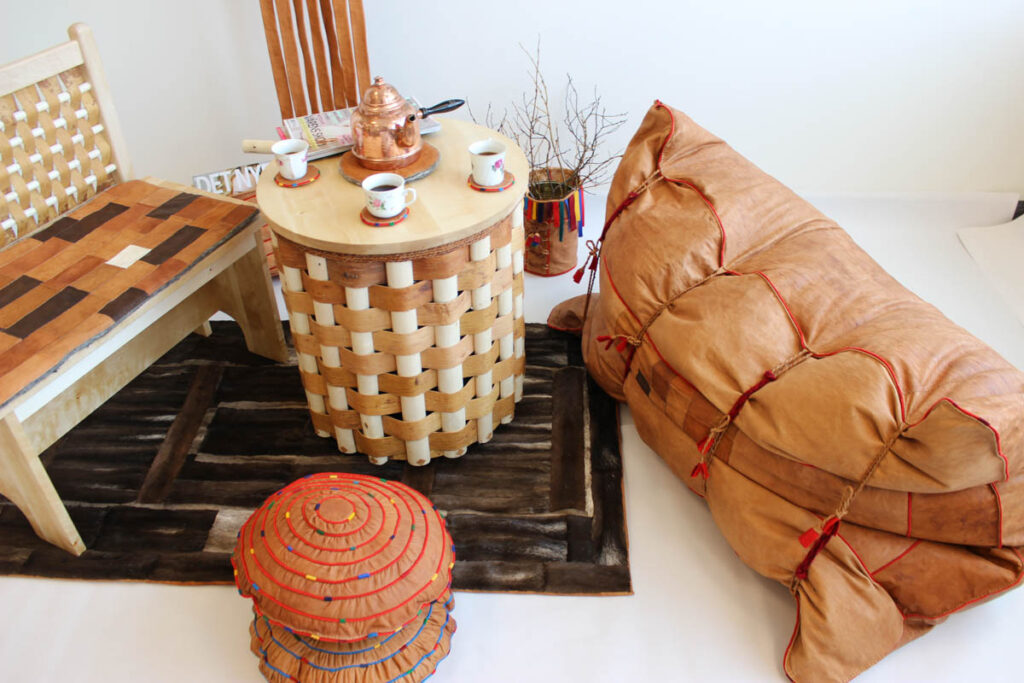 Suolon – cushions of tanned reindeer skin and broadcloth
Såggen – seat cushion of tanned reindeer skin and broadcloth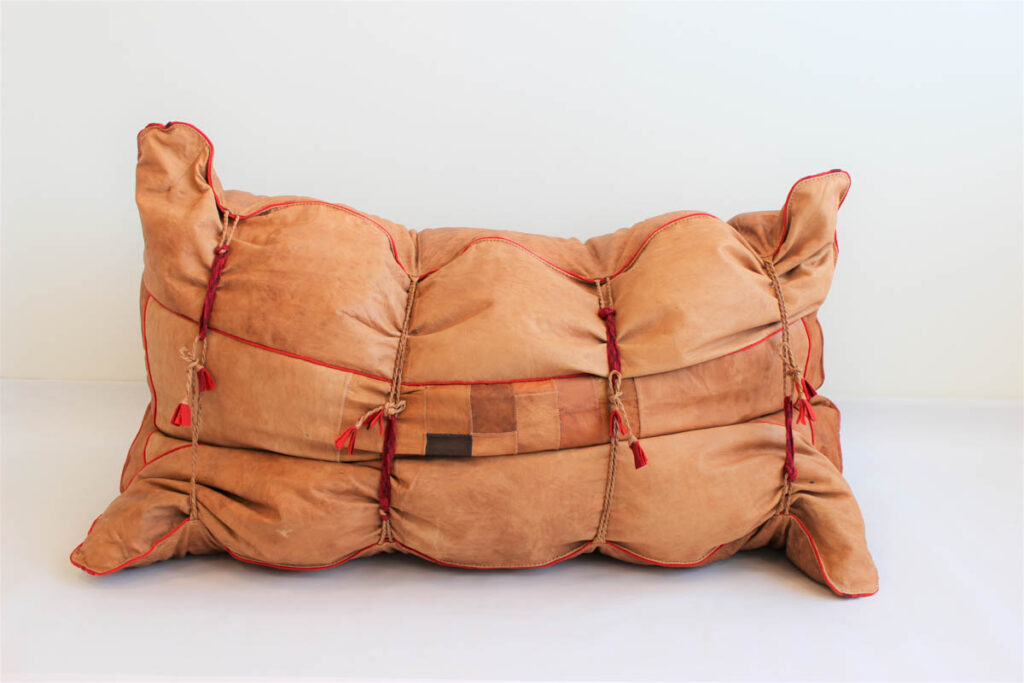 Bietsávrren – table of birch, bark and tanned reindeer skin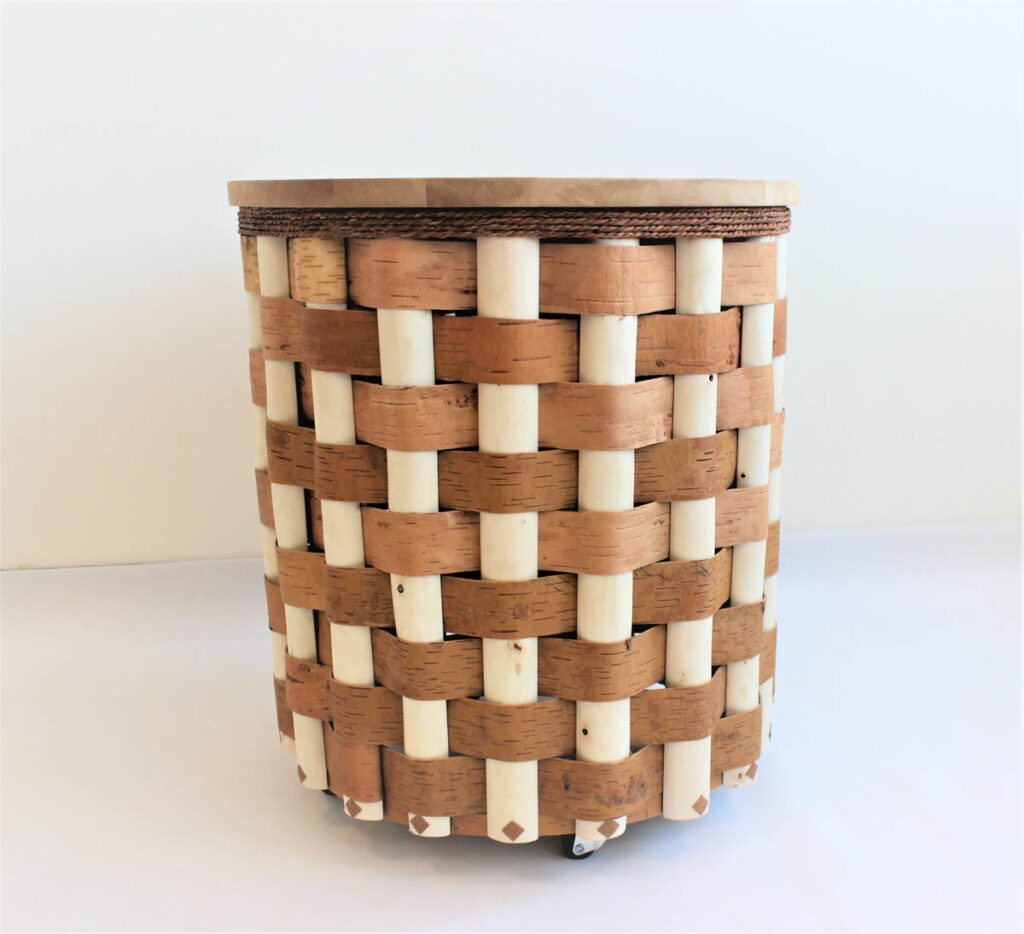 Luojddon – carpet made from the hide of the reindeer legs and tanned reindeer skin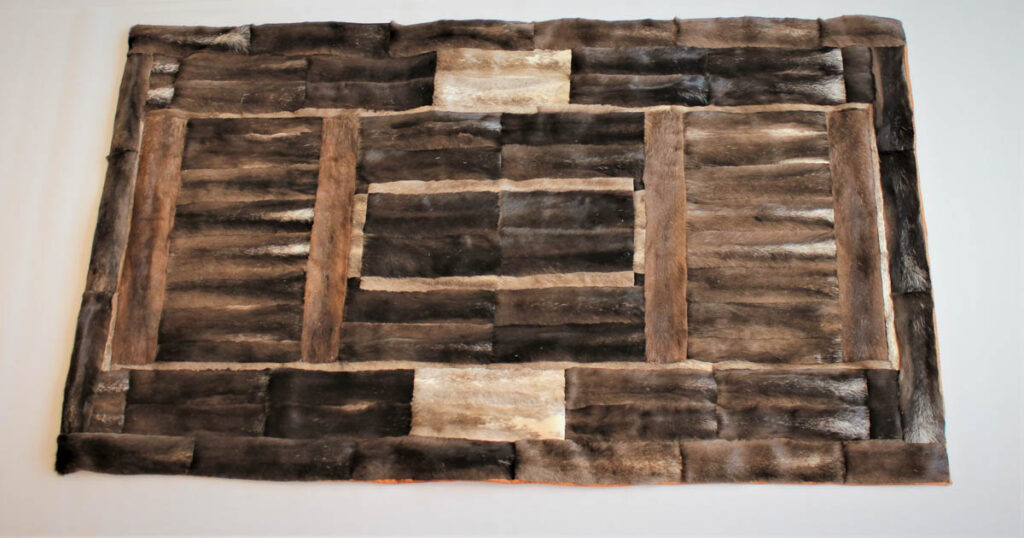 Sálltoluoktan – wall hanging of tanned reindeer skin, brass rings, birch and broadcloth
Mårren – various decorations such as a vase, sugar bowl, coaster, candle decoration
About Katarina Spik Skum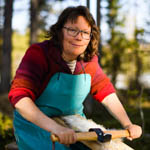 I live in Jokkmokk, Sweden. I work with my craft in my workshop at home. In May and June, I work with traditional costume details for young people who graduate and are confirmed, dressed in traditional costumes. I also participate in the project Sápmi Salasta and we have a closing period in June: see Skellefteå museum and Sápmi Salasta. The Design for Every Body exhibition is currently underway at the Museum of Design in Helsinki. The preparatory work for my master's work with samples, sketches, etc.m is shown as part of the exhibition Designmuseo Design for Every Body In the exhibition ARS22 Living encounters, architect/artist Joar Nango participates with the work Girjegumpi. Since 2018 I have collaborated with Nango and several of our works can be seen in Girjegumpi. ARS22 | Museum of Contemporary Art Kiasma. At the end of 2022, I will participate in the Luleå Biennial in Luleå and in the group exhibition "Máttaráhkko/Great-grandmother and I" at Tjörnedala konsthall. Visit www.duodjebykss.com and follow @ k.spikskum.
✿
Like the article? Make it a conversation by leaving a comment below.  If you believe in supporting a platform for culture-makers, consider becoming a subscriber.
Tags