What gave you the idea of making surfboards with Islamic designers?
In short I have surfed all my life and for the past 12 or more years have traveled consistently in the Middle East, from Greece to Turkey, Syria, Jordan, Lebanon, Palestine, Israel, Iran, Egypt  Oman, UAE, etc..
With the push from the West invading the Middle East again and shifting the new enemy from Russia to Islam. I developed the notion of introducing the "other to the other" In the Australian context that is the popular culture icon a surfboard inlaid with work from mosques tile patterns, from Arabic Persian and Ottoman cultures.
Where do the designs come from?
Mosques and tile collections from Turkey, Syria. Jordan, Lebanon, Palestine, Israel, Iran,  Egypt, Oman and UAE.
Who made the surfboards?
I had meetings with my surfboard maker Mark Rabbidge and he manufactured my designs
Is there a particular design that you photographed that you think lends itself well to the surfboard?
In my opinion they all do. There were 30 surfboards and 60 designs front and back and even several sets of fins have designs inscribed into them. The tiled papers were all crafted to fit the shape of the surfboard, also many of the colours were amplified to make them brighter and more beach like.
Did you have any specifications for the surfboard when you commissioned it?
There was one surfboard shaped and then photographed the exact size and shape of the surfboards was imported and the designs were made at the exact scale of the surfboard.
Author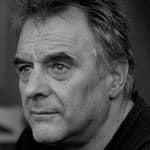 Phillip George was born in Sydney lives and works in Australia's. His practice operates across zones of cultural difference; exploring and making connections between the complexities that exist between East and West. His work draws connections between Australian beach culture and the fractured, turbulent zones of the Middle East. George has exhibited widely over the past thirty years with exhibitions throughout Australia, Europe, America and Asia. In 2007 George received his Doctorate from The University of Western Sydney and in 2008 produced an exhibition, Borderlands at the Casula Powerhouse in Sydney, NSW. Website: www.phillipogeorge.net. Thanks to the Nur Shkembe and the Islamic Museum of Austraila for their assistance with this article.
Tags