(A message to the reader.)
Melissa Cameron tracks Katie Miller's progress from the barns of Nebraska to a Seattle filled with the light of the Pacific North-West.
My photos of Seattle in June 2015 are drenched in bright sun, so meeting as we did in the jewelry studio by the bench-to-ceiling translucent steel-framed windows, I know our first encounter was auspiciously lit. (The opposite pattern, depressingly cold and grey, is frequent enough to be dubbed June-uary by some longtime Seattleites.) Katie was in the midst of a Pratt Fine Arts Centre (Pratt) ArtsBridge Fellowship at the time, which allowed her to take funded classes all over Pratt, a not-for-profit arts education and resource center in Seattle's Central District. Pratt enjoys great arts community support and welcomes beginners to established professional artists with classes and open access studios in the disciplines of: glass; metal, stone and wood sculpture; jewelry and metalsmithing; painting; drawing; printmaking; and mixed media. So during her fellowship year Katie took a weekend enameling workshop led by me. In turn I went to see Katie's 2015 Fellowship culmination exhibition, Within Without, and later her 2018 installation The Presence of Absence.
With an artistic practice rooted in research, experimentation, and observation, Katie Miller works with a variety of materials including paper, wood, glass, metal, fabric, ceramics, found objects, photography, video and sound to name a few. At the time we met, she had just finished a residency at Art Farm in Nebraska, where the "property is filled with old barns and farmhouses … relocated from family farms that sold their land to big agribusiness. One of the buildings is a creative conglomerate of multiple barns built together, another is a huge red barn for which a new foundation was never built, so it is sinking and slowly moving and changing over time."
Light and time are central concerns for Katie, in a practice that has recently seen her documenting the rapidly evolving cityscape of Seattle, using translucent polyester film, opaque paper and timber. She credits her time in Nebraska as the starting point of this investigation. "The experience of spending an entire month observing building shadows and projections in huge grass fields and open expanses, as well as the light coming through the worn wood of decaying barns, was a big step in my path to architecturally inspired work. I developed a new way of researching, exploring, experimenting and observing … that I have used over the last 5 years for site-specific work."
"My explorations at Art Farm led me to my ArtBridge Fellowship, where I used the architectural silhouette as a focus point for my explorations in the studios, and my exhibition at the end of the fellowship." That work, titled Within Without, consisted of light projected through a plywood box into which was water-jet cut a rendering of the interior of a light-leaking barn. It was projected onto a much larger translucent-plastic clad box. The installation was built inside a large warehouse in Georgetown, which has since been turned into individual artist studios as an extension to the Equinox artist complex.
In the years since the housing bubble crash in 2011 Seattle has been one of the USA's fastest-growing cities. This is linked to the rise and rise of technology companies such as Amazon, who chose it as their base of operations due to the favourable taxation policies of Washington State. This growth has had a huge impact on the architecture and streetscapes all around the city, as whole blocks – especially near Amazon's base in South Lake Union – have been razed and rebuilt. These new high-rise offices, hospitals, shops and apartment buildings often replaced smaller semi-industrial buildings. The incredible rate of change has impacted artists all over the city, and in Katie's case, she made it her practice to explore this transformation "and how our perception of place is informed by our surroundings. What does it mean to live in a state of transition? … How are we physically impacted? I was working in Pioneer Square, which was dramatically shifting… I documented the neighborhood for 18 months, which informed my drawings, material choices, and use of light."
"I specifically chose cut-paper to reference the temporality of the built environment and to use the void as a way to look through and experience our surroundings in a new way. The void is also an absence, and brings up questions of what was here before, [and] what will be here in the future. I also began controlling the light more specifically to make structure projections on the wall to show that the immaterial can sometimes have more presence than the material." In her early exhibitions with paper she relied on artificial light to convey singular shadows with unequivocal edges. Her more recent works have explored the opportunities of the brilliant yet fugitive Seattle sun.
In her 2018 exhibition at MadArt Katie created her "most significant and largest site-specific installation … It was unique in that I was able to work in the space for much longer than most installations, which allowed me to be more intentional with the work as it developed. I created all of the paper cuts prior to my residency and had a general idea and models of what I intended to make for the large structure and skylight spaces, but they really came to life [while] working in the space."
"Seattle light is fickle and temperamental during much of the year, with long bouts of grey and limited shadows due to the cloud cover. The summers are often blessed with many sun-filled days with dramatic shadows and strong beams of light. Since Seattle is positioned fairly north in the hemisphere, the number of daylight hours change from light until 10pm in the summer, to darkness as early as 4:15 pm in the winter. This dramatic difference, and lack of shadows much of the year, likely increase my awareness [of] when light and shadow change the experience of Seattle… By embracing both natural and applied light, the immaterial projections and shadows inherent in my installations embody the ever-changing, ephemeral nature of our contemporary urban environments."
MadArt operates as an art residency and gallery space open right through the residency period, exposing the making process and culminating with the 'opening' towards the end of the three-month residency. It allowed Katie the opportunity to study her works in situ in a gallery filled with natural light that came from all angles – street-fronting windows, clerestory windows, and two large light shafts positioned toward the rear of the space. Located right in the heart of the South Lake Union neighbourhood, it's an area crowded with blue-badged employees (the dominant colour of Amazon's ID cards) and home to many of Seattle's newest buildings. In her installation there, The Presence of Absence, Katie relied on the summer sun to light her works by day.
"With my installation at Mad Art in the mid-summer, I decided to primarily use natural light to cast shadows and projections throughout the exhibition. I had to let go of control, but felt that there was great potential for it to be more dynamic. The moving position of the sun, buildings blocking or reflecting sunlight, and varied weather required me to be more flexible with my vision, yet [it] created a dynamic, magical and ever-changing experience within the installation."
Despite her changing subject matter, light "has long been an inspiration for … my large light installations, adding depth, layers, and immaterial presence." Of course, it has informed her choice of embodied materials too, calling her to "translucent materials like Mylar [polyester film], glass, and sailcloth." Katie credits her light sensitivity to her formative years, far from the Pacific Northwest: "Growing up on a lake in the backwoods of Minnesota, I was exposed to dramatic weather patterns, intense storms, and quickly shifting temperatures. My awareness and fascination of natural phenomena started at an early age and I've always been drawn to the glow of light at dawn and dusk, the long cool shadows and the golden rays of light in the fall light with the sun low on the horizon."
Author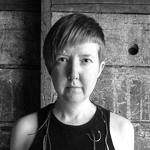 Melissa Cameron is an Australian artist with Anglo-Celtic and Canadian ancestry. She has recently returned to Perth, her hometown, after living away for twelve years in Melbourne and more recently Seattle, USA. After initially training and working as an interior architect, Melissa studied jewellery and now makes socially aware art, which is often termed protest art. Her practice is centred on her deep empathy towards the human body, and the life that each body represents. Her most recent exhibition Marfa, TX, repurposed the scrap steel she found on the streets of a small rural town in Texas into wearable art.
✿
Like the article? Make it a conversation by leaving a comment below.  If you believe in supporting a platform for culture-makers, consider becoming a subscriber.
Tags