Keiko greeting in English
Keiko greetings in Japanese
This is a thick hemp linen, more pearl grey than cream. It is slightly rough to the touch, like a good toothy paper, the kind you can't get any more since the dominance of digital printing. She bought a full roll of it years ago, and this is the last few metres, so she needs to be careful not to waste or ruin it. It's unlikely, though: Keiko knows what she is doing. She will pretend the cloth is paper, and draw on it with thread, to create pretend folds.
Everything she makes in this latest work centres upon the fold. Keiko grew up in a culture that loved folding: paper folded into shapes, objects wrapped in folded cloth, bodies wrapped in folded ceremonial clothes. She sketches folds onto paper with a pencil: sharp, triangular folds, like pennant flags tumbling. Like zigzags crisply ironed. Transferring these drawings to the cloth requires hours of hand-stitching, one thread per line, cross-hatching to create the shapes. The thread lines are pulled, strongly but carefully, to draw the thick fabric tight, gathering the drawing close, swaddling it into a long rolled bundle, ready for the dye pot. It is the process of shibori, an ancient tie-dye technique that Keiko has used with a contemporary sensibility.
Traditional shibori artists specialise in one or two patterns in their lifetime and are sought out for those patterns. Such dedication to technique earns the word "master": a useful word, but often overused as a kind of full-stop, as if the skill is an end-point. Instead, it is an on-going relationship with materials and their behaviour, a built-up understanding of how one's body and mind can negotiate with sameness and variation. Skill is a melding of relationships and negotiation, and it does take time, quantifiable time, and the end point is death. Sometimes, to get the results you want, part of the negotiation is collaboration. Keiko has been sewing her shibori drawings for decades in Australia, but she travels to Japan to get the colour she desires into her cloth.
Born in Japan, Keiko Amenomori spent her mid-childhood in Germany while her father sold fine cotton yarn to the lace-makers of Europe. In her teen years, they returned to Nara, the unofficial end of the ancient Silk Road trade route. Indigo was a precious commodity over the centuries, akin to gold and precious stones. These days, with synthetic indigo readily available for industry, the skill of successful hand-dyeing is as precious as the dye itself. Nara commemorates its Silk Road heritage and continues to house indigo-dyeing workshops that have run for generations. This is where Keiko brings her threaded bundles.
Keiko studied textiles in Germany and there met her (late) husband, printer Jorg Schmeisser. They moved to Australia in 1978 where Jorg headed the Canberra School of Art Printmaking Department for many years. They travelled back to Japan often, but Canberra was home base. For a long time, Keiko felt unhappy and disconnected living away from Japan. Now she feels differently: she recognises the freedom that Australia has given her to draw from her cultural roots without being bound by tradition. Still, she respects the traditions of her past and understands how to show that respect when she visits the indigo workshops.
Indigo is a moody, mysterious entity. It needs to be nurtured: its temperature must be maintained, and the "flower" or bloom of green liquid that floats on the surface of the dye vat must not be roughly disturbed. Even when carefully tended, the indigo reacts mysteriously and must be tested before using. The dyers are treated with the utmost respect, which helps to negotiate the best result. Keiko is careful to be respectful when visiting, and personally oversees the testing of the vats. When she is confident that a good result is possible, the thick rolls are dipped, repeatedly. Some of her bundles are dipped fifteen times, others more, shifting with each dip from a faded blue to something dark and velvety. When she is satisfied with the depth of blue, they are rinsed with water until it runs clear. They dry still bundled, furled close, then packed for travel back to Australia.
Nothing in this process is fast; time is taken along with care. Back in Canberra—Nara's political sister-city—Keiko Amenomori-Schmeisser pins out the dark-blue panels and slowly stretches them outwards incrementally, day by day until each is the desired size. The sewn threads are pulled out, leaving white resist marks that delineate each drawing. The contribution of the dye vat injects a lively flickering into the lines. The scale of each panel is stately, but they hum with movement and drawn dimensionality.
Thinking about the Silk Road's precious trade as she worked, and craving some contrast to the deep tones of the indigo, Keiko started painting gold panels. She used a few shades to work across the fabric geometrically, carving space with the different gold tones. They became softly metallic. While the blue panels flow downwards from their hangers of wooden dowel, the hems of the gold panels are sewn together to make a cupped format, creating beaten gold scooped vessels.
In this exhibition, each panel is floating a discrete distance from the white walls, just far enough to allow the viewer to comfortably peer behind them. They stir gently with the air currents, and their deep indigo blue flickered with drawn white and textured triangles of ridged gold make the gallery space glow. They feel contemporary and ancient at the same time.
This is the work of an artist at the height of her powers, creating powerful work that is saturated with beauty. It is undeniably Japanese to the core, but there is a quiet sense of experimentation that comes from having time away from tradition. It is the best of both worlds.
Folding Indigo: Keiko Amenomori-Schmeisser is at Craft ACT: Craft + Design Centre, 25 October-15 December 2018.
Author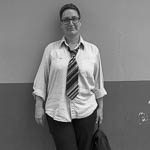 Caren Florance is a typographic artist and writer who currently lives and works in Canberra, Australia. Her recent practice-led doctorate allowed her to work closely with poets on experimental collaborative publishing projects, exploring the overlaps of visual poetry, text art and artist books. She was 2018 Critic in Residence at ANCA Gallery and her latest solo exhibition was We are Lost, at Megalo Print Studio and Gallery in October 2018. Her work is in national and international collections, mostly libraries. You can find out more at www.carenflorance.com
✿
Like the article? Make it a conversation by leaving a comment below.  If you believe in supporting a platform for culture-makers, consider becoming a subscriber.
Tags