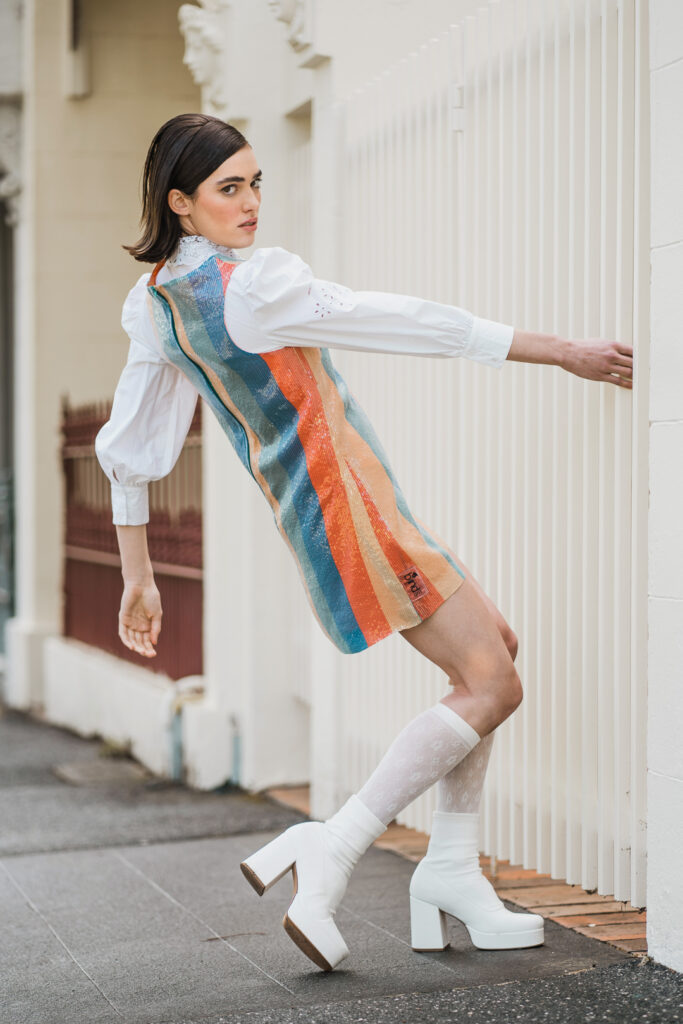 Nikki Hind recounts her journey as a blind fashion designer who profiles the feel of clothes.
Nikki Hind grew up with an interest in making clothes as self-expression. "I just make things. I either hand sew them or staple them and to wear to the school socials."
Then she had a stroke when pregnant with her first son. She had already been blind in her left eye since birth and then lost half the visual processing capacity in both eyes. "So I can now see out of half of one eye."
"I can see colour, but I have no peripheral vision or depth perception or judgment of speed and distance. I don't see things where they are. I can see small details but for a fleeting moment. I can see it but not quite for long enough for my brain to process it. I keep having to flick my eyes away and keep refocusing refocusing, because you need two eyes to focus and one of them doesn't work. It's like when you have a dream. Oh my god, is that like an orange spotted octopus and you try and focus harder in on it, then it just melts away. I feel like I wander through the world now like I'm in a dream."
Nikki had been working in event management, but she was told she would be unlikely to ever work again. "I wanted to pursue something that was strong enough to lift me out of the tricky things I was struggling with at the time." She enrolled in a fashion course at TAFE on the Sunshine Coast. They had no experience working with blind students, but were flexible, granting her more time to finish projects. Fellow students helped with fine tasks like threading the machines.
She took upon herself the challenge of submitting work to the Prada Marie Claire Awards over ten months. After submitting, she received a call to say that the awards were only every second year. "I was deeply disappointed for all of about 30 seconds." But they sent the story to the editor which gave her encouragement, especially since they weren't aware of her visual impairment.
She then contacted Vision Australia and asked if there were other blind fashion designers. On finding out there were only a handful around the world, she was determined to be the first one in Australia.
"As a visually impaired single mum, I need to you know, I don't drive and I need to be able to use public transport and get around. I weave comfort together with safety." Nikki is particularly drawn to reversible clothes: "Things that are quite plain on one side and then you turn it the other way and it's a beautiful silk cocktail dress."
The feel of the fabric is a priority. "You think of fashion as an incredibly visual thing. In reality, once you've stopped looking at yourself in the mirror before you leave the house, it's actually quite a tactile and psychological experience." She uses silk and faux fur a lot. It returns her to the enchantment of dress-ups: "That idea of putting on Cinderella's ball gown or Superman's cape and how it makes you feel in the way you turn up in the world."
Nikki tends to work with the fabric first before starting the formal design process. "I need to physically drape it on my body and the dressmaker dummy." She then works with a local tailer Raul Rald who makes the samples for her. Then she works with a factory in India managed by Valerie Cha: "She's an incredible woman."
Her latest range is Brighton Beach, inspired by a holiday she took with her two sons to the English seaside. She felt the site intensely: "The grey sky behind it and it lights up, but quite decrepit. There's letters missing off the sign. It's kind of sparkly and lit up but rusty and rundown and it's fabulous."
She was able to evoke this experience using faux leather with a metallic, bronze, rusty colour. She combined this with sequined stripes that "reminded me of, of kind of 1960s beach towels—kind of muted, green and orange and yellow, and blue, a little bit muted and sparkling."
With her platform Blind Grit, Nikki makes a point about the contribution of disability to society: "Fashion is an incredible an incredible platform for showcasing value." But rather than just arguing a special case, her fashion demonstrates that a low-vision designer can also contribute something unique to the field. She reminds us that clothes are something we not just see but also feel. Moreover, her work can take us into another world, a world of dreams.
About Nikki Hind
Nikki Hind is the founder of Blind Grit, a single mother of two boys and Australia's first legally blind fashion designer. Visit www.blindgrit.com/, follow @blindgrit, and like /BlindGrit.
Tags