Melinda Young shares her quest to transform scent into personal adornment.

(A message to the reader.)
---
Scent has infused my jewellery practice for over twenty years. I move away and yet it wafts back again, and again. Scent is the ultimate adornment, a seductive fascination. (Usually) invisible, its appearance on the body is frequently out of the wearer's control. Sometimes as the result of a close encounter with a fragrant friend or lover, or more insidiously, after an interaction with a commercially made, chemical concoction, such as a cleanser—soap or sanitiser for instance.
Pause a moment and count how many fragrances you have put on your body today… What are their names?
Our bodies are socially constructed by scent. We are told by the language of consumerism that it is desirable to alter or mask our natural olfactory appearance with a cacophony of unnatural replacements. (There are of course un-scented rebels amongst us).
When I explore scent in the context of contemporary jewellery practice, as a wearable, the work is presented as a recognisable, archetypal form: a beaded necklace. But with its materiality comes the additional potential for invisible adornment via modes of bodily contact or ingestion: a kind of after-wear.
My initial investigations into scent sprang from a fascination with Julia Kristeva's theory of abjection in the 1990s. Triggered by a single hair on a bar of soap; this led to research into the history of cleanliness and the desirable presentation of a clean, proper and thus socially regulated (female) body. I worked extensively and intensively with soap over several years, playing with the semantics of its branding and the quasi-religious undertones of some products. I made rosaries from Pure brand soap and prayer beads carved from Solvol soap for work-stained hands (cleanliness is next to Godliness after all). Contemporaneous works by Manon van Kouswijk (Soap with Pearl Chain, 1995), Fiona Hall (Give a dog a bone, 1996 & Cash Crop, 1998) and Julie Gough whose 1994 work Imperial Leather referenced soap to devastating effect, all influenced my research.
I eventually settled on Pears soap as my material of choice for a larger (and ongoing) collection of work. I chose to work with cakes of Pears soap for several reasons: it has been made with the same distinctive colour and fragrance since the early twentieth century, rendering it recognisable across generations; it is a commonly available, mass-produced supermarket product; it is forgiving (pleasurable even) to carve and not unpleasant to work with. Most importantly to me as a jeweller with an interest in ambiguous materials, Pears soap is capable of material deceit, it can be carved, manipulated and strung to resemble amber jewellery with the material revealed via its scent. Soap on a silken rope.
When worn, a Pears soap necklace warms to the heat of the body, its scent gently released. If the wearer sweats, a more vigorous exchange of fragrance and material substance occurs; the soap starts to melt and the necklace begins to wear away, skin left slick, scented and slippery. If deliberately worn to make contact with water, when bathing, for instance, this exchange and wearing away of the necklace is more rapid. The jewellery is worn in its physical form during the action of cleansing and then in its olfactory form when the bathing ritual is completed.
And so, my fascination with the fragranced body has grown. In 2005 I taught jewellery in the United Arab Emirates, at a school on the border of Oman. Each morning, as part of the pre-class meeting, the teachers fragranced themselves with frankincense, a smoking censer passed from woman to woman. I engaged in this ritual with pleasure and have since made several small collections of neckpieces from frankincense resin. When worn the resin warms to the body and releases its fragrance.
Frankincense is a similarly loaded material across cultures, mostly for its use in religious ceremony. It evokes potent sentiments and memories. Conversations with different people have revealed that this is a fragrance that should potentially be handled with care. So too this frankincense jewellery, despite its robust fragrance, is fragile. Care must be taken when wearing it, making the wearer hyper-aware of the movements of their body. As with the soap work, the fragrance becomes stronger (and potentially sticky) as the body warms the necklace. The first iteration of work to include frankincense was exhibited in 2013 at Studio 20/17 in Sydney, this exhibition ashes to ashes, dust to dust also saw the application of 24ct gold leaf onto the soap, designed to leave a material as well as olfactory trace of interaction on the body.
Sense & Scentability installation views at start and end of exhibition, Personal Space Project, Canberra, 2014 (images Zoe Brand)
Sense & Scentability installation views at start and end of exhibition, Personal Space Project, Canberra, 2014 (images Zoe Brand)
Both the soap and frankincense works were exhibited, performed and documented during the Spring months of October & November 2014 for a solo exhibition titled Sense & Scentability at Zoe Brand's Personal Space Project. This unique and innovative micro-exhibition space "an online gallery documenting a private gallery that exists in the real world" operated in Brand's Canberra bedroom from 2013 – 2015 and works were curated for their resonance to this intimate space. I exhibited a carved Pears soap necklace and a strung frankincense necklace, suspended above specially commissioned dishes by ceramicist Susan Frost. Brand was instructed to wash with the soap and burn a fragment of the frankincense necklace daily on the charcoal tablets provided. In her reflection on the experience for the essay accompanying the exhibition Brand said "Although these works are ephemeral in form, they will certainly leave an enduring trace on my room, clothes, possessions and memories".
I added to my scented oeuvre for the 2018 exhibition Reminiscent, curated by Meg Fizzell at Brenda May Gallery in Sydney, making a necklace strung with nutmeg beads. I explored spice and the oral potential of scent for the first time. Unlike soap or frankincense, nutmeg requires an active, rather than a passive interaction to reveal its fragrant potential. Working with nutmeg was a visceral experience, its odour is charged with personal memory; this is a taste that sticks with an unpleasant tang in the back of my throat. That nutmeg consumed in large quantities is a poison is no surprise, yet in small quantities it is a valuable, fragrant addition to so many foods across cultures, perhaps engendering warm recollections of shared meals and festive occasions. This (personally) loaded nutmeg necklace was hung between companions made from Pears soap and frankincense (which for me at least are more benign), I wondered how this work can speak, what stories the material led viewers (and wearers) to tell; as jewellery is, like scent, loaded with memories and narrative.
The allure of scented/scenting materials follows me onwards through my thinking and making journey. Recent work made from driftwood is finished with fragranced wax, textiles are sometimes spritzed with perfume and a collection of tiny incense stubs grows daily on my bench, waiting…
Further Reading
Wolfang Uhlrich, 'Educating the consumer aesthetic' in Wilhem Lindemann (ed.) & FH Trier / Idar-Oberstein, ThinkingJewellery on the way towards a theory of jewellery, Arnoldsche Art Publishers, 2011 pp. 281-293.
Julia Kristeva, Powers of Horror: An essay on abjection. New York : Columbia University Press, 1982
Artworks referred to
Manon van Kouswijk, Soap with Pearl Chain; 1995, Soap, pearls
Fiona Hall, Give a dog a bone; 1996, Soap, C-type photograph, found objects
Fiona Hall, Cash Crop; 1998, Carved soap, painted banknotes, vitrine
Julie Gough, Imperial Leather; 1994, wax and cotton rope and drawing pins on tie-dyed cotton on composition board
About Melinda Young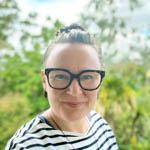 I live and work on Dharawal Country, on the South Coast of NSW, where I am caught between the undulating fragrances of the ocean and the bush. The first waft of Jasmine on the late-winter breeze competes with high-summer petrichor for the highlight of my olfactory year. My research-based practice spans jewellery and textiles, exploring place and materiality. I have exhibited extensively in Australia and internationally since 1997, with work is held in public collections and included in numerous publications. Since 1999 I have worked within the contemporary craft and design field as a tertiary and community educator, curator, gallery manager and sometime writer. I am currently an Associate Lecturer, Faculty of Arts, Design & Architecture UNSW and undertaking a cross-disciplinary PhD in Human Geography and Creative Arts at the University of Wollongong. Find my work in progress, news and visual inspiration on Instagram @unnaturaljeweller and finished work @madebymelindayoung
✿
Like the article? Make it a conversation by leaving a comment below.  If you believe in supporting a platform for culture-makers, consider becoming a subscriber.
Tags