I grew up in Zibo, a small but nice city in north China. Our ceramics and glass work are quite famous, especially bone porcelain.
I remember I received a jade pendant that has my zodiac sign "dog" engraved on it. It was a birthday gift from my mom and I was told to wear it under the clothing and next to my body because my mom believed that jade stone can bring luck to people and also can keep me healthy. Actually, many Chinese people believe that and it's quite common that kids wear a jade pendant back to that time. Another thing I remember was a honey bee brooch from my father. It was made of silver and amber. I pinned it on my pencil case and brought it with me to school every day. So I guess jewellery meant love from my parents from that time.
My mom has few friends live in Sydney, and they suggested that she send me abroad to get a better education. Then my mom asked me about it, and I was quite excited to have the opportunity to overseas, especially when I heard that Australia is a nice and quiet place to live.
I came to Australia to study when I was sixteen years old. By that time, I had always been passionate about colours and forms. It might be because of my father who is a painter and specialised in landscape oil painting. He always took me with him when he was working in the studio. So, growing up in that kind of environment makes me feel some connection with art and craft.
It was a little bit different from what I expected in terms of the pace of life. I heard about the lifestyle in Australia that nobody rushes and everyone tries to be relaxed and enjoy the day. However, it was still quite surprising. I found it's really hard to get a lot of things done in a day, especially in the morning. Most places would not open till 9 or 10 am (in China, most places such as shops, government institutions and schools open at 7am). So, I did take a long time to get used to it. By the way, I expected to see koalas everywhere in Sydney. Instead of that, I saw a lot of birds and plants that I did not get a chance to see in China, which is even better than what I expected.
After coming to Australia, I got a chance to study arts and craft in my high school. I found I really enjoyed making. So, I decided to study design at university. Then, I enrolled in UNSW bachelor of design in 2013 and chose Textile design and Jewellery design as my majors. To be honest, I had no idea about contemporary jewellery at that time, and I was just curious about it. However, the first lecture that I was given in the jewellery class absolutely attracted me. I was introduced to a lot of brilliant contemporary jewellery works, and it made me realise that there are so many possibilities in this medium. We could not only explore different materials, but also the concept behind it. Rather than say "jewellery", I would call it a piece of art. Moreover, I would like to thank my mentors such as Zoe Veness, Bic Tieu and Emily Copp for giving me inspirations and encouraging me all the time.
To be honest, I feel it will be great for me to live and work in Australia because it has established a really good culture for contemporary jewellery design. I can see the bright future of contemporary jewellery in Australia quite clearly. However, I am not allowed to stay here or even have a work visa because of the Australian immigration policy. But it may not be a bad thing for me to go back to China because my family is over there, and China is developing at a really fast speed. So, I believe contemporary jewellery design will occupy the market soon.
In my opinion, since many cities become more and more international, artists and designers are interested in taking responses toward some global issues such as climate change, food security, health and etc. Besides, the globalisation triggers some cultural anxiety. People start to be afraid of losing our traditional cultures. So, I'm sure that evoking traditional cultures will be one of the future directions, and it may offer a 21st-century Chinoiserie aesthetic.
Living in a fast-paced urban society causes individuals to struggle with various pressures. The mounting experience of negative emotions leads to many significant mental health issues, such as depression. According to the latest estimates from WHO, more than 300 million people are now living with depression, and the number has increased more than 18% between 2005 and 2015. Mental illness has become a significant threat to people's health and well-being. Besides, back in the 1930s, a study of positive emotions based on a group of nuns shows that individuals who have more experience with positive emotions will live longer than others. It means that emotions have been playing an important role in human's health. According to the research paper "Happiness in our nature", connection to nature is good for people's mental health. When people experience nature or see images of nature, their mood is elevated. So, it will have the potential to allow a piece of jewellery to engender positive feelings by incorporating symbols of nature in the design. As a contemporary jewellery designer, I feel it is crucial for me to push it further to create a kind of jewellery that can make a little bit of difference to the wearer's life. Therefore, this series of brooch designs uses symbols of the natural environment in jewellery design to engender these same responses toward nature in the wearer of the jewellery. Through depicting a faint scenery of landscapes inspired by traditional Chinese painting, it stimulates people's positive emotions. The beautiful symbol of nature, the lively colour combinations, and the interaction between the wearer and the jewellery will represent a happiness. By wearing it, the wearer will gain a sense of joy, and express their positive feelings at the same time.
Most of my works are inspired by traditional Chinese arts such as painting and calligraphy. In this work, I draw inspirations from the traditional Chinese landscape painting which depicts the natural environment such as rivers, mountains, trees, flowers and animals with ink. In China, people regard human beings as part of nature, and they are originally connected with the natural environment. So, many Chinese people would like to hang a landscape painting such as shanshui on the wall in their houses. People believe these paintings will bring a sense of harmony to their life and further contribute to people's happiness. Therefore, I use some symbols from these paintings to represent the idea of happiness and harmony. Each of the brooches is a miniature of a traditional Chinese landscape painting. Moreover, each of them has a component that is moveable. It draws the idea chi (balance) of Chinese philosophies, which tries to achieve a balance in life. In this work, I try to show the balance between positive and negative space, movement and still, solid form and faint scenery and plain and colourful. So, this is a piece of work that is full of chi and brings people a sense of harmony and happiness.
The stone seal was used as a signature in ancient China. Words that are engraved on the seal represent the owner's personality and taste. So, I made these brooches to look like the stone seal print and represent my cultural background as well as my personalities through the word. All of the words on the brooch are inscriptions on bones and shells of the Shang Dynasty—the earliest Chinese words. I feel closely connected with these words because I was taught to read them by my grandpa since I was three years old. So, they are part of my memory about my childhood and my country.
I think many people still use the seal as a signature (some people in my family do so). Some people still regard it as a hereditary treasure and hand it down to the next generation.
Author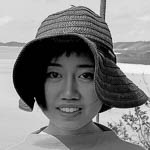 Yixuan Geng is a contemporary jewellery designer who has studied design in Sydney, specialized in jewellery, for five years. After her master degree study, she went back to China at the end of 2018 and is living in Shanghai now. Yixuan continues to making jewellery and uploads her works on Instagram (@yixuangeng)
Tags