Stephanie Radok reviews a book about the Australian painter's long engagement with Chinese culture.
The new book Fairweather and China by curator, art historian and China scholar Claire Roberts examines the life and work of the artist Ian Fairweather with a focus on his relationship to China – and his firsthand experience of both the language and the place.
This examination involves an investigation of the wider social and historical context of Fairweather's life and journeys as well as an analysis of his work as a translator and lover of the Chinese language.
These are complex matters, the encounter of Orient and Occident were, and still are, mediated by mistakes and exceptional individuals. In the early twentieth century in the English-speaking world, the obsessions and work of individuals such as Arthur Waley, Lawrence Binyon, Lafcadio Hearn, Ernest Fenollosa, and Ezra Pound were influential in the appreciation, circulation and investigation of Chinese and Japanese art and culture.
Fairweather was first exposed to some of these threads as a POW over four years in Germany during the First World War. Though he made four escape attempts it was also a time of much-desired freedom from the need to earn a living. He committed himself to art in that situation and began learning Japanese. Later travelling to and living in China and many other countries in Asia, he experienced firsthand the differences and revelations open to the actual rather than the armchair traveller.
Fairweather's life closed with twenty mighty years of making paintings on Bribie Island, which were acclaimed by critics and acquired by major collections in Australia. This has been examined by art historians, notably by novelist Murray Bail, and in interviews and catalogue essays. One more level of immersion is provided by Roberts' book, which is an intimate examination of the artwork and its conjunction with China and the Chinese language's traditional conjunction of writing and painting. It evokes an Australia where bark falls off trees and deep shadows are contrasted with bright light. Where else in the world could Fairweather have camped out for so long without being moved on? Was his friendly reception by Australian artists and galleries not only dependent on the outstanding quality of his work but also helped by his British accent?
One of Roberts' stated goals is to provide a new perspective on Fairweather's art that describes his achievement as transcultural. I wonder should it be polycultural?
✿
Fairweather and China is fresh and detailed. It covers a lot of ground and contains much to learn and consider. The research in Roberts's 2019 book Ian Fairweather: A Life in Letters, co-authored with John Thompson, clearly fed into this volume which uses those letters, teases out connections and probes insights within them as well as adding new layers of marvellous detail and thought.
At the beginning of the book the list of contents over two facing pages pairs the heading of each section with a painted image like a place-marker. There are seven sections: Beginnings, Moving Away, Translating, The Drunken Buddha, Painting after China, A Place in Art History and Legacy.
From the very first work Landscape, China (1933) each of the seven paintings contains a delicate sense of colour and of gesture showing Fairweather's sensitive engagement with line and space.
But it is not a simple journey. The images for Translation, The Drunken Buddha and Painting after China each include assertive black lines over complex coloured backgrounds. If there is an echo of Chinese calligraphy in Fairweather's work it is evident here. The sixth image Bridge, Huchow (1941) borders on Chinoiserie as it has a willow pattern flavour in its composition and blueness.
The seventh image Epiphany (2014) is actually a work by Imants Tillers "quoting" and paying homage to Fairweather. This one has less flow than the others as Tillers' paintings are always more conceptual than felt.
In both A Place in Art History and Legacy Roberts ranges over artists influenced by or interested in Fairweather from Tillers to Aida Tomescu. Fairweather was much visited by artists and writers. There are fascinating descriptions of Fairweather's hut by John Olsen and Milton Moon. And photographs.
The inclusion of artworks by Chinese artists utilising the Chinese language is a further fascinating part of Roberts' investigation and could have been greatly extended. More discussion on the work of Xu Bing who has made language itself such a large part of his work would have been good. I wonder too whether painters such as Cy Twombly and Colin McCahon could have been mentioned, not as being inspired by the Chinese language, but by literally and extensively using language in their work.
Roberts ranges less in Australian art history by focusing on Robert Hughes' perceptive commentaries but not mentioning the words of other historians of Australian art such as Andrew Sayers, Patrick McCaughey and Sasha Grishin.
In 1962 Bernard Smith described Fairweather as "one of the most inventive, personal and original of the semi-abstract painters at work in Australia" and went on to say "it is only upon occasion that his fluency produces designs that are flaccid and repetitive". Such negative notes are left out of this account.
A recurring declaration in the book is the suggestion that Fairweather "sits uneasily within the narrative history of Australian painting" though admitting that he has no established place in British or Scottish art. Yet art histories by the writers mentioned above do incorporate Fairweather into the story of Australian painting and speak of his great influence on many artists. He may not be fully home-grown but he is part of the furniture.
In the current displays at the Art Gallery of South Australia where paintings and furniture in certain themes or eras are mixed together Fairweather has a place near Tony Tuckson and John Olsen, and nearby are Fred Williams and Emily Kngwarreye.
✿
Roberts informs us that "Chinese calligraphy is not abstract to anyone who can read Chinese. Chinese characters are allusive and even elusive in their meanings, but they are not abstract." To those of us who cannot read Chinese to learn that one word can have multiple meanings is confounding. How do people know what anyone means?
Fairweather's immersion in the Chinese language was not in calligraphy. Nor did he speak the language much or have Chinese friends. But his intense hobby of translating Chinese with a dictionary ably documented here meant a lot of thinking about ideas, words, places, people and their relationships. It took his thoughts away from focusing on his art and enabled him to enter his paintings with both many thoughts and no thought. A kind of Tao.
Roberts does not give an example of Fairweather's translation of The Drunken Buddha and carefully describes his somewhat arrogant lack of regard for the demanding profession of literary translator.
Fairweather often used his titles to place his work as a traveller/observer or in a religious sightline. His most sonorous titles point the way to grand themes – Gethsemane, Monastery, Epiphany – and so the creation of sacred space is present. It can also be seen in his mother and child paintings, some of which to me resemble frescoes. The freshness, the gesture, the Quattrocento stasis of frescoes…
Roberts shows how Fairweather imitates or borrows from Chinese art as seen in brush paintings, decorative screens, minimal archetypal landscape, and the expressiveness of a calligraphic language emphasising allusiveness and elusiveness. And the pivotal traditional Chinese notion in painting of spirit resonance, the connection between hand, mind and heart.
Many of Fairweather's paintings consist of lines describing loosely coloured spaces like those of Cézanne. There is often a great deal of unpainted ground thus a sense of light and volume around each painted line creating a broad sense of space. Fairweather does not model his paint – meaning he does not describe volume with shifts in tone inside forms, rather he uses line to imply volume. Like veils of images or broken stained glass windows his works find depth through layers. Transcultural or a play between many cultures?
✿
Roberts records Fairweather as saying in a response to a questionnaire from the Art Gallery of South Australia that the most important artist to him was Turner.
She asks "… was Fairweather seeking to emphasize his historical roots and signal that, despite residing in the Antipodes, his heart remained in Chelsea, where Turner had painted his sunsets?" Not at all. Rather than being tied to being British Turner is best known for paintings containing raptures of colour and light that open up space. And for a contrary, eccentric, reclusive personality.
In 1922 a painting made at the Slade as a student by Fairweather mysteriously included a little man on a triangular raft with oars that just turned up in the middle of the work. Was this prescience about his own infamous raft journey or was it a picture of Turner?
I ask because when Wikipedia-ing Turner I turned up the strange fact: "In 1841, Turner rowed a boat into the Thames so he could not be counted as present at any property in that year's census." Sounds like a Fairweather escape.
✿
Near the end of the book, Roberts mentions finding out about a book that Fairweather first owned as a student and gave to Norman Sterling who often visited the artist at home on Bribie Island and now lives in a rough house he built himself in the bush outside Melbourne. It is The Flight of the Dragon: An Essay on the Theory and Practice of Art in China and Japan, based on Original Sources by Laurence Binyon. There is a nice circularity to this encounter as the book includes a sketch by the young Fairweather and also reminds us of the long involvement of Roberts who studied art in China as a young woman.
Fairweather's colourful, sometimes tragic and peripatetic biography can get in the way of his art but Roberts melds the two effectively into a rich and engaging narrative with generous illustrations though a timeline would have been useful. Fairweather in China is a marvellous tribute to an artist whose work repays repeated viewing and who may yet be discovered by the rest of the world.
Reading this book has made me get out from my Fairweather library, Profile of an artist: Ian Fairweather published in 1978 and based on interviews by Nourma Abbott-Smith. One thing he said to her was that Blue Poles purchased by the National Gallery of Australia in 1973 was the wrong Jackson Pollock to buy.  He asked: "Why not one of his really splendid paintings?"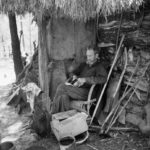 Overallness: Ian Fairweather's life in letters
Stephanie Radok finds the letters by painter Ian Fairweather about his life in isolation on an island to be an inspiring companion for these days.
Fairweather and China by Claire Roberts, The Miegunyah Press, Melbourne, 2021
✿
Like the article? Make it a conversation by leaving a comment below.  If you believe in supporting a platform for culture-makers, consider becoming a subscriber.
Tags