Jessica Murtagh, Modern Relic IX: High priorities in low places (side A), 2021, hand blown glass, sandblasted and engraved, approx. 44 x 25 x 25; photo: Michael Haines
Jessica Murtagh, Modern Relic IX: High priorities in low places (side B), 2021, hand blown glass, sandblasted and engraved, approx. 44 x 25 x 25; photo: Michael Haines
Jessica Murtagh, Modern Relic IX: High priorities in low places (side C), 2021, hand blown glass, sandblasted and engraved, approx. 44 x 25 x 25; photo: Michael Haines
Jessica Murtagh is awarded the February laurel for an exquisite glass vessel that depicts a supermarket checkout in the form of an ancient Athenian amphora.
Modern Relic IX: High priorities in low places is made of hand-blown glass, produced at the JamFactory in Adelaide. The glass consists of two colours, a blue interior and a white, powdered glass on the exterior. Using a modern take on an ancient glass technique called cameo glass, I employ graphic design software such as photoshop to draw each design. This illustration is transferred onto a vinyl resist and adhered to the glass. The form is then sand carved, etching the exterior white glass to reveal the blue underneath and a white relief of the illustration. This is followed by a process of engraving to achieve fine detail within the imagery.
This series of work is inspired by ancient Athenian ceramic amphoras found in many museums. Athenian amphoras often depict scenes of heroism and godly deeds, however just as many depict tableaux of everyday scenes. These scenes are often as mundane as waiting in line for the water fountain, enjoying music to harvesting olives. It was these ordinary scenes that I found to be most compelling given the glimpses such pieces offered into the lives of the ordinary people in ancient Athens. I had a desire to create something that would offer a glimpse of our contemporary lives in a form that would be instantly recognizable, resembling an historical and ancient style of work. After making a number of pieces depicting everyday scenes, COVID-19 arrived and I felt the need to record snapshots of the times we were living given how easily events can be forgotten with the 24-hour news cycle and the passage of time.
Modern Relic IX: High priorities in low places depicts a scene that was replayed for months during the COVID-19 pandemic. Panicked moments played out in supermarkets across Australia and then later, globally, as supply chains became compromised – or simply were rumoured to be compromised. Hoarding of flour, pasta and canned goods became common. However, it was the hoarding of toilet paper that became one of the more absurd elements to come out of the pandemic panic. Modern Relic IX tells the story of this panic and while it could be comical to recall this time when looking at such imagery, it's easy to forget how scared and anxious we had become as a group and the lengths people went to because of that fear. In a time that should've brought us together, people acted out of terror and selfishness – hoarding supplies in ridiculous ways to the detriment of their community.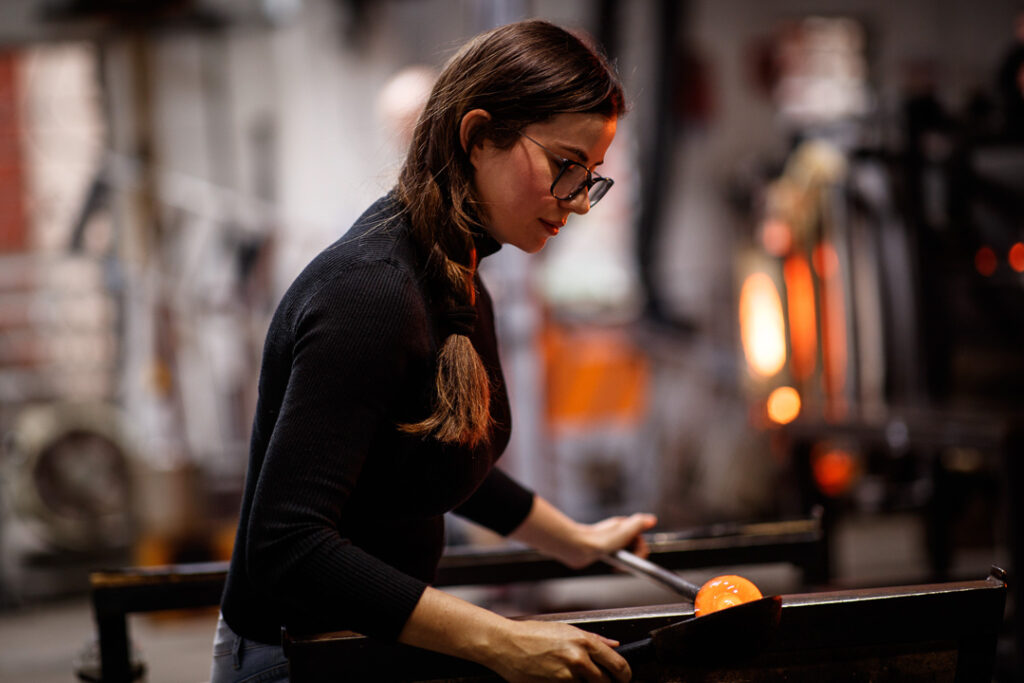 Glass artist Jessica Murtagh at the Jam Factory in Adelaide, Thursday, October 13, 2022. (AAP Image/Matt Turner)Jessica Murtagh is an Adelaide-based early career artist working with blown glass. Having recently completed a Master's in Design (Contemporary Art) from the University of South Australia, her practice is currently based out of JamFactory Contemporary Craft and Design. Jessica's arts practice leans heavily on illustration, using sandblasting and engraving techniques to create imagery and narratives on glass. Her work is predominantly in the form of vessels, which are both functional and sculptural, ranging from vibrant and dramatic to subdued. She draws inspiration from both the natural world and classical artefacts, contrasted with contemporary themes. She has exhibited in numerous prizes and exhibitions around Australia. She was recently a finalist in the Tom Malone Glass prize at the Art Gallery of Western Australia. In 2021 Jessica was awarded Highly Commended in the Waterhouse Natural Science prize, and in 2019  was awarded the Vicki Torr Emerging Artist Prize. Her work is held in a number of private collections, and was recently collected by the Powerhouse Museum, the National Gallery of Victoria, Parliament House Art Collection and the Hamilton Art Gallery.
Follow @vintagemurtagh and visit www.jessicamurtagh.com.au.
✿
Like the article? Make it a conversation by leaving a comment below.  If you believe in supporting a platform for culture-makers, consider becoming a subscriber.
Tags