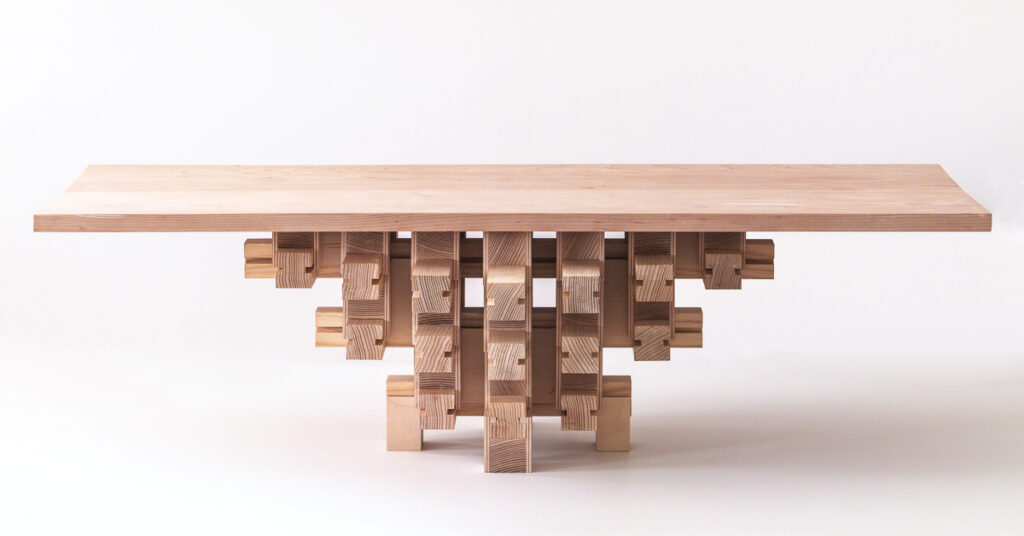 The July laurel goes to Mien Wei, whose work at Design Shanghai interprets the ancient Dou Gong beam and bracket system for domestic use.
The project started on an architectural road trip across China. There are a large amount of ancient wooden architectural relics scattered across central-northern China, particularly in Shanxi province. These buildings withstood the test of time and are still standing today. A few of them became prized tourist attractions but most of them remain quietly in the mountains and villages that are mostly unknown to the fast-developing outside world.
A type of wooden structure called Dou Gong plays an important role in the historical development of Chinese architecture. Dou Gong is essential to the timber frame structure of traditional Chinese buildings, as it binds the roof, girders, and pillars together to distribute weight evenly. Dou Gong serves primarily as a structural element in architecture in early dynasties, used to distribute weight evenly across large architectural volumes. In later dynasties, Dou Gong gradually turned into a decorative element of architecture and serves mainly aesthetic purposes.
The table was designed on a grid system derived and simplified from a traditional architectural manual. A natural extension of a tradition that might have happened in an alternative universe. In the vastness of human history, many of the techniques and chains of thought have been lost due to the chaotic nature of our world. It is always enjoyable to submerge in the diverse possibilities our world has forgotten, and that satisfying moment is what I try to create in this little piece of furniture.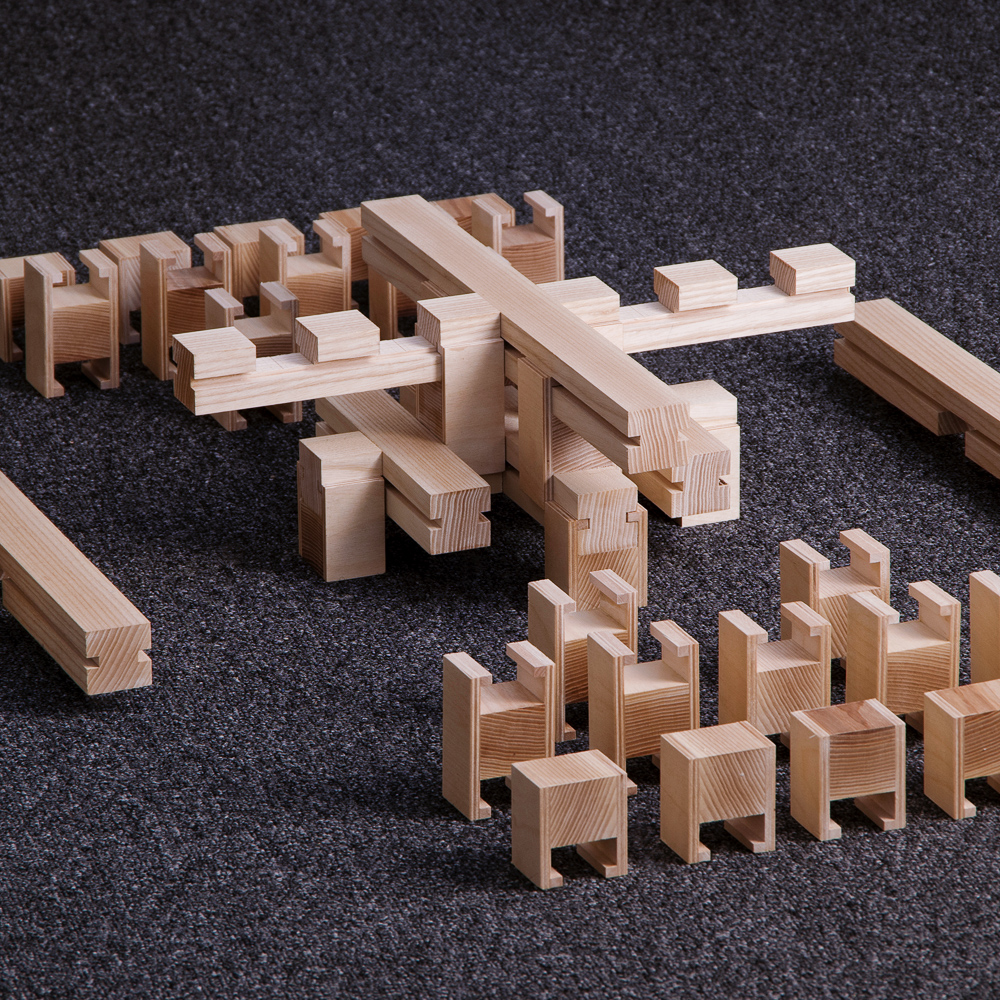 The table has a strong presence in the room. The image might look puzzling at first, but as the user builds the table, the realization comes that the complex aesthetic of the table grows from the simple and understandable interlocking structure without any decoration or ornamental excess. Through building the table, the complexity fades away, and the sensible nature reveals. The structure itself creates the form and the aesthetic. The table is by itself a different piece of furniture for the viewer and the user.
By the use of traditional interlocking wood structure, the assembly of the table is also the process of experiencing history. The supporting structure is made of modular parts that can be easily disassembled and reassembled in need of storage and moving. The bracket connectors (Gong) slide easily into the beams (Dou) to form the weight-bearing structure and retain structural integrity when the table is being lifted.
这是一个以斗拱为灵感设计的茶桌,也是一次使用现代制造工艺量产化传统斗拱结构的探索。通过将传统斗拱部件标准模块化。使得除桌面板材外所有零件均可由横截面相咬合的两种预制木料切割而成。因模块皆可以榫卯或导轨相互咬合,故安装不需要使用螺丝固定。结构可拆卸,便于运输及储存。使用者将在搭建该茶桌的过程中体验到历史的延续。
Visit Design Shanghai and follow @design_shanghai
✿
Like the article? Make it a conversation by leaving a comment below.  If you believe in supporting a platform for culture-makers, consider becoming a subscriber.
Tags