Cassy McArthur is finally able to return to the granite country where she collects the clay that honours its intricate beauty.
Today is a clay collection day.  It's not as warm as I had hoped, but an overcast sky and a cold southerly isn't enough to take the shine off the day. It has been a long time coming. Covid lockdowns and life's little challenges have impacted the flow of my art practice and my ability to travel away from home for the collection of materials. It has been many months since my last clay collection journey, and even longer since I have travelled to Wescot.
A little over an hour's drive west of Ballarat, Wescot sits between Mt Ararat and the Grampians and is a picturesque property of undulating granite foundations, small gullies and rolling hills splashed with red gums and wildlife. It has been in my mother's family for generations and remains for me a place of personal significance and grounding. Connection to place has a huge impact on my ceramic art practice and drives my creative outcomes. For me, collection goes deeper than the literal act. It involves a visceral response to the environment around me; an awakening of the senses through engagement, observation, connection and reflection.
So, today I return to Wescot with clay collection on my mind. After an enthusiastic visit and lunch with my parents, I head off down the paddock with my chatterbox off-sider for the day, Mum. Buckets, shovel and rock pick in hand, we wander down to the creek through a dusty pink and green wash of sorrel and flowering grasses.  Cockatoos screech overhead… so many cockatoos. As I scan across the vista, it is impossible to not think how beautiful it is and how at peace I am here.
For as long as I can remember, I have been fascinated by the geological landscape and the beauty and history embedded within it. This fascination has taken me below the surface to clay. With the geological landscape as inspiration, materiality sits at the core of my processed-based art practice. From immersion, observation and collection to how I work in the studio through investigation, experimentation and intuitive creation by hand, my creative outcomes are derived from the voice of the materials.
Depending on the materials I collect, each collection phase varies greatly. Simply put, clay collecting is hard physical labour—heavy, dirty work often in difficult locations. With rock hard earth in summer and water-logged, boggy slippery ground in winter, it can test my endurance. On the other hand, seed collecting and foraging or fossicking are calm and contemplative times. Each phase has its own experience set within a larger more encompassing experience of my creative practice. It is all about connection—a connection to the natural environment. By collecting my own clay and materials, I carry my observations and experiences to the studio, creating pieces designed to sit within the lived interior to build a connection for others.
✿
I've made it to the creek where I am careful to select a spot to remove clay without causing harm to the immediate environment. The walk along the creek bed at this time of year is muddy, slippery and sludgy, but I don't have far to go. The buckets of clay are heavy, weighed down with moisture. But I love it. My senses are highly tuned. I take in all that is around me. The creek wall is a marker of time; sedimented layers of sand, clay, oxidised granite. Mum's up the top with camera in hand, her chattiness drifts on the breeze down the creek. I have no idea what she is saying and laugh to myself.
Once I have collected a couple of buckets of clay, I head to one of the gullies where an outcrop of granite lies. Whilst my current work is heavily inspired by the volcanic landscape of the Western Plains of South West Victoria, where I live and have my studio, an abundance of other naturally occurring features find their way into my work. I am interested today in recording some new lichen growth on the granite boulders, particularly their texture and formation. Details, such as these will make their way into my work by way of abstraction.
Whenever I am in the natural environment I am on the lookout for interesting finds. Whether they be inclusions in my work, or for mark-making or forming, found materials such as clay, rock, stone, sand, bark, wood, seeds, ash and discarded ferric objects are collected for their individual characteristics.
✿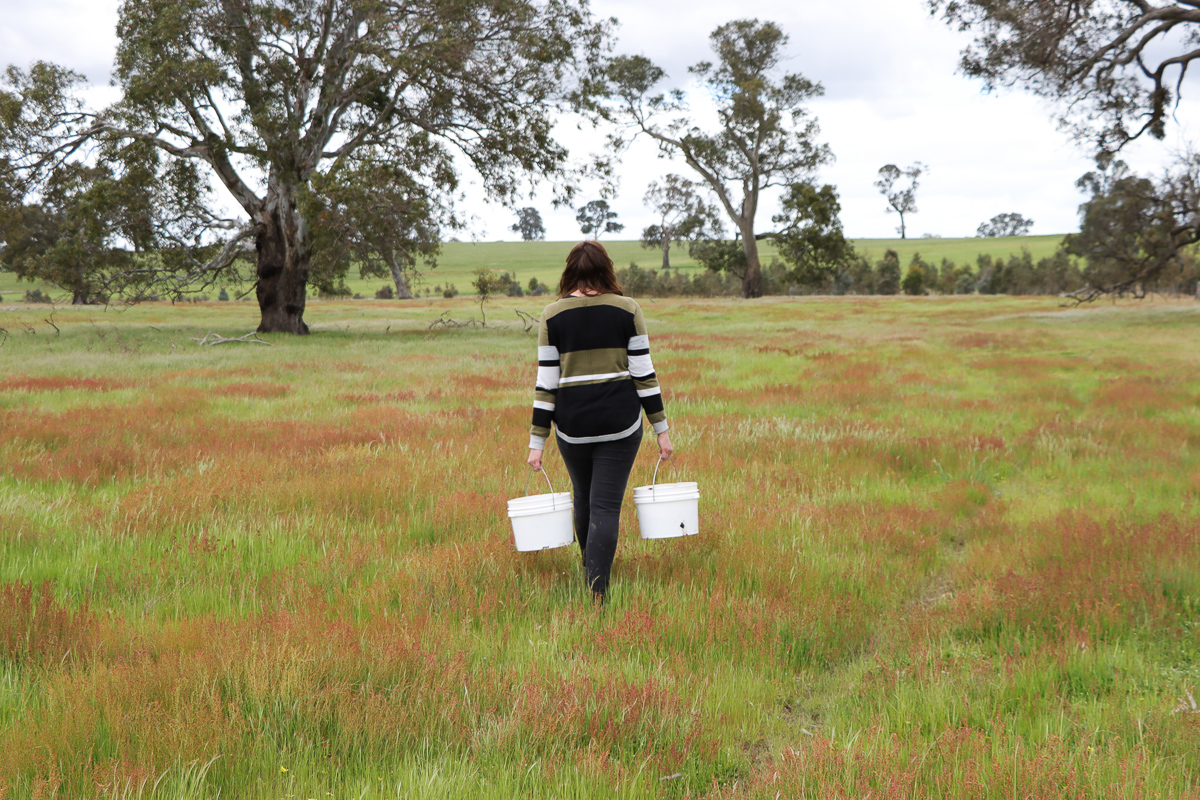 Returning from the creek, I am happy with the day. I am invigorated and ready to return to the studio.
Video by Josh Waddell, Far Flung Films; Commissioned by City of Ballarat, UNESCO Creative City, 2021
About Cassy McArthur
Cassy McArthur is a ceramic artist whose studio is situated on Wadawurrung Country on the Western Plains of South West Victoria within the Newer Volcanics Province.  Inspired by the geological landscape, Cassy's focus is working with clay and materials hand-collected from the natural environment.  By translating nuances of the geological landscape into pieces designed to fit within the lived interior, Cassy aims to form a bridge of connectedness between the human lived experience and the natural environment. Visit cassymcarthur.com and contact cassy.mcarthur@gmail.com.
✿
Like the article? Make it a conversation by leaving a comment below.  If you believe in supporting a platform for culture-makers, consider becoming a subscriber.
Tags