The ancient Mayan legacy of the construction and keeping of time, is mirrored through backstrap weaving in contemporary Guatemala. It is a highly technical and process-driven practice.
I had the pleasure of being the first patron on the Immersive Textiles Tour for 2018 hosted by the Maya Traditions Foundation. The Maya Traditions Foundation is a non-profit social enterprise based in Panajachel, Guatemala. This 6-day Immersive Textiles Tour gave me an invaluable opportunity to witness how the local Master Weavers' created some of the most exquisite textiles I have ever seen. The revival of this method pays homage to a self-sustaining lifestyle that involves the processing of organically dyed thread (only one of the communities produce their dye themselves). It is at once a celebration of the handmade, a strengthening of community, sisterhood and respect for Elders. The Foundation has been a springboard for the preservation of traditional cultural identity as well as enabling the women to earn an income. For me, this tour was a "thread" that forms part of the Foundation's series of programmes including Artisan Development, Community Health, Youth Education and Fair Trading. To date, the Maya Traditions' Foundation has helped weave six Mayan communities from Patanatic, Nahualá, Chirijox, Quiejel, Chuacruz and San Juan, into a network of craft-based practitioners both locally and internationally.
Muchas gracias to Dina Salpor, Laura Gehring and the Master Weavers. The Immersive Textiles Tour was part of a 5-week Self-Initiated research and development project that spanned across Peru, Mexico and Guatemala. The research project was exploring transitional rites focussing on death, the afterlife and rebirth through participating in spiritual ceremonies and visiting sites of where significant textiles, sacred rituals and funerary objects previously/or currently performed, produced and/or housed. This experiential-based project was part funded by the National Association for the Visual Art's (NAVA) 2016 Sainsbury Sculpture Travel Grant.
✿ How do you think this experience has affected your work?
In retrospect, I think that this experience has inspired me to continue celebrating the handmade and work with a diversity of materials as well as approaches to producing art. It has also validated my decision to continue walking the path as an artist.
Author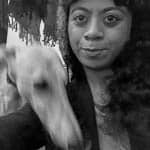 Ann Fuata is a Melbourne-based artist of Sāmoan-Hawaiian-European bloodlines. Fuata graduated with a Bachelor in Fine Art at the Victorian College of the Arts in 2010. Fuata has a process-based practice that spans across performance, installation, video and sculptural objects. NB: Selfie with housemate, Tess, a retired racer whitehound with a gentle heart.
Further reading
McLeod, A.Philosophies of the Ancient Maya: Lords of Time Lexington Books, Lanham, MD, United States, 26 Dec 2017
Maya Traditions Foundation website: mayatraditions.org
✿
Like the article? Make it a conversation by leaving a comment below.  If you believe in supporting a platform for culture-makers, consider becoming a subscriber.
Tags