Damara Jacobs-Morris acknowledges her Grandma for passing on the sacred tradition of Cowichan knitting.
Dearest Grandma,
Thank you for being a maker. Thank you for wrapping me in the sacred works you created. I doubt you saw yourself as an artist but that is what you were to me. A phenomenally creative being that made things. Beautiful things. I still wear your creations with pride. We all do, all of your children, grandchildren, and great-grandchildren. Thank you for teaching me the power of my hands. Thank you for teaching me to honor the wool and cedar. Thank you for passing on our sacred teachings. Huy chexwa.
Love Always,
Your Granddaughter
---
Making is sacred. It is the work of gifted individuals who possess patience, dedication, and humility. Makers and artists in my First Nation community are upheld and honored for their abilities. Without them much of our snewèyalh (teachings) would be lost. These individuals have a significant and integral role within our customs and societies. They possess the knowledge and skills to create our ceremonial objects and regalia. Our distinctive clothing and adornment was in the past and continues today to be an indication of rank and prestige.
My Nation, Skwxwú7mesh (Squamish), is part of a larger ethnic and linguist grouping known as the Coast Salish. We have familial ties across the Pacific Northwest, specifically British Columbia, Canada and Washington, United States. Up and down the Coast one can witness similar cultural ceremonies and societal structures which results in shared practices and techniques of making. The makers within my community know how to harvest and process materials such as wool and cedar and transform them into blankets, shawls, hats, and headdresses. While weaving and textiles are not unique to my people we have made some ingenious advancements to the practice. One, in particular, is known as Cowichan knitting.
The Cowichan are a group of Coast Salish people, specifically referring to those Cowichan Nation communities who trace their ancestry back to the winter villages of the Cowichan and Koksilah Rivers and Cowichan Bay of Vancouver Island, British Columbia. "The Cowichan people, already renowned for their weaving, quickly adapted to the art of knitting introduced by white settlers, and created what is now the world-famous Cowichan sweater, whose trademark is that it is knit all in one piece" (CowichanTribes.com).
Cowichan knitting is an example of what anthropologists call the arts of acculturation (Meikle 3). "Acculturation is the process of social, psychological, and cultural change that stems from the blending between cultures" (Sam and Berry 472). Before contact with white settlers, First Nations utilized mountain goal wool, Salish wool dog hair, fireweed, and other fibres to create blankets, dance aprons, leggings, tumplines, and baskets. The wool and other fibers were spun together with a spindle whorl and the weaving was completed on a loom. After European spinning wheels were introduced, the Cowichans modified and created their own wheels. The innovative First Nation designed spinner heads were "copied by manufacturers in the United States, Canada, and New Zealand…The specially-adapted spinning wheels are now known as Bulky or Indian Head spinners" (Meikle 11). After the introduction of sheep in the mid-1800s most knitters began using sheep wool instead of mountain goat wool and unfortunately by the 1900's the Salish wool dog was extinct. Cowichan makers revolutionized their local practice through combining Coast Salish spinning and weaving systems with the Scottish Fair Isle knitting technique and European textile technology.
The materials and techniques our contemporary makers employ have been modernized but the use and meaning of the works they create are ancient.
Why do these Cowichan sweaters, essentially unchanged…remain popular? Certainly because they are economical, waterproof, serviceable, sturdy, beautifully patterned, durable, and locally-made for the coastal British Columbia climate. Still, other garments share many of these qualities. It is the distinctive Indianness of the sweaters that makes them particularly attractive to both British Columbians and tourists and creates the strong attachments owners have to them (Meikle 1).
The romanticizing of how and why Cowichan knitting came to be, ignores the ugly truth of colonization and assimilation. I think the desire to possess something with a "distinctive Indianness" is rooted in the need to belong. With the exception of Indigenous peoples, all North Americans are immigrants. Through the need to acquire
something authentic are we revealing the truth that we are a displaced people longing for a homeland?
Over a hundred years later Cowichan knitters are still proudly creating sweaters. Taking pride in the creation of objects not just for regalia but for all life activities is what my Grandmother taught me. My Grandmother was a skilled knitter, crocheter, and weaver who created Cowichan knit sweaters and cedar bark hats. To me, my Grandmother's knitted and woven work represents the ingenuity and resilience of our people.
Cowichan sweaters are thought of as "visual statements, symbols of the West Coast, readily identifiable Canadian dress" but to me they represent a long history of makers who used their hands and hearts to ensure our Indigenous ways of knowing would not be lost (Meikle 1). To ensure n'chu7mut (oneness) is still honored and practised. To safeguard all that our ancestors fought for and uphold who we are and where we come from.
References
"About Cowichan Tribes – History – Origins." Cowichan Tribes,  Accessed 30 Aug. 2017
"About Cowichan Tribes – History – Modern Society." Cowichan Tribes, Accessed 30 Aug. 2017.
Meikle, Margaret. "Cowichan Indian Knitting." Museum Note No. 21, University of British Columbia Museum of Anthropology, 1987.
Sam, David L., Berry, John W. "Acculturation When Individuals and Groups of Different Cultural Backgrounds Meet." Perspectives on Psychological Science, vol. 5, no. 4, 2010, pp. 472-481.
Author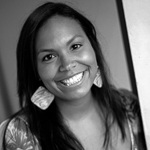 Damara Jacobs-Morris carries the Ancestral names Cha7awtenaat iy Siyamiya. She is proud of her Skwxwú7mesh (Squamish) and African American ancestry. She was born and raised in the villages of Xwemelch'stn and Esla7han (Capilano and Mission Indian Reserves) located in Vancouver, British Columbia. Damara grew up surrounded by educators and artists, an aspect of her identity that leads her to choose a career in creative fields. She received a B.A. in Communications and an M.A. with honors in Art and Visual Culture Education. She is currently Grants & Development Communications Manager at Tacoma Art Museum
✿
Like the article? Make it a conversation by leaving a comment below.  If you believe in supporting a platform for culture-makers, consider becoming a subscriber.
Tags