Mother and son, a boy and his ma. Selfies centring around his influence on her, her influence on him. Graffiti, layers, cloth, blockprint our common tools. A dialogue as we nudge and talk through working together from afar. Us, our family, our people, our mediums all melded together.
Where did we start, how did we start?
The short answer—about 2 years ago when I, Fiona put the elbow into Zac, "My son, let's do something!" It might be a silly old ma thing but I love his style and the opportunity to play with it in our studio, I also like to see him working and he has been going through a bit of a slow spell so thought to encourage him. So, I was surprised and pleased when he said "Yeh, let's do it"
Our home has always had a working studio at the centre of it. So making things is something we all do in our various ways. I used to travel and teach textiles, run textile tours and around 10 or 12 years ago came home to find Zac out in the garden shed with some of my old canvases transforming them with his stencil graffiti approach. He was upset about a proposed dam up past Dungog and wanted to speak out. He found a voice and the bones of his first exhibition.
To encourage him, I collected pictures of graffiti from all over the world, and came to love the style, particularly its passionate focus, layers of paint and texture, layers of thoughts, great patina. Texture and layers, I worked hard to incorporate this into the artworks I was exhibiting at that time. We'd tried to find ways to get Zac's stencils onto cloth for me to use but were never really satisfied…. He sprayed through the stencil which did not work on cloth, sponging was wrong. Grrr, frustration at the time.
Earlier than this, around the time of Zac's birth, I had discovered lino cuts and produced mountains of hand printed garments. I glued the lino to wood to make stamps. Skip to India 2003 and I discovered the world of the chhipa and blockprint and wow—I was moving there! At this time I was travelling, teaching, leading textile tours and poking my nose into everything craft I could find.
In 2008 I moved to India to be with my husband Praveen. Zac stayed with us for six months and with time on our hands, we commissioned blocks of his stencils and started to print. Around this time, what was to become The Stitching Project also started to evolve. Inadvertently? Yes, I thought a few women could be taught to stitch and they could go off to earn an income. This did not work out. More help and involvement was needed from us and slowly what is now The Stitching Project evolved.
With no traditional ties to the chippa community, we have always been conscious of developing our own approach to print designs, Zac's use of stencils and graffiti has been a major influence, that and lacking the skill to print a straight line has led to the use of layers and over printing used regularly at TSP.
During his last visit, Zac worked at developing texture on our cloth by spraying pigment ink and printing blocks with large areas of wood and a dryer print tray to add textures to our work not traditionally seen, larger scale, text and simple organic geometric shapes are a large part of our repertoire.
"off the wall" was a chance to share our mutual enjoyment of bumping off each other, exploring how we could work together. Being a kind of selfie, we decided to focus on those who are part of our shared experience: family and friends. The exhibition was centred around Zac's portraits of those dear to us and their layers of influence on our lives.
Author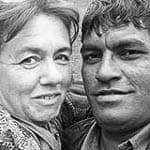 Fiona Wright, Australian now living in Rajasthan with Praveen Nayak run The Stitching Project- a social enterprise creating work and handmade textiles in rural Rajasthan. We started together leading hands-on textile tours to textile and craft hotspots around the world through our Creative Arts Safaris before settling and starting our studio workshop. www.the-stitching-project.com www.creative-arts-safaris.com
✿
Like the article? Make it a conversation by leaving a comment below.  If you believe in supporting a platform for culture-makers, consider becoming a subscriber.
Tags