Craft has been tossed about in Sydney like a ferry on a windy day. For a time, what was seen as traditional craft was rendered invisible in our shiny, progressive, global city. Innovation and design thinking were the buzz words of the creative industries with design taking the limelight. While the attention had momentarily shifted, craftspeople were still busy making, rediscovering old skills and learning new ones, creating new materials out of anything to hand and slowly the appreciation and interest in craft skills and handmade objects has re-emerged.
Designers have begun to engage with craft, and makers have found new markets for their work in the design space and on the pages of design magazines. The lines that divided art, craft and design have blurred, with contemporary artists employing hand skills such as ceramics and textile crafts in their practice. These days it is not unusual to see traditional craft mediums like ceramics, jewellery and textiles, as well as mixed media works, included in contemporary art galleries and art fairs.
Australian Design Centre (ADC) has been a pivotal part of the craft scene in Sydney in its various guises (as the NSW Crafts Council and Object Gallery) since 1965. Over the years we have curated so many ground-breaking exhibitions, including a number that celebrate craft and making skills, such as the series Living Treasures: Masters of Australian Craft. While we are still celebrating the success of our eighth Living Treasure exhibition on Lola Greeno, which toured for four years, we are also curating the exhibition for our next Living Treasure, Prue Venables, which opens in August 2019. These, and other exhibitions, tour thanks to our national touring program ADC on Tour, which takes craft around Australia linking with galleries, museums, universities and associations to develop audiences who appreciate the skill and ingenuity of the maker.   
ADC is also a training ground building a creative workforce of project managers, communications and development specialists, designers, curators, writers, and strategists.  Not a week goes by without discovering someone who once worked for Object! We've retained the association with the much-loved Object branding in our Object Space, Object Shop and Object Platform connecting the past with the future for craft and design in Sydney.
Our work to profile Indigenous artists and their making practices in many, many exhibitions have continued to build awareness and understanding of the creativity of our First Nations people, including making practices that have developed over millennia. This includes tjanpi weaving practices exemplified by Tjunkaya Tapaya in the ADC On Tour exhibition Obsessed: Compelled to make and shellwork by Esme Timbery, that featured in ADC's Object Space gallery and on the cover of the 2018 Sydney Craft Week program, just to name a few.
Sydney's craft eco-system is made up of many parts. From the collections and exhibitions of the Powerhouse Museum, to the many craft guilds and volunteer-run organisations like the Society of Arts and Crafts (now Craft NSW), studios and galleries including Paddington's Sabbia Gallery, which for many years has represented the very best ceramic and glass artists, to Kerrie Lowe gallery in Newtown, Courtesy of the Artist, Koskela and Stanley Street Gallery in East Sydney just to name a few.  Parramatta Artist Studios' Weave Group, Makerspace and Claypool are just some of the many places where makers make work and collaborate.
Cultural diversity is also key. Knowing that Australian craft is as diverse as the people that have made Sydney home in recent times, adds to the rich traditions of making to be found right across the City from Afghani Women's textile crafts to Japanese enamelling to gold and silversmithing from European traditions.
We created the Sydney Craft Week Festival in 2017 to once again shine a spotlight on craft.  To bring together Sydney makers, galleries, shops, cultural centres and other organisations right across the Greater Sydney metropolis. Sydney Craft Week connects makers with audiences and gives us all a chance to slow down and use our hands, learning new skills and firing the creative neurons. In bringing together a huge range of craftspeople, events and organisations as part of the festival, we've focussed on the essential ingredients in craft practice – the creativity, the hand skills and the ways in which making is beneficial to our mental health.
The response to the inaugural festival was phenomenal and Sydney Craft Week returned in 2018 with a theme of mindful making. Now firmly set in the annual calendar of Sydney festivals for early October, this is a celebration of craft – not only offering an opportunity for us to admire the work of professional makers, but also a chance to get our hands dirty, be creative and reconnect. The connections that we have fostered have also been incredible and led to collaborations beyond the festival period.
This year, Sydney Craft Week returns and the festival theme this time is PLAY. So often as adults, we lose the ability to play and our creativity goes with it. As Pablo Picasso said: "Every child is an artist. The problem is how to remain an artist once we grow up." As part of exploring the theme, we are encouraging the craft community to be creative with their events in the program, offering opportunities for all of us, young and old, to take a break and have some fun. Play is also vital to the education and development of creativity in children – as is art, craft and making—and we look forward to seeing what play-related kids workshops our participants will be proposing.
Sydney is embracing the innovation that design brings but also valuing the hands of the skilled maker. We're looking to the future but we also recognise and value tradition, especially for the depth and meaning it gives to our lives in the city.  
Authors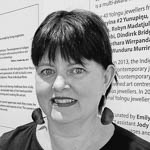 Lisa Cahill, as the CEO and Artistic Director of the Australian Design Centre, plays a lead role in facilitating opportunities for Sydney's creative community to develop audiences and markets for their work locally, nationally and globally. In the last three year she has produced close to 50 exhibitions, over 300 events and touring and festival programs with the ADC team and their collaborators. An exhausting yet dynamic period of evolution for the organisation.
Penny Craswell is Creative Strategy Associate at the Australian Design Centre, where she is engaged primarily with planning the forward program, exhibitions, public programs and other activities across a range of design and craft disciplines. She was co-curator of ADC exhibition Obsessed: Compelled to make, which is currently touring Australia and is also Co-Director of Sydney Craft Week, an annual ten-day festival produced by ADC.
Lisa Cahill and Penny Craswell are the co-directors of the Sydney Craft Week Festival, an initiative of the Australian Design Centre, which runs from 11 to 20 October 2019. 
✿
Like the article? Make it a conversation by leaving a comment below.  If you believe in supporting a platform for culture-makers, consider becoming a subscriber.
Tags