"Still, what I want in my life is to be dazzled—to cast aside the weight of facts and maybe even float a little above this difficult world.
To pay attention, this is our endless and proper work.
I don't want to end up simply having visited this world.
I simply do not distinguish between work and play." 
― Mary Oliver
Charlotte Haywood is a traveller who immerses herself in other places seeking to understand culture, language and environment. Throughout her childhood, her family of "culture makers, story-tellers and radical thinkers" moved several times often living in remote locations. "It taught me to be a good observer—made me highly sensitive and empathetic—and I developed a 'survival' mechanism in order to fit into each new place." She says that her family "have passed on an inherent curiosity of a nuanced world" that has provided "a wide palette to draw upon". As I write this article she is in South Africa, no doubt exercising that curiosity and gathering experiences that will influence new bodies of work.
An emerging multi-disciplinary artist, Haywood's formal study has traversed a wide range of disciplines including communications, international relations, fashion design, tapestry weaving, sculpture, performance and installation. She considers her formal academic education as "stepping stones" to enhance her practice through "drawing, design, pattern making, sewing, communication, weaving and critical thinking" but her "strongest influences have come usually from outside of academia".
Packing a lifetime of adult travel into just a few years, Haywood has worked with many different people from craft practitioners, artists, architects and designers to scientists and local families in Kerala, India, Peru, Vanuatu, Indonesia, Australia and Thailand.
Travelling to India, and meeting mentor Robyn Beeche on an Ashram (where George Harrison and Ravi Shankar apparently hung out), was where her passion for weaving began. In Varanasi, she learnt to weave and made her first ten metres of silk brocade "with motifs of the protective hands found stamped in madder (red pigment) at the doorways of houses and the motif of the holy cow". In Kerala she lived with a family of weavers learning the traditional horizontal warp-faced weft weaving and resisting their attempts to lure her away from the loom to sightsee. "I have sought colour, textiles, skills, narrative and language ever since."
Colour dazzles Charlotte Haywood. She is intrigued by how the value of colour shifts culturally and historically. These words written about her work strongly resonate:
The colour green conveys diametrically opposed concepts—verdant life astride poisoned decay. And its significance is as varied: it is the signal to proceed, it is mould, naivety, sickness, and the first shoots of life. It is young or unripe plants, a symbol of renewal, the "transformation" of a desert or urban area, and it is indelibly linked to our efforts to save the environment. – H Morgan-Harris
In Green Asylum, Haywood continues a personal investigation into the Australian landscape: colonisation, representation of history, survival, and her interpretation of "flux" that includes questioning "meanings, values, ethics, landscapes, currencies, architecture, people and language". Green Asylum is the latest in a series of exhibitions that began with Green Influx that interrogated all of these cultural states, particularly "the multimodalities of sanctuary to language".
The dominant work in the exhibition is a structure to which tapestry panels are applied creating an architectural form. Rather than recreate an image in tapestry form, Charlotte begins with an idea and adds colour, meaning and materiality during the weaving process. She uses materials that are "synonymous with human activity", clothing, blankets from institutions, life jackets, sheets, towels and the weaving is weft faced allowing the 'threads' to show themselves in raw, rough-hewn form with an extremely heavy warp to carry the thick weft. Conceptually, Charlotte uses a multimodal or interdisciplinary approach to her research and the development and ultimate presentation of her work. This means that within the work audiences can find language, communication, culture and landscape. She says, "it seeks to highlight Indigenous knowledge and language, whilst celebrating diversity within contemporary culture". "I hope to find connectedness and show that actions speak louder than words."
Ideas and materials are inextricably linked in Haywood's experimental process. She weaves together her thoughts, ideas and experiences with colours, motifs, techniques and materials. Green Asylum also incorporates digital material.
"The weaving works use materials that hold cultural, social or political significance and take months and months to create. This woven or 'static' work is traded with the 'fleeting' as the digital works or video works I create use motifs of the body or the hand as motif, language and action."
Green Asylum promises to be an original cacophony of ideas and material woven into an experience that will have us thinking differently.
Author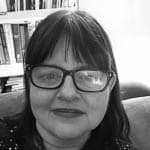 Lisa Cahill is the CEO and Artistic Director of the Australian Design Centre where she is currently juggling exhibition projects and the upcoming Sydney Craft Week. She grew up in Melbourne, spent a decade in Canberra and now lives in Sydney with her partner, their ten year old daughter and black fluffy dog. Australiandesigncentre.com
Green Asylum is showing at the Australian Design Centre in Sydney from 17 August to 27 September 2017.
✿
Like the article? Make it a conversation by leaving a comment below.  If you believe in supporting a platform for culture-makers, consider becoming a subscriber.
Tags