Charlotte Haywood presents the Mnemonic Vegetables project that includes practices to help us remember the plant world in specific locations.
(A message to the reader.)
---
I am writing about the germination of the body of work Mnemonic Vegetables and the multiple artists including myself, plant practitioners, multi-cultural Knowledge holders, performers, vocalists and places that entangled a community of seeded relationships, explorations and processes in reverence for the plant world. The inherent value of Mnemonic Vegetables was not in the works created but in the space and time created to be with plants and each other; remembering, cultivating and sharing plant-based knowledge, story, processes, materials and reverence, where the intention invoked is to create relationships that honour the plant world, the living planet and each other. These are often vulnerable spaces and rely on thresholds of trust, curiosity, generosity, exploration, intuition, adaptability and embodied knowledge. In looking to create a tapestry of voices, the body of works offers multi-modal and multi-lensed viewpoints beyond systems of ownership and hierarchies to shared and reciprocal relationships of care and respect. By weaving together across time and place, invited plant-based artists, practitioners, materials, processes, practices, mythologies, stories, bio-connected thinkers, dancers and vocalists, multidisciplinary works were created as independent pieces, collaborations, evolutions and responses. A living dialogue of plants, enmeshed in the senses, transcribed through human beings and their relationships.
Extending this idea further is the examination of language and the use of nouns to shape our relationships with sentient beings. This is displayed in the titles of the works that elevate plant beings and our relationship with them for their inherent intelligence and non-biased generosity.
Below are multiple threads that helped unravel and re-ravel the humus for Mnemonic Vegetables.
(1-X) AUGUST, 2019, COCACHIMBA, AMAZONAS, PERU, 1798 METRES -6.0581° S, 77.8942° W
The cloud forest of Cocachimba is a remote village home to the worlds' 3rd-16th tallest waterfall, depending on who you talk to. Known to the locals since the 1950s and surrounded by superstition, the Catarata de Gocta was announced to the world in 2005, while the foot trail into the village was updated with a dirt road about 10 years ago.
I was with my young family, immersed at Gocta Lab, an Interdisciplinary Lab and nature lodge, beholden to the majesty of vertical water as sound and sight, the extreme scale of the Andes and the ever-present enchantment of hummingbirds and orchids. I was cracked open.
It was a ripe place, operating primarily on raw senses, to have a slap in the face/reality check/meltdown/epiphany/existential lens shift/ metamorphoses; alas a debilitating and fear-stricken one, that rendered me inoperable with the overwhelming sensation of deep grief, sadness and mourning. A broken heart.  For the planet, all its beings and entities…..and my children. (The last time I had experienced such extreme helplessness was whilst caring for my own dying mother.)
I was triggered by reading an article, "Facing Extinction" by Catherine Ingram, both a Dharma teacher and former journalist. It wasn't that I was unaware of the state of the planet, the destruction and the sickening feeling of being totally implicit by way of time and place, but it was the very honest hopelessness described.
(1-Y) The Teachers (2020)
"It is no sign of good health to be well adjusted to a sick society", Krishnamurti
With the dominant worldview ethic of exploitation, how do we cultivate honourable relations to the living earth and each other? Where children can recognise more plant species than logos?
Strong as a tree, as fragile as a reed….the genesis of metaphor, story and knowledge stem from the plant world and living planet.
Plants are intelligent and they can remember. They have sensory responses to their environment, each other, friend and predator. These responses help them adapt, communicate and survive, together. Their relationships flourish through biodiversity, interspecies mutualism, non-biased generosity, creating networks of reciprocity, communities of shared resources. Entangled, Interwoven, interconnected.
(2-X) December, 2019, San Juan Chamula, Chiapas, Mexico, 2,200 Metres, 16.7862° N, 92.6890° W
An autonomous Indigenous Tzotzil Maya town, strictly inhabited by Tzotzil; operating outside of the federal and state governments of Mexico.
The Tzotzil Maya survived the crusading invasion of the Spanish Conquistadors and have adapted a unique synchronistic religion of ancient Mayan and Christianity. The 24-hour church displays its blended Mayan Gods dressed up as saints and is free of chairs or pews. Worshippers sit on a ground of soft pine needles, which protects them from slipping into the underworld. The pine's scent wafts together with the burning copal and seas of wavering candles stain the walls black… The senses are alive.
These plant materials are mirrored on the outside, as decorations made of twined pine needles twisting beliefs together. Curtains of protecting bromeliads hang densely around saints and in home altars. The Maya culture is strong in its communal living, resistant to the dominant individualism over centuries. Whilst having adapted to living in two worlds, with their bilingual schools, and offerings of once coloured maize of the "thundercloud black, solar yellow, pearly moonlight and blood red" (Kimmerer) now swapped for the colours of soda pop, coca-cola and Fanta. The Maya motif of the Capok tree or tree of life, connecting the underworld to the earth and sky, is enmeshed with the symbolism of the Christian cross into living religious and cultural practices.
Maize, the Mother of all things took two different colours of corn and created humans.
The three sisters story embodies healthy reciprocity, practicality and metaphor of growing staple crops in the Americas. The three crops entwined in relationships of reciprocity: as the maize is the structure from the beans to climb, beans as nitrogen fixers and squash for living mulch. Maize, beans and squash also create a balanced diet of essential fatty acids, complex carbs and the nine essential amino acids.
(2-Y) The Shapeshifters (2020)
Inspired by cotyledon or seed leaves of embryonic plants and the shape-shifting Boquila trifoliolata plant of the rainforests of Chile and Argentina; a vine that can "see" and change the shape of its leaves to emulate its host through mimicry. Its versatile leaves can change their size, shape, colour, orientation, even the vein patterns to match the surrounding foliage. Looking further or closer; Australia has its own mimic or shapeshifting plant that was recently "discovered" or identified by Dr Russell Barrett: the Lechenaultia mimica in the remote Harding Ranges of the Kimberley. I wonder what the Wunambal Gaambera people have known about this plant?
(3-X) November, 2019, Oaxaca City, Oaxaca, Mexico, 1,555 Metres, 7.0732° N, 96.7266° W
Dias de los muertos dances with life's thresholds in celebration. And the diversity of Indigenous peoples is rich with over 16 groups and subgroups. Current practices of Day of the Dead include candied edible skulls. These effigies were once made of agave, maize and amaranth seeds and eaten by families to swallow God into them. Amaranth seed was a staple crop for the Indigenous people of Oaxaca. The conquistadors prohibited such religious practices and imposed their God who was worshipped with wheat. Amaranth cultivation decreased.
(3-Y) The Timekeepers (2020)
The gift of time. Time is inherent in plants. Plants have an internal timekeeper or circadian clock. This biological timer gives plants an innate ability to measure time, even when there is no light. They don't simply respond to sunrise, they know it is coming and adjust their biology accordingly.  This ability to keep time is vital in biological processes such as flowering, fragrance emission and leaf movement.
Indigenous calendar plants are some of the signs or pointers in the landscape that describe seasonal changes, interrelatedness, synchronicity, fertility cycles and an understanding and respect for plants and the living landscape.
How do we read the landscape, the plants, sun and moon? How do we know what season it is or when the fledglings come? There is the shedding of skins, when the nectars are full and provide for all beings, and the bloomings of flowers that indicate heat is on the way.
We have lost our synchronisation with nature and are left with the Gregorian calendar, based on the birth, life and death of one man. It is an artificial time whereby we have convinced ourselves that time is money.
Gregarious flowering of certain species of woody bamboo display its own synchronicity and interconnectedness. These slow flowering species bloom every 30-120 years—all at the same time, all over the world, irrespective of geographic location and climate, as long as they were derived from the same mother plant. It is unknown how this happens but speculated that there must be a genetic alarm in each bamboo cell.
(4-X) October, 2018, Tropical Indigenous Ethnobotany Centre (Tiec), Australian Tropical Herbarium, James Cook University, Cairns, 365 Metres, 16.8314° S, 145.6908° E
The limits of language are not the same as the limits of knowing
"Ethnobotany is the study of cultural plant use and perception of plants. Indigenous Australians have used plants for food, medicine, tools, utensils, weapons, etc. for tens of thousands of years. However, since the arrival of Europeans, a lot of traditional plant use knowledge has been lost. The TIEC aims to empower Indigenous people to renew and strengthen their Cultural Knowledge and practices about plants." TIEC
A trip to the TIEC, to meet and spend time with Mbabaram Elder and Senior Ethnobotanist, Gerry Turpin and also going out on Mbabaram Country, on the Atherton Tableland, to meet his sister and the cultural plants she and Gerry tend to.
I was curious if there was an Aboriginal cultural use for the very adaptable and useful gourd plant species that were abundant in Latin America, Asia, Africa and most parts of the world. I wondered if there was an Indigenous species or if a species had migrated by sea, which they often did with their seeds still intact. I dived deep into the TIEC and the many types of Knowledge and data stored. Gerry and I found a rainforest gourd (Trichosanthes sp.), which was found in the very North of Australia and PNG, but I never found any cultural uses or language for them.
(4-Y) The Knowledge Holders (2020)
The Knowledge Holders is a work invoked through time spent with Gerry. The work looks at seeds as holding the power of inherent knowledge, sovereignty, and reclaiming traditional methods of agriculture in order to secure a healthy and nourishing future for all. Gerry showed me a particular plant or tree whose seeds dazzled me with what looked like multiple observing eyes. They are the seedpods of the Dundil – Malikini – Balkpalk or peanut tree (Sterculia quadrifida) whose cultural holders of this plant are the Tiwi, Wik, Larrakia, Yolngu, Uw Oykangand, Ow Olkola and Pakanh.
(5-X) May, 2020, Koonyum Range, Bundjalung Country, 409 METRES, 28.5388° S, 153.4125° E
My home and place I look after is found on the Minjungbal Land of the Bundjalung Nation, with the Three Brothers creation story, who are said to have come from the sea to form the Richmond, the Clarence and the Tweed Rivers, now known as the Northern Rivers, a place of European invasion, colonisation, the loss of language, culture, traditional ecological knowledge and the big scrub.
The big scrub is a descendant of the highly bio-diverse Gondwana rainforest from 40 million years ago. It is now 99% cleared by European settlers, cedar cutters, dairy farms, pineapple and banana plantations. The 2019 bushfires affected this passionately fought for big scrub rainforest at Terania Creek and Night Cap National Park.  Will the structure of the forest come back? We need to maintain and cultivate old-growth forests.
(5-Y) The Natives (2020)
Kylie Caldwell is a multidisciplinary artist and Bundjalung woman who has been regenerating Bundjalung weaving; researching museum collections in Australia and overseas. She is an ardent weaver and fibre artist. She works mainly with native plant species, including collecting local species such as buckie rush and lomandra.
"The Natives is a piece recognising provenance which is widely valued and respected culturally. To know one's origins offers deeper understanding. It's not only where you are but who is with you and what places, spaces, soils and aqua system you share." Kylie Caldwell
(5-Y) Mixed Pieces (2018-2020)
Banana is still an abundant agricultural crop in the Northern Rivers region. Although grown for its fruit, it's also possible to use the trunk for basketry and cordage.The worlds' largest perennial herb, believed to be one of the oldest cultivated fruits originating in Southeast Asia and the Pacific, bananas are thought to have been brought to Australia by Chinese migrants in the early 1800s as ornamentals. By the mid-1800s plantations were setting up around Cooktown, Cairns, Port Douglas, Innisfail and Tully. By 1919 Chinese Merchants established plantations in Northern NSW, around Mullumbimby.
Helle Jorgensen is a Northern NSW artist, with a background in Biology and Horticulture. Her artistic process is primarily based on investigating materials and techniques. In 2017 she had a residency in a small village in Northern Okinawa, Japan, where she expanded her knowledge in banana fibre processing and its use. Follow @hellejorgensenart.
Artists + Contributors
Sarah Bolt, Kylie Caldwell, Charlotte Haywood, Tilly Hewett, Edward Horne, Helle Jorgensen, Chieko Klerkx, Emily Lubitz, Kirsty Mootz, Shellie Morris, Selena Murray, Nini Nahri Galis, Kate Ratner, Sue Simpson, Jennifer Williams.
Contributors, Knowledge Holders, Acknowledgements + Thank Yous
Mbabaram Elder and Senior Ethnobotanist Gerry Turpin, Widjabul Wya-Bal Elders Auntie Thelma James and Uncle Mick Roberts, Phil Dudman, Environmental Scientist Michelle Chapman from SEEDTREE MAPS.
Inspirators + Thank Yous
Wade Davis, Lynne Kelly, Robin Wall Kimmerer, Lauren Tynan, Tyson Yunkaporta
Further reading
Australian Rainforest Seeds, M Dunphy, S McAlpin, M Chapman, CSIRO, 2020
Sandtalk, Tyson Yunkaporta, Harper Collins, 2019
Braiding Sweetgrass, Robin Wall-Kimmerer, Milkweed Editions, 2013
The Wayfinders, Wade Davis, House of Anansi Press Ltd, 2009
The Memory Code, Lynne Kelly, Allen & Unwin, 2016
What a Plant Knows, Daniel Chamovitz, Scribe, 2017
Intelligence in Nature, Jeremy Narby, Penguin, 2005
The Natural Navigator, Tristan Gooley, Ebury Publishing, 2010
Plant Intelligence and the Imaginal Realm, Stephen Harrod Buhner, Bear&Company, 2014
About Charlotte Haywood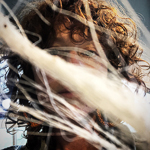 Charlotte Haywood lives regionally in Northern NSW on Bundjalung Country. She is an experimental interdisciplinary artist that explores themes and practices from pop to the primordial. She seeks cultural and linguistic nuances of the body and the landscape to decrypt and unfold multi-narratives. She creates works that thread disparate narratives of time, culture and place through the use of collaboration, materiality, process, form and motif; from the botanical and historical to future nostalgia.AUDIO FILE: Sound from the video installation, THE WAYFINDERS, (2020) by Charlotte Haywood and Sue Simpson, Shellie Morris, Emily Lubitz, Tilly Hewett, Jennifer Williams for MNEMONIC VEGETABLES. Follow @charlottehaywood, @kyliecaldwell.art, @shetouchedmyarm
✿
Like the article? Make it a conversation by leaving a comment below.  If you believe in supporting a platform for culture-makers, consider becoming a subscriber.
Tags