Sera Waters describes how her embroidery brings to the surface the holes dug during settlement that remained as wounds on the landscape.
Storied Sail Cloths, currently exhibited in the 2022 Adelaide Biennial of Australian Art: Free/State*, is an artwork made up of five heavily embroidered "sails". As a group, these domestically-inclined-sails, strung up with rope and brass fittings, are embroidered explorations of the ongoing impacts of colonial settling upon South Australian regions. Their accumulated stitched marks and motifs consider land misuse and aftermath. They incorporate multiple perspectives, from the topographic, to cross-sections, or portraiture. As well as dwelling upon haunting histories, the sails are also stitched with hope. Embroidered areas recognise survival and a respect for the forces of Country. Sail-making and textile traditions are reinvoked as make-do and care-full methods. The roots of responsibility are traced highlighting future avenues into overdue change. While the sails tell unsettling stories ranging from drainage, to ketches, mining and domestic gardening, this piece of writing takes pause upon the final sail, Storied Sail Cloth #5: Pugholes.
The smallest of the sails, and arguably the densest, Storied Sail Cloth #5: Pugholes uses European traditions of embroidery to materially excavate the buried past of pugholes. Pugholes, a particularly South Australian phenomenon, arose from early colonial homebuilding in Kaurna country, around the western suburbs of Adelaide. Beginning as working holes where clay was extracted to make bricks, over decades they grew into large gaping wounds. These holes were soon piled high with waste and often unsavoury events. From the mid-1900s pugholes were backfilled, hiding this past and transforming them into flattened ground and mostly invisible from the surface.  Though today most have been "remediated", as the sail explores, their haunting legacy remains, and from a few, the material realities of unwanted colonial stuffs continue to leach unwanted aftereffects.
Storied Sail Cloth #5: Pugholes takes its formal devices from a Victorian-era band sampler; incorporating layered "bands" of embroidered patterns once used by young girls to practice the alphabet, decorative and pragmatic stitches. For this work, the band sampler style not only acknowledges the colonial implantation of imported people and their traditions, such as embroidery, but also offers a layered view of a landscape. Landscape is a problematic term, and like Lucy Lippard, when discussing colonised country, the term "land use" begins to acknowledge how land through colonial enterprises has been misused, abused and wounded. In this pugholed sampler, the bands are interrupted by holes. Beginning from the bottom of the sail and working up, each band suggests the array and amount of new "surfaces" applied to this Country with settler colonisation.
From underground pipes to dirt roads, to red brick edgings, bitumen, stone, wire and wooden fences, the surface was marked out and measured in chains and lines and altered irrevocably.  While today pugholes might be covered over with dirt, grass, buildings and white picket fences—the uppermost band—they haunt from underneath. Excavating their histories brings to light the knotty and almost two-century reality of pugholes as extractivism, waste disposal, aftermath and ongoing leaching.
The beginning point for much of my practice and research is unearthing tangles from my settler-colonial ancestry. Pugholes are entangled through a particularly dark ancestral line, to English-born William Bell who began as a carter in York (near Kilkenny), Adelaide in 1877, where he worked his way up to a brickmaker. Eventually, Bell became the proprietor of his own pughole which his wife and ten children lived alongside. Bell, the records convey, was at once hard-worker, survivor (one newspaper article records him being unhurt when buried under tonnes of clay when a pughole wall collapsed), opportunist, dubious man who ended up going by several names, deserter, bigamist, and person with questionable associations within mining and even rumoured "blackbirding".
Through knots, patterns, tones and layered stitches, as well as portraits, his life, actions upon Country and First Nations people, and aftereffects which echoed into the difficult lives of his family and places, are exposed through this sail. This sail tells truths that otherwise today largely sit undisturbed under green blades of grass.
There is a range of embroidery and textile techniques used across this sampler sail, each of which carries its own entanglement of associations and connections. Colonial knots, which are sprinkled across the bottom half, act like specks of dirt. Colonial knots are like French knots, but with a twist. Traditionally using candlewicking string, they are the affordable and quickly-done form of raised decoration: an economic form of mark-making for colonists to speckle homely motifs from faraway lands in newly claimed "homes". In my making and in recognition of the colonial work such knots can do, each colonial knot creates a knobbly reminder of the countless moments of encounters, introduced species, imported goods and waste, all of which have left their mark upon, or within, this site on Kaurna Country. Knots are not easily undone.
Cross stitch was a technique used extensively in early colonial samplers. On the left of this sail, a cross-stitched horse replicates a patterned motif borrowed from Catherine Hains' 1866 sampler from Port Adelaide, held in the Art Gallery of South Australia collection. The white horse in my sail is accompanied by a patterned line of anthrax, recalling newspaper reports of complaints about an anthrax-ridden horse carcass dumped in a pughole near homes. As well as perpetuating motifs from samplers made centuries ago, Storied Sail Cloth #5: Pugholes includes cross-stitched ghosts emerging from the pugholes themselves. These are quasi-portraits of those ancestors and descendants whose livelihoods relied upon brickmaking and whose lives intersected with this location.
Other textile techniques are invoked in this sail too, suggesting the range of skills, comforts and repurposing of fabrics required to create homes. Toward the top of the sail, a stone wall is appliqued on using the English pieced quilting technique, as well as precious stones and a moon. These are topped off with a section of sparkly beads as atmospheric particles that continue to rise despite how much earth is plonked on top. These techniques, alongside the leather and rope bordering allude to sail-making techniques. They accumulatively draw in the relationships between domestic skills going hand in hand with external pursuits when it comes to colonial home-making.
This sail, the full-stop to the five Storied Sail Cloths, reiterates that amidst the normalisation and nicened-up surfaces of settler-colonial home-making, are knotty aftermaths that continue to exude their force. Acknowledging such ghostscapes, and the lives that made them, through the intimate marks and traditions of needlework, is one way of keeping the past unsettled, rife for interrogation, and bringing forth the tangle from which alternative threads can be followed.
The 2022 Adelaide Biennial of Australian Art: Free/State is curated by Sebastian Goldspink 4 March – June 5, 2022 at Art Gallery of South Australia.
Further Reading
Lucy R. Lippard, Undermining: A wild ride through land use, politics, and art in the changing West, New York: The New Press, 2014.
About Sera Waters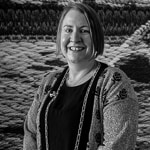 Sera Waters is an artist based in Kaurna Country (Adelaide, South Australia), where she lectures at Adelaide Central School of Art and is represented by Hugo Michell Gallery. Her embroideries and hand-crafted sculptures dwell within the gaps of Australian histories to examine settler-colonial home-making patterns and practices, especially her own genealogical ghostscapes. As well as exhibiting in the 2022 Adelaide Biennial of Australian Art: Free/State at Art Gallery of South Australia, Waters is currently developing her 'Future Traditions' project, enabled by being awarded the 2020 Guildhouse Fellowship (with Art Gallery of South Australia, supported by the James & Diana Ramsay Foundation).
✿
Like the article? Make it a conversation by leaving a comment below.  If you believe in supporting a platform for culture-makers, consider becoming a subscriber.
Tags