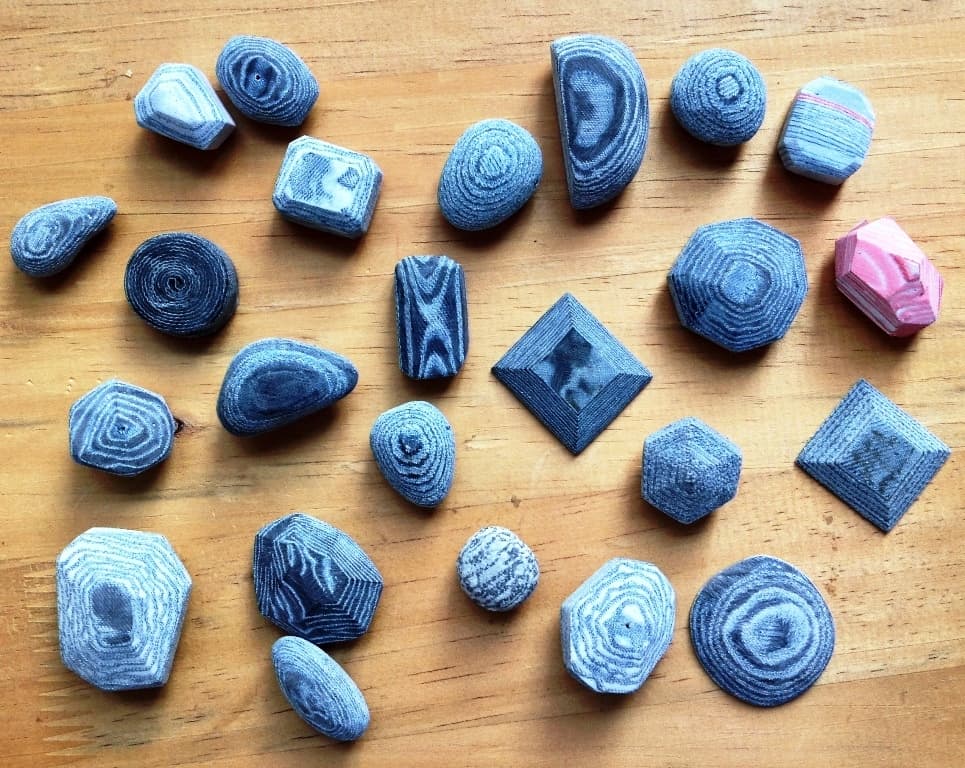 I get to jewelry through garments. A few years ago, I was wondering on questions such as what makes an object or garment special to someone, why does he or she keep it in time, how an emotional bond is built with that object… when I met Helena Aguilar, a Medellín-based jeweller and designer, who has been a master that has introduced me in this cause. In her workshop, we have recreated thoughts about doing, thinking and feeling jewelry for almost four years. These reflections have been fed by meeting and taking workshops with other master jewelers as Nano Pulgar from Walka-Chile and the wise Caroline Broadhead.
Working with a material that is already filled with narratives, such as used textiles and garments, faces you with the challenge of striking a balance between what you want to tell and what material and is already telling. First I inquire a little in the intangible stories that the piece of cloth/garment can have, then I look for traces of the body, tears, holes, mendings, fades, and previous structures I want to keep. I sometimes fade or dye textiles but most of the time I respect the story told by the state of the colour.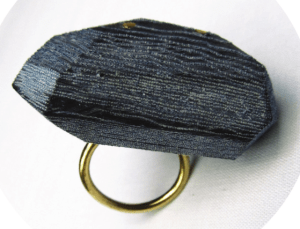 I chose denim fabric because it has spread worldwide simultaneously with occidental Culture, in the form of jeans, representing the emerging forces and voices of the working class. Denim has reached almost every wardrobe and has become an integral part of our daily outfits, which express who we are, the way we think and how we stand for life. The fascinating thing about denim is that it isn't only a sense carrier, but it also holds memory as the passage of time is registered in small traces and marks on its surface. Linking my constant curiosity for the rocks with the understanding of the source of cultural information that denim represents, geology and archaeology came to give me inspiration as denim became a layer, both sediment and vestige, containing meaning.
To form textile rocks, I build a block out of layers of fabric. Then I use a resin to agglomerate it. The lines appear as I shape the hardened block in the sanding machine. Each line is a layer of fabric.
Why did you decide to become a jeweller?
I love to play, and play with matter. Jewelry invites me to do so and besides it gives me the possibility to study the rite, in me and in others, of turning things into sacred, eternal and meaningful objects.
How do you show your work? – studio sales, shops, Internet, gallery, magazine?
Geodenim is being sold in a gallery-shop called Noi, here in Medellín. It also has been showcased in craft fairs in Bogotá and Medellín and I hope this December a studio sale can take place.
Does your work express anything particular about Colombian culture?
Colombia has a cultural complexity and biodiversity derived from being a simultáneously tropical-Caribbean-Andean country. Each geographical region, with its own landscapes and social development, expresses in its own characteristics. As I grew up in Medellín, reflections in my work are imbued with the character of the interior mountains.
In Geodenim, in some way I am recycling an important cultural symbol especially for my city, renowned for its past and present textile tradition, which boosted its urban and economic development since the mid-twentieth century.
Author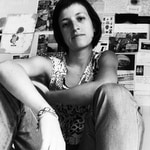 Alejandra Ruiz was born 27 years ago in Medellín, the city where she currently live. As a fashion designer, she is constantly interested and actively studing dress, jewelry, embroidery and textile upcycling. Recently he has discovered her passion for education so is currently also teaching at a design faculty and pursuing her personal project related to creative experiences, El Taller ambulante. See www.ale-gria.co Fcbk/eltallerambulante @eltallerambulante or @alejaruizsuarez
✿
Like the article? Make it a conversation by leaving a comment below.  If you believe in supporting a platform for culture-makers, consider becoming a subscriber.
Tags