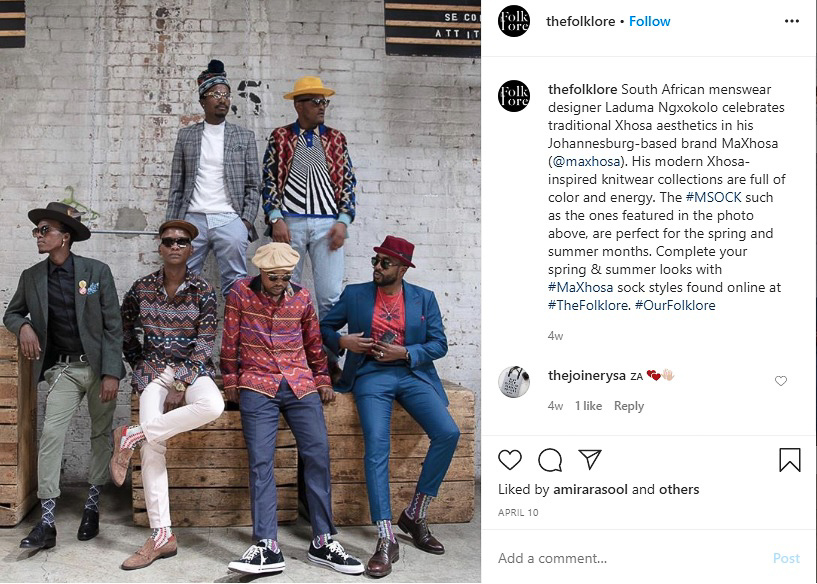 Ansie van der Walt talks to organisers of a new fashion festival in the UAE and profiles leading fashion designers from the region.
"The relationship between Africans and Arabs dates back to 200 B.C. It was a rather interesting relationship where both parties have been conquerors and liberators, traders and purveyors of new ideas. Despite the disruptive developments of their relationship in later years, both have benefitted greatly from and impacted one another through various means such as jewellery, textiles, spices, arts, music, and more. Today, we see a further progression in their relationship through business, economic, sustainability and political relations. Due to these previous coalitions, the overlap between these two regions' fashion is inevitable."
So says Dina Yassin, co-founder, head of production and styling coordinator for Africa Fashion Week Middle East (AFWME). "Africa Fashion Week has been flourishing in cities from London to Toronto. However, the Middle East region has not had its own chapter until now. Our objective is to uncover untapped talent and to bring it to a dynamic market that is open to experimenting with fashion. We are confident that when the Middle East and Africa come together to celebrate the innate vibrancy they share; it will be a sight to behold!"
The UAE is the perfect place, transient and very accessible to people from all corners of the world. To host an Africa Fashion Week event in this region will attract both great talent and a creative-minded audience. It will provide opportunities for future growth and marking this region as a landmark on the global fashion week calendar, and it will reignite the historical Afro-Arab relationship.
According to co-founder Aser Levron, who leads marketing and PR for AFWME, the whole idea is to align the culturally rich nuances of Africa and the Middle East to globally recognised consumer space. "Africa and the Middle East are both abounding with talent that has long been waiting for a sustainable platform. The Middle East has a well-established fashion ecosystem, and we want to plug in the African design element as a natural extension to this flourishing fashion arena."
Aser Levron, Dina Yassin and Badrriya Henry are the three creative forces behind AFWME. Between them, they share a love of, and years of experience in the fashion industry. On a mission to weave a new bond between local demand for original design talent, and the much-needed exposure for African and Middle Eastern design and fashion aesthetic, these three women along with founding partner, the African Fashion Foundation, have embarked on a journey to bring African and Middle Eastern fashion to the world.
Their vision is one that connects Africa, the Middle East, and their respective diaspora by celebrating diversity, untold stories and the endless connection between the regions through fashion, art and culture. Their long-term goal is to create a sustainable platform for designers and craftspeople from both these regions that explores opportunity, fosters creativity and harnesses the design talent within the Africa-Middle East region.
The African Fashion Foundation is an organisation that empowers fashion designers from Africa and its diaspora. "They will lend their support by contributing, developing, assessing, and strategizing to bring our vision of building a sustainable fashion platform to life," Dina explains.
"It is important to maintain our own cultural roots, whether it is through dress, custom or heritage because it allows us to identify with other people of similar background and mindset as well as establishing a strong understanding of who we really are. We have a sense of belonging and unity with others, and by connecting with tangible cultural heritage such as dress, it is an instrument of expression and creativity that can be shared with many through various avenues such as stories, films, and so on. Our values and customs will also be inspirational to many."
"Africans and Arab cultures have impacted and left legacies globally through history, tradition and culture. They have all provided a unique cultural taste through the art of dress, the influential beauty of modesty, and the appreciation of diversity among innumerable other sources of inspiration. Together, we have all taught and shared our skills to fully embrace the various methods of creating fabric, an integral part of everyday life since prehistoric times and a flexible medium that has created and continues to create, memorable works of art."
Badrriya Henry, who oversees the business aspects of AFWME believes the event has the potential to become a game-changer in the global fashion scene. "We aim to change the narrative because even though our regions have always been brimming with inspiration, the local fashion and creative sectors are still underserved. Ironically, in some cases, with our growing economic power, we buy collections from international brands that were inspired by our own heritage. It is time to redirect our spending to support homegrown talent and brands that have direct access to, and a deep understanding of the unique local craftmanship, textiles, rich and diverse culture, and languages. Our vision is to establish a robust fashion ecosystem that will provide an enabling platform for designers and artisans."
AFWME's main event planned for October 2020 with a whole year's calendar of activations from press conferences and film screenings to private dinners and auctions has been put on hold due to the unprecedented impact the COVID-19 pandemic had on the world this year. Once a new normal has been established a revised date will be announced.
Although some participating designers have already been identified, the founders made the decision to keep this under wraps until life is more certain and a formal launch can be planned. This is good news for designers and craftspeople who still want to get involved.
The criteria for participation are:
Start-ups with a 2-4 years market hold.
SME designers and artistic creatives looking to express themselves on an international platform.
Established designers looking to expand their reach and connect in this region.
They can be based anywhere, regionally or internationally, either from the continent, raised there, or just inspired by it.
AFWME's chose Technology, Innovation and Sustainability as their three focal points for the inaugural event. Ironically, the global disruption caused by the pandemic has made these topics even more relevant.
"The fashion industry is in a position where it is being forced to revisit its previous business models and make some serious and substantial changes, especially now under COVID-19. We focused on this theme prior to the pandemic because we felt the need to tell a different side of Africa's story, the reflection of where we are now and where we're heading, the breakthroughs that the continent is making with technology and innovation, and to help bring sustainable value to the creative's journey. Change is inevitable, now more than ever."
Fashion and design businesses that lead the way in successfully combining African craft tradition, modern design, and future technology to bring a lucrative product to the global marketplace are The Folklore online retail concept; Maxhosa by Laduma, a knitwear designer from South Africa; and Orange Culture by Adebayo Oke-Lawal, a menswear brand from Nigeria.
The Folklore operates out of New York and Cape Town, stocking high-end and emerging designer brands from Africa and the diaspora. They serve as a cultural hub for contemporary African brands, artists and creatives to showcase their personal stories.
Maxhosa by Laduma knitwear started in 2010 with Laduma Ngxokolo's vision to create a modern Xhosa-inspired knitwear collection suitable for amakrwala (Xhosa initiates) who were prescribed by tradition to wear new dignified formal clothing for six months after their manhood initiation. While exploring traditional Xhosa beadwork patterns, symbolism and colours he discovered that they translate perfectly into inspiration for his modern knitwear. Maxhosa designs evolved into a modern and current design aesthetic that resonates with multiple international markets.
https://www.instagram.com/p/Bl7LhfmApyR/
Orange Culture the menswear label by Adebayo Oke-Lawal is more than a clothing line, it is a movement that covers universal silhouettes with an African touch for creative men, combining Nigerian inspired print fabric, colour and contemporary streetwear. All pieces are manufactured in Lagos from ethically sourced fabrics from local Nigerian fabric artisans.
https://www.instagram.com/p/B_sElEvDuGj/
AFWME founders Aser, Dina and Badrriya believe that this event is for everyone and anyone who is drawn to fashion and creativity from this continent and region or inspired by it, as well as for a global and regional audience and those looking to make a difference by incorporating Afro-Arab design into their lives.
Author
Ansie van der Walt is a South African-Australian textile writer and editor currently based in Dubai, United Arab Emirates. She is a regular contributor to several international art and textile publications. She manages The Fabric Thread, a textile-travel platform where she focuses on cultural textiles, textiles in fine art, and textile travel in Africa and the Middle East. You can find out more here: thefabricthread.com.
✿
Like the article? Make it a conversation by leaving a comment below.  If you believe in supporting a platform for culture-makers, consider becoming a subscriber.
Tags