Enrico Ho captures the unique dialogue of Javanese and Chinese cultures in a mythical bird that fuses opposites.
Since I started my career in the fashion industry and education in 2012, I have explored extensively Indonesian traditional textile and cloth. I have observed a number of local fashion designers develop batik patterns from scratch to become the country's leading fashion brands with unique characteristics and yet still able to retain their original philosophy. The opportunity came to me about five years ago when fashion education just started and I found my personal branding in a fashion product.
From all the batik patterns in Indonesia that I have studied, I'm attracted the most to Batik Pesisir. The name is attributed to the places where it comes from which are mostly along the north coast of Java island. One of them is Batik Lasem from Lasem town in Central Java—its pattern and colour combination have a taste of both Chinese and Javanese culture. I tried to recreate my own Batik Pesisir pattern using the inspiration that I got from Batik Lasem. I went to the town and did research for my master degree. I visited several batik heritage centres there. Due to the popularity that Batik Lasem has already had, my time there was mostly spent on learning from observation and absorbing the ambience from the batik origin town in order to spur an idea of my own, rather than looking for a collaboration opportunity with the local batik enterprises there.
My love for batik and my perseverance then led me to the East to a small town called Probolinggo where the batik craft is not yet as popular. I approached Mr Satimin, one of the local batik craftsmen there, and collaborated with him. Mr Satimin started the brand Prabulinggih in Probolinggo.  His hand-painted batik has a high quality of neatness and intricacy especially in the pattern filling or isen. He uses remasol synthetic dyes to produce colours that are bolder compared to that of Batik Lasem which mostly uses natural colors like blood red as well as a unique red dye called Lasem red or abang getih pitik extracted from the root of noni trees which cannot be obtained from synthetic dyes. Mr Satimin is very open to what we want to achieve together. Our discussions range from the initial batik pattern design on paper—matching both our styles—to the details of the colour combination that will be used. One of our projects is to recreate the Feng Huang bird pattern with a contemporary twist.
Mr Satimin uses a golden dye painting technique with liquid gold dye—also known as prada—which makes the batik pattern look glamorous. He uses a canting or etching tool of size 0 to paint the lines and details on the wings and tail of the Feng Huang bird. The pattern is painted on the bird's large wings and tail strands that spread to all directions.
The philosophy of Feng Huang is different from that of phoenix. In Chinese mythology, Feng Huang bird is a fusion of male (Feng) and female (Huang) as one entity. In addition, Feng Huang possesses much softer characteristics often with a myriad of colours, while phoenix is usually painted with a more fiery appearance.
We name our creation The Soul of Feng Huang which represents a wholesome innate nature of human beings that contributes to the splendour and beauty of the personality. This wholesome nature can be nurtured in many ways as portrayed not only on the details in each of the strands of the feathers but also on the colours such as green, red, yellow, blue and gold. The wholesome nature is eternal. Unlike the phoenix, Feng Huang does not grow old, die and be reborn, just like depicted in the philosophy itself. In addition, strands of feathers that fill up the pattern symbolise wholesome actions that are performed anytime and anywhere and they act as a light in the darkness.
The Soul of Feng Huang is one of the Perpetual Memoirs collections that adopt Batik Pesisir characteristics with a contemporary twist. Perpetual Memoirs, a collection of contemporary fashion design, has a very distinct characteristic for applying batik pattern research. Its eclectic style shows the openness of local society towards cultural integration without diminishing their own. Perpetual Memoirs conveys its intrinsic value in fashion design creation by way of integrating Javanese and Chinese culture just like what I found in Lasem in order to sustain the heritage and repackage it with a sophisticated and elegant style as depicted through the lines and colors.
I further explored the Feng Huang pattern with Enno, a batik craftsman from Jember, a town in the southeast of Probolinggo. Indeed, the one produced with Enno has a totally different characteristic. We call it Elok Penggalih Luhur.
The innovation goes well beyond the local fashion industry in Indonesia. In 2020, it started to make its way to Europe and the US. It was showcased in the Digital Fashion Show: New York – Capsule Collection S/S21 organized by Gallery Archipelago, New York, in October 2020. Dina Fatimah, the coordinator from Digital New York Fashion Week said that the batik pattern has started to receive recognition by the fashion community there.
Through all my experience, I truly hope to nurture new ideas to further develop and contribute to the fashion industry in Indonesia and at the same time maintain the unique philosophy and characteristic that comes with it. In addition to that, I hope these collaborations would help to grow small and medium local batik enterprises and become the avenue for all local batik craftspersons to thrive together.
About Enrico Ho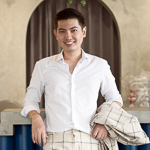 Enrico Ho is a Surabaya-born designer who started his business in the fashion industry. Since 2007, he has been the creative director and assistant designer for various garment industries in Surabaya. In 2011, Enrico joined several institutions and universities in Indonesia in order to share his knowledge in the fashion design business. Batik Lasem – one of the most popular local Indonesian batik – is a personal interest for Enrico. It has become his research topic since 2018 until now. In addition, Enrico is also active in many social events to impart knowledge and understanding on fashion design to small and medium enterprises in Indonesia so that they are able to improve their product quality.
✿
Like the article? Make it a conversation by leaving a comment below.  If you believe in supporting a platform for culture-makers, consider becoming a subscriber.
Tags