Alexandra Crosby catches up with Singgih Kartono in the village of Kandangan to find out how they are responding to the COVID-19 pandemic.
Singgih Kartono is the founder of Spedagi, a grassroots, not-for-profit community group that focuses on the redesign of village life toward sustainability and that uses bamboo bicycles as its symbol.  Spedagi is a shortened form of Sepeda (bicycle) and Pagi (morning), referring to the practice of cycling in the early morning to commute, shop at the market, or just to be active in the village streets before the heat of the day. Singgih also runs the award-winning product design company Magno.
Singgih lives and works in Kandangan in Central Java, Indonesia. You can read about design activism in Kandangan in Design Issues (and Garland's Rame Rame issue)  
I caught up with Singgih to learn about life in Kandangan during the global pandemic.
How are things in your village from day to day at the moment?
Kandangan is a rural area, but it is starting to transform towards more urban lifestyles. It is growing. Because Kandangan has a strategic location and has become the capital of Kandangan District, it is growing and now has 16 villages within it. This transformation is marked by the decline in the number of residents who rely on agriculture for their livelihoods. Local agriculture is something I am quite involved with supporting.
At the Magno factory, we have kept the production line running, but we apply COVID protocols, hand washing, face masks, physical distancing, but we are still making wooden products and bamboo bicycles.
How are people making a living at the moment?
For many people in the area, micro and small business activities related to farming have been the main sources of income for a long time.
Many more people work as labourers in companies. During the pandemic, it should have been that many members of the community were seriously affected economically, but my observation is that residents are not experiencing as much difficulty as you might expect. For example, there is absolutely no queue for supplies, there is still enough food for everyone here.
There has been government assistance put in place, both in the form of materials (staple foodstuffs) and cash for community groups who are considered poor based on government data. This is more like a standard poverty alleviation government program based on equity. We have had many situations like this in Indonesia before, for example during earthquakes or other disasters. In general, although many residents have lost their jobs or their income has decreased, they still appear to be doing well.
What are some examples of designers and farmers working together?
Comradery here is still strong and becomes a buffer at times like this so that the impact of crises is not "deadly". In the first half of 2020, the rice harvest was relatively good, and there were no severe pest attacks (usually it is rats that we worry about!). But, the impact of the decline in demand due to the pandemic has affected several types of agricultural products, such as garlic in rural areas on the slopes of Mount Sumbing. Usually, garlic from Mount Sumbing is traded all around Indonesia, but the demand has dropped.
There were several new initiatives that emerged, all by young people involved in Spedagi's volunteer alumni. They helped find new markets for the garlic surplus. They connected farmers with non-traditional markets and helped them sell through their professional and community networks, using social media to build a market. This is a design initiative, a way of looking at a problem systematically and providing creative solutions. I don't have data on the amount of garlic redirected, but it is significant to the farmers. You can see the story here.
How are these young designers organising?
Well, many of these local initiatives are connected. Kebon Jiwan is a good example, founded by Fransisca Callista, former Project Leader of Pasar Papringan Ngadiprono (Spedagi's social movement project). They are one of the groups of young people that focus on locally-based movements across Java. In general, they design agricultural activities in new ways and introduce new understandings to farmers and consumers. They have also learnt and applied permaculture principles to community development platforms here.
This COVID pandemic shows a kind of momentum for the life and growth of this kind of activity. The movement started several years before the COVID pandemic, but there is light on it at the moment.
Right now, the harvest season for tobacco and coffee is beginning. In general, coffee prices have fallen, but not by much. For tobacco, there is currently a relatively low price, despite protests by farmers to the local government about this. With agricultural crops such as tobacco, there is a buffer in the form of financial loans from parties to which they usually sell their crops, as well as local traders. This financial loan is what keeps them able to make a living, even though the accumulated loans are increasingly burdening the farmers. Different crops operate in markets differently and connecting communities can help farmers make better decisions.
I have seen images on social media of some locally manufactured masks and even a ventilator that Indonesian designers made themselves. What kinds of local product design innovations have been happening?
We have done quite a few things at the Magno factory actually. When Covid 19 first hit Indonesia, we began an online discussion with product designers across several cities in Indonesia. I designed a face shield that could be made with basic materials that I could get in Temanggung. I used sheet foam and plastic which is used for book covers. The face shield produced at the Magno workshop was funded by donations from the alumni of the school I went to. We then distributed them to hospitals and health centers in the Temanggung area.
I shared the design and it was quickly adopted in Bali, then it was adapted so they could produce it by themselves there.
I designed the disinfectant chamber from bamboo and plastic sheets. I also made it so people could make it by themselves, quickly, locally, whenever they are needed.
These designs showed that we can innovate and we can manufacture in the village. This then encouraged fellow product designers from various cities to make tools and health related products for COVID-19. Some are from Jakarta, Surabaya and other cities. Our product designers in Surabaya also produced a face shield, where the clamp is printed using a 3D printer. The printer was made in Temanggung, so working quickly on these designs helped us consider how the supply chain is connected in our region.
Author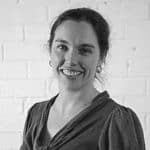 Alexandra Crosby is a designer, researcher, and writer who focuses on Southeast Asia, particularly Indonesia. She directs the Interdisciplinary program in the School of Design at UTS. In her current research, she is looking at emerging design practices in Indonesia and working in the transdisciplinary research studio Mapping Edges. She is also on the board of Inside Indonesia.
✿
Like the article? Make it a conversation by leaving a comment below.  If you believe in supporting a platform for culture-makers, consider becoming a subscriber.
Tags