Agus and Nia Ismoyo share the philosophy that underpins their life-long dedication to batik.
When we founded our studio in 1985, we were committed to exploring the rich lessons of traditional Indonesian art both in terms of technique as well as symbolism. Through the creative process and symbols of these ancient techniques, we have found an unending rich source of inspiration in our ever-expansive journey of artistic discovery. Our fine art batik studio Brahma Tirta Sari (BTS), which means "creativity is the source of all knowledge", was founded on the belief that there are many relevant traditions rooted in cultures throughout the world which are important resources in the creation of contemporary art. Brahma Tirta Sari is a division of the Babaran Segaragunung Culture House which was founded to support the exploration of traditional cultures so that cultural lovers, researchers, artists, students and educators have a space to extend their understanding regarding these teachings about intangible culture. This is carried out through the use of one of the Indonesian ancient creative processes which are then adapted and grow as a method of development in an integral system within the contemporary culture at this time.
Creative process rooted in the natural elements
We seek to read the visual texts of traditional Javanese batiks, which are expressions of the knowledge imbued in batik's cultural heritage. These visual texts are then used as guidance in a creative process that is unified in a kind of DNA of culture that grows in a natural way within artistic experience and is expressed in the form of contemporary batik art. We have received this knowledge from studying from our ancestral lineages as well as other sources, studying through oral and written traditions as well as the visual texts of traditional Indonesian batik. The richness of this batik tradition is founded in a deep connection to nature and manifested in an artistic ecology which supports the growth and development of all forms of artistic creativity.
Semen
One of the visual texts which is a foundation of our exploration is from one of the categories of traditional Javanese batiks called the Citra Batik Semen.  In keeping with the geographic factors of the island of Java, this category of batiks, Citra Semen, comes from the word semi that means new growth or fertility.  There are several interpretations and meanings of this batik which is created in various forms, but one factor that is essential to all Semen batiks is that they are inspired by the flora and fauna of the fertile island of Java.  Indirectly then we can conclude that the natural setting has had a big impact and inspiration on the Javanese community so that ultimately it is expressed in this batik which is used for all kinds of important rituals including wedding ceremonies.
The use of the batik Citra Semen is interesting because when the motif is worn, the people using it also have a hope that their lives will be filled with fertility.  In this regard, the feeling of unity with fertile nature and humanity becomes an inspiration in creating the work of art based in such cultural knowledge. Through a consciousness of creativity that is expressed in the Citra Semen batik, we are taught of the importance of unity within ourselves and consciousness of life, respect and harmony with nature which gives us life, as well as with the source of creativity which creates life. This respect for life and all that is given to us is then transformed within the creative process.  Art-making becomes not a profession, but a way of living in the world.
The main object of the tradition taught through such batik texts as Citra Semen are the natural elements. This is important because with the growth of technology there is a separation of humans from nature.  Within the wide world, there are all kinds of communities that live side by side with their own cultures.  The cultural identity that each possesses has a unique characteristic and is formed in an organic way by several factors, one of which is their place and its ecology. The fruit of the creativity that is born from this place shapes and reflects the cultural identity of the creator.
The identity of a culture is not just its customary activities.  Geography and nature have inspired the Javanese with various batik motifs that are legendary and reflect the nature of place with philosophical meaning.  It is no surprise that these batiks have been recognized by UNESCO as an intangible cultural heritage of humanity.
What is the goal?
Sacred Zoo collaborative batik with 5 nations Ernabella Arts of South Australia, Michael and Susan Pavel, Salish First Nation Washington USA, Yemisi Ajayi, Nigeria, Brahma Tirta Sari Studio, 2008

There are many forms of artistic expression in our contemporary world. The commodification of art is a reality that shapes the world of artists.  Amongst many young Indonesians, they see tradition as something of the past, not relevant to these times.  Some see tradition in a kind of romanticism of the great bygone days.
In fact, there is great wisdom to be found in our indigenous knowledge systems which have been marginalised in many places around the world.  But as a product of the age of technology, it is impossible to undo what has become integral to contemporary life.
At Brahma Tirta Sari, through our fibre art, we attempt to find the cultural DNA, as it were, to see the essence of this local wisdom, the integral nature of creative forms and manifest it in a form that speaks of this time.  It is in this sense impossible that tradition might be lost, manifestations evolve, but at the heart, the essence of cultural roots remains in the ecology of place.
This creative process of growth in rootedness depicts culture as a large tree that existed before us and will exist after us. Its roots grow and penetrate into the earth piercing time and space and its trunk and branches reach up to breathe the air of renewal. Because of that, there is no distance from our ancestors, no difference in the process. In reality, it is only an era that is different.  It is just a matter of the process adapting to the time and space, growth in rootedness. This is a kind of DNA of culture that is like the blood that flows through our veins in a natural way.
Upcoming exhibitions that have been postponed indefinitely due to COVID:
Retrospective of Australian Aboriginal Art, a collaborative exhibition of the National Gallery of Australia and National Gallery of Singapore in Singapore
Retrospective of Babaran Segaragunung Culture House Institute of Art of Indonesia Yogyakarta
Authors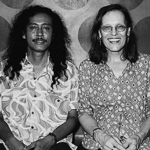 Agus and Nia Ismoyo manage the Brahma TIrta Sari in Yogyakarta. You can read their personal stories here.
✿
Like the article? Make it a conversation by leaving a comment below.  If you believe in supporting a platform for culture-makers, consider becoming a subscriber.
Tags