Pamela See interviews Jayanto Tan about the role of brightly coloured food in his installations.
Jayanto Tan is one of the brightest artists to reemerge in the Australian art scene post-lockdown. The hunger of museums and galleries to invite public engagement has been keenly met with his artworks. Often scheduled to commemorate calendar observances, his installations and performances are colourful feasts that cater for all, irrespective of culture, gender, social strata or vital status. Hungry ghosts are especially welcome.
Jayanto is becoming known for his abundant displays of food, both fresh for visitors to eat and fashioned in clay for their visual consumption. The consummate ceramicist completed his Master of Fine Arts at the National Art School in 2019. He undertook his bachelor's degree, majoring in his craft, in the same institution two years earlier. What else does this virtuoso bring to the table? Fellow visual artist Pamela See interviewed Jayanto in the lead-up to the 春节 (Spring Festival) 2023.
✿  Your presentation of food on the floor has been described as symbolic of the placement of offerings on tombs for the Ceng Beng (Qing Ming) festival. Is it a reference to "lesehan", the Indonesian tradition of eating on the floor too?
It's different. It's very hard when we're talking about Indonesia because Indonesia's so big and so diverse. I can only speak through me, through my family. Because we are not really part of the other community. We come from a remo[t]e farm background. So, in that case, I can only know and talk about my family… Most people like talking about Indonesia because they only know about Bali or Java…
Since I finished my degree, I started digging [into] my family history, and then I realised that I have a Chinese heritage because of my father. When I was much younger, I didn't want to hear about this thing. Of course, it is there, through Ceng Beng (Qing Ming) ceremony. But I don't want to acknowledge it. I just think of myself like everyone else, eating on the floor…
I lost my dad when I was five, so I really lost touch with all the Guangdong heritage. But dad brought all this Taoism idea of the ritual, like burning incense, and praying to the ancestors by using foods.
✿  You have an event coming up next week at Maitland Regional Art Gallery for Chinese New Year. You recently did one at the Art Gallery of New South Wales (AGNSW). How do these opportunities arise?
It's part of my solo show at the Maitland Regional Art Gallery at the window. So, they say, "Oh, we would like to have a public program". "Okay… public program," I say to myself. "Because the title of the work is A Little Pot Luck Party Pai Ti Kong with the Ghosts… I would like to introduce the Hokkien heritage." Pai Ti Kong (Praying to the Heaven God), the 9th Day of Chinese New Year, [is] Hokkien's Birthday. At that time the village was being attacked by the Mongol invaders in ancient China, so people hid in the sugarcane field. This is a Hokkien fairy-tale… So Pai Ti Kong is actually a homage to the Jade emperor because he helped all the Hokkien people survive. As a result, Hokkien communities are eternally grateful to the Jade Emperor. And every year the Pai Ti Kong festival is celebrated by Hokkien communities worldwide. People make offering foods, sugarcane, fruits and cakes… and burning the Joss paper, incense and fireworks. My title suggested celebrating the Australian culture. Pot luck party is an Australian identity. The ghosts are like the deceased of my family.  I want to bring the Asian-Australian, and the Chinese-Indonesia-Australian cultures together in one work.
✿ You talk about the spirit, the dead and the ghosts. Do you actually choose the communities on that basis, where they have a history of Chinese migration? In some places in Australia, there were more than ten to one Chinese to British settlers. Do you choose places that have a history like this?
I don't think I can choose the community because I just think, you know, as a migrant you come to settle in a new country. I think I want these people to embrace me… As a migrant, I desire to introduce myself, my family culture, to the wider Australian… In that case, I'm not choosing them, but I want them to value and welcome my family culture if they want to learn about the other culture. We have such a rich history and culture in Sydney: a connection between Asian and Australian. I wish people knew more about it. Our history in this country is intersection[al] and diverse. By sharing something so personal of my family heritage, I hope this can act as a kind of generosity and offer… a new window… into histories, and foster a broader understanding of what it is means to be Australian.
✿  People have politicised your work. Is it political to you or is it a very personal gesture?
It's "self-political." It's like a silent protest for people who want to know about it for people hard to [have] a voice…. My work speaks about social injustice. You know, as a migrant, you just accept what people do to you and then, if you don't like the concept, then you just make it into art… People here say that migrants make all this mess in the world, or migrant doesn't speak the language or might not work hard enough and always have second-class work. Talking about the political, how the government tricks the migrant as well… I keep a hope that people might understand… I want this beautiful colour as a temptation. But I want the people to look, not just to see the beautiful colour, but to analyse it, and study it, and see what is in the installation.
✿  When you say tempt, are you wanting to attract people to come and sit and talk with you? You do workshops and events where you prepared food for us, everyone eats together, and everyone is welcome and happy. Is that process of making together related to your cultural background? Is this something you are re-enacting?
When you're living in this small village, people connect so well, and it's always about family connection… and we were never 'quiet'. There are always voices because we live in a small place… so people have strong communication. So, as you said, we were sharing things and… made things together. Everything comes together. Everything's together because we were always united together.
So, for me, the workshop is kind of telling another layer of my family story… Of course, we can eat together. Sometimes you can cook together. Particularly, I highlight the celebration [of] special occasions. There are many ceremonies in my family… like the Pai Ti Kong, Ceng Beng (Qing Ming), Cap Goh Mei, Mua Guek and the wedding party, of course. So, because my family came from a very big family, I have thirteen siblings, so we all just visit our own family…
When the food comes to my practice, it's like people get together. So, the workshop is like a model for getting to know the people… You know, as an artist, sometimes you are not in touch with outside the world and you do the work in the studio. Then the aim of the workshop and the performance for me is to get to know the audience, to talk with the people and to do something positive. Some people might like to know more about myself, so through the workshop and performance we can have communication.
✿  The techniques that you use in the workshop: are they the same kind you use in the studio?  Your sculptures are incredibly intricate. They're beautiful. Do you use the same materials, tools and skills, or are they slightly different?
Mainly my work is hand built. Some of them, of course, use a mould. For the longevity cake, I use my mum's mould…  If you make with the mould, it's quicker, because in a mould you just put slip and in a few hours you already make the shape. In hand building, sometime you not happy about it because you think the shape is not quite right. I like the idea of slow art, with feel and touch… so, you can feel the clays…
For my work, I use stoneware white clay… the Keane products. They're really beautiful, their clay is soft. The air-dried clay is only for the workshop. Mainly my work all by professional clay… I use mainly the white one. Sometimes if I want to make brown objects or a steamer, so I use a brown clay. If I want to make a grey object, I get a black clay… For the egg, I made of a slip porcelain, sometimes I use porcelain clay, if I don't want to colour it… because you want to see the real white… I apply the colour after the bisque… Sometimes also when bone dry, I apply the colour, it really depends. But mainly I liked to do it after the bisque because I don't want the colour to get washed off…
✿ Why did you choose this material? Ceramics is usually used for the vessels. What inspired you to make the food permanent like that?
I grew up in a very small town, maybe only 500 people at the time. It's not artistic at all… I used to draw when I was a kid, but I wasn't encouraged to draw, only to survive… When I first came to Australia… I discovered all my family had just passed on. So, then I asked my friends, "What is the ideal medium to make this memory alive." But a happy memory, not a sad memory. I don't want to drown in the melancholy into everyday life. My friend said, "Why, you do art because in Western culture art is very valuable."
In my childhood, I played a lot with soil. It reminds me how sometimes we build a house with soil… I grew up near the rice field so after school I would just hang out with my mum and play with the mud. I come to Australia thinking what can I do? So, I discover, "Why don't I make a still life, in soft clay, then get fired, get burned, then colour and pretty." I am looking for this metaphor… because I have studied the conceptual art…particularly by Felix Gonzalez-Torres.
Why clay? Because you put it in your hand. It's soft: it comes from the soil, come from nothing, from the mud… and then you shape it, you fire it, you burn it…and you burn it in the kiln and then you put colour, and you fired again, and ready to display it… So, I get through all the despair… that could be my culture like… or like my family… come from soil, get fired, get the colour, get fired… then show it to the public. I was encouraged to share and embrace my family heritage. Then I realise, I have a Chinese heritage from my deceased father. And the culture of food and ritual become part of our everyday life because of my Taoism father's belief in offerings, burning incense and joss paper become dust or ashes.
Further Reading
Art Gallery of New South Wales. (n.d.). Past Events.
Ardha, T. (2023, January 9). Forced to change his name in Indonesia, Jayanto now lives 'loudly' through his art in Australia. SBS Indonesia.
Campbell, S. (2022). Ritual Ceng Beng, Phoenix Rises From the Ashes. Metro Arts.
Jayanto Damanik Tan. (n.d.).
Maitland Regional Gallery. (n.d.). A Little Potluck Party Pai Ti Kong with Ghosts.
About Pamela See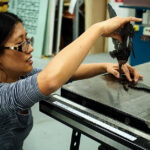 Pamela See ✿ A renaissance woman
Pamela See is indeed a "renaissance woman". Her craft is psaligraphy (paper-cutting), which may seem a lower-order technique involving relatively little skill and a minimal range of creative expression.
✿
Like the article? Make it a conversation by leaving a comment below.  If you believe in supporting a platform for culture-makers, consider becoming a subscriber.
Tags