Pamela See ✿ A renaissance woman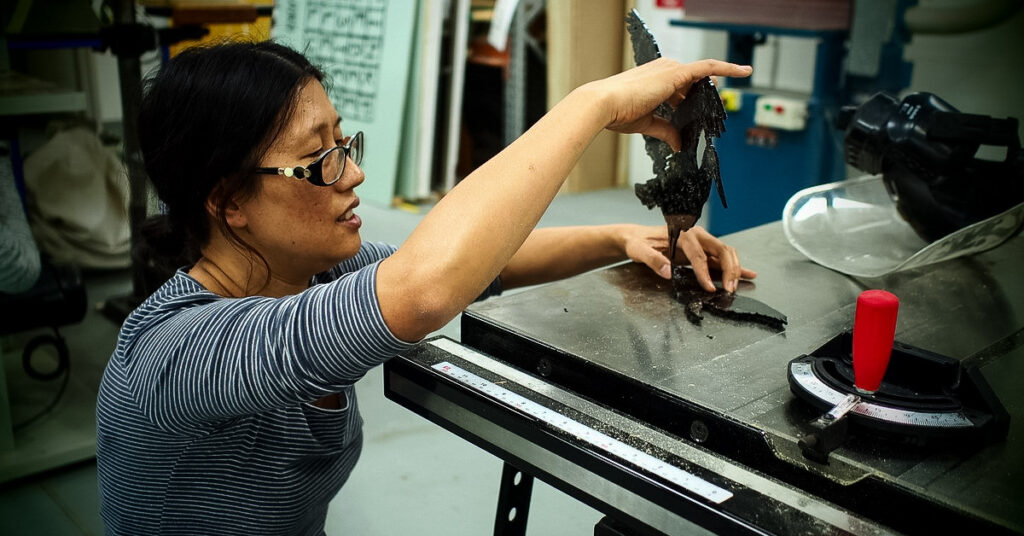 In fifteenth-century Italy, Leon Battista Alberti promoted the ideal of Uomo Universale, which in the west became "the Renaissance man". It was used for figures such as Leonardo da Vinci who combined a range of skills, including painting, writing and science. Today, it seems fraught by its association with individual genius and patriarchy. But it does reflect a combination of theory and practice that underpins the role of thinker-maker.
In those terms, Pamela See is indeed a "renaissance woman". Her craft is psaligraphy (paper-cutting), which may seem a lower-order technique involving relatively little skill and a minimal range of creative expression. But she reveals its cultural depth, artistic development and technical challenges in a series of well-researched articles. such as her explication of Wu Wei, the principle of doing nothing in Chinese papercrafts. At the same time, Pamela See resists a purely reactionary use of papercutting as heritage. She looks openly at the creative potential in laser papercutting technologies, for instance, as she does other new technologies such as 3D printing and augmented reality.
Xue Mei-Ling (her Chinese name) was born in Brisbane to first-generation Australians. She applies Chinese papercutting techniques in a variety of post-digital contexts including: installation, animation, sculpture, textiles and printmaking. has a Doctor of Philosophy (PhD) from Griffith University and a Master of Business, majoring in public relations, from the Queensland University of Technology (QUT). In addition to regularly contributing to Garland Magazine, she has also written articles for M/C Journal, Art Education Australia and 716 Craft Design. Her research interests include: craft, post-digitalism, Asian art, public art and participatory art.
She has contributed to exhibitions in Australia, China and the United States of America. This includes initiatives at The Qing Tong Museum in China, International Studios and Curatorial Program in New York and the Queensland Art Gallery. Collections to house See's artwork include the National Gallery of Australia, the Art Gallery of South Australia, Parliament House, Swire and Chinachem.
In 2005 she received a General Funding Grant from the Australia China Council, which enabled her to research papercutting in a number of regional centres in China including Shandong Province, Xian Province and Guangdong Province. In 2006 she undertook a residency in the Beijing-based foundry the Pickled Art Center, with the support of a Brisbane City Council Lord Mayor's Young and Emerging Artist Creative Sparks Fellowship Grant. In 2009 she received a Professional Development Grant from the Australia Council for the Arts. This enabled her to undertake a residency at the University of Massachusetts and contribute to the Conflux Festival in New York City and The Fingers Lake Environmental Film Festival in Ithaca NY.
Besides sharing many stories in Garland, Pamela See is also the thinker-maker for issue 23.
✿
✿
Pamela See is an esteemed Garland perennial.