Embie Tan Aren writes about Pulp Friction, an exhibition at Queensland's Artisan gallery of paper works by Pamela See, Christine Ko and Yanqiao Jiang.
Pulp Friction, currently showing at Artisan, is an exhibition of work by three contemporary artists harnessing a range of intricate, traditional Chinese paper-craft skills, to echo diasporic experiences as Chinese-Australian migrants. Comprised of technically elaborate works, the exhibition shares the introspections gained through a multi-faceted experience and in-between state of existence.
Paper conjures up perceptions of fragility. The finer it is, the more carefully we tend to hold it in our hands, for a hasty movement can cause this insubstantial material to tear or warp. Paper's delicate nature is grounded in a deep, rich and long history of practices and processes, originating in China during the Han dynasty (206 – 220).
On entering the gallery, the viewer is enveloped in a dimly lit space concealed by curtains. The atmosphere is reminiscent of the stillness that imbues an empty theatre space before or after a performance. It's the immediacy of this sensation that heightens the enigma of the paper works, as they are displayed against a backdrop of black walls, complemented by the gallery's faint spotlights. A spotlight falls onto Pamela See's oversize cut-out of a crowing rooster, centred on the large main wall.
In China, the rooster is seen as a symbol of leadership, its loud crowing a forewarning to either an awakening or an intruder. This work is accompanied by a flurry of scattered paper feathers, some on the wall and several intricately cut, oversized examples lying nearby on the floor. The artist fuels the notion of a recent cockfight, through the rooster's glaring, tense eyes and the flurry of feathers, to mimic Australia's political arena and its escalating tensions. Titled from a quote in the Bible, "…the rooster will not crow till you have denied me three times", the work is hand-cut from cotton rag paper, in a style clearly influenced by the folk craft of Foshan papercutting. The tradition of Foshan papercutting originated in China's Guangdong Province and holds familial ties for See. The practice dates back to the Song dynasty (960 – 1279) where its popularity soon spread across China and continues to be used to create symbolic and festive decorations.
In the gallery's smaller space, Christine Ko's transparent, house-shaped installation illuminates the alcove from within. This multi-layered work, House Reveal, employs and extends the traditional and cultured techniques of paper folding. The clear and opal Perspex construction emits a gradual, cool white glow from its centre. The light travels through the multiple layers whilst projecting an alluring display of water refractions from its surface. The translucency of the house and the spatial emptiness operating between its layers evoke a sense of liminality. The fleeting mass of the space reflects Ko's own experience of diaspora, which she relates to as the '"in-between", an ambivalent and conflicting sensation of being wedged between two realities.
Multiculturalism, Tourism and Culturally Sensitive Design in Chinatowns (Series 3) detail, 2021, Yanqiao Jiang, cotton rag paper, cotton thread, dimensions variable. Image by Louis Lim
Multiculturalism, Tourism and Culturally Sensitive Design in Chinatowns (Series 3), 2021, Yanqiao Jiang, cotton rag paper, cotton thread, dimensions variable. Image by Louis Lim
Adjacent to the alcove, a series of typographic paper works by Yanqiao Jiang are interspersed on the far wall. Each of the pieces delivers either a direct sentence or a one-word statement, all of which are tied to an expression of a perceived understanding of Chinese culture.
Revealed and elevated by various cuts, stitches and weavings, the text-based works are inspired by the artists' lived experiences of home and her travels within China, before coming to live and study in Australia. Jiang discerns and employs subtly nuanced elements of the architecture and clothing of Zhenyuan Town, located in the east of Guizhou Province. The cuts, outlines and patterns of paper weaving in these elegant font-based works reference the unique design features of the structures supporting pagodas, roof tiling, and the stitching along the cuffs of traditional clothing. Each feature traces back to Jiang's travels, to Zhenyuan Town and the surrounding regions and pays homage to their multiple diverse ethnic minorities. The sentimentality of her heritage becomes securely woven into the works through the linking of both cultural practice, appearance and text.
In conversation with the artist, she revealed her motivation for probing into the details found in Zhenyuan Village and combining these with her text-based statements. Jiang expresses a discontentment with the lack of authenticity and stereotyping of Chinese culture, particularly as experienced in Australia's many Chinatowns. Although intended as an expression of multiculturalism, nationalism and diversity by offering locals and tourists a taste of various Asian cuisines, goods, and celebrations; Chinatowns commonly promote consumerism and commodification at the expense of any sense of genuine engagement and experience of true ethnic identity. This is typified in settings and displays of sculptural lion dogs, ornamental tiles, hanging lanterns, imagery of dragons, and the overuse of the colour red. The generalised characteristics of Chinese culture reinforce an idea of Chineseness and heighten the othering of foreign cultures. In Pulp Friction, Jiang turns away from the worn-out, stereotypical aesthetics to instead shed light on the unassuming, idiosyncratic features of Chinese culture.
Pulp Friction's grouping of multi-disciplinary artists pushes forward the significance of diasporic narratives, whilst also providing discerning outlooks and contemplations realised amid displacement. The resulting artworks provide a refreshing and poetic outlook on Australia's environment, whilst also recognising the individual's inescapable ties to heritage. Although paper works and paper itself continues to emanate ephemeral and impermanent qualities, the material; when bound to its cultural origin and the associated traditional, skill-based practices, continues to stand the test of time.
About Embie Tan Aren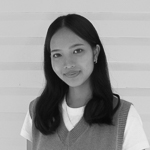 Embie Tan Aren is a Brisbane/Meanjin-based arts worker, emerging writer and recent Communications graduate. She collaborates with Queensland art galleries to support the marketing and vision of its exhibition programs. She is currently the Exhibitions and Marketing Intern at Artisan as well as the Media and Communications Intern at Jan Manton Gallery.
✿
Like the article? Make it a conversation by leaving a comment below.  If you believe in supporting a platform for culture-makers, consider becoming a subscriber.
Tags