Pamela See writes about Torres Strait artist Sylvia Nakachi, whose fibre works recover a pre-contact history.
During the naissance of the COVID-19 pandemic, there was much speculation as to whether its origins were organic and its outbreak incidental. Whether for satire or spite, the virus was referred to as the "Wuhan Flu". Even in the most certain times, there is a tendency for consumers of news media to be responsive to reductive signalling. Concepts are simplified and items are identified with specific cultural groups and geographic regions. Museum patrons appear similar in their appetite for ethnographic displays, where artifacts are also categorised by these criteria.
Erub Islander artist, Sylvia Nakachi, addresses this issue in her contribution to Our Words, Our Stories at the Living Museum of Logan. She was born in Mackay and presently resides in the vicinity of the venue. Her distinctly Japanese surname was acquired through marriage, the family of her husband a descendant of Thursday Island pearl divers. Her practice is quintessentially post-colonial and her artworks in this exhibition typify the post-ethnographic.
This group exhibition falls within the inaugural rotation of temporary displays for the institution, which officially opened in August 2022. The museum modus operandi was born of discussions between the Logan City Council and the Yugambeh people, during which the elders expressed their resistance to the nineteenth-century to late early twenty-first century model. As opposed to a storehouse for stolen artifacts, the remains of humans being of no exception, this museum has evolved to be a safe meeting place of ideas. A collection has been forgone for contemporary commissioned objects. Artists play an integral role in conveying, if not constructing, facts about their community.
Whilst artworks are technically artifacts, as objects reflecting both human workmanship and cultural significance, the aforementioned reductive mentality disassociates the two. The latter term is most often affiliated with objects that have been rarified by the antiquation of the skills used to make them. Nakachi melds ready-mades, modern materials and ancient techniques, to create artworks which challenge the perceptions of Indigeneity held by Second Nations peoples. One of the cabinets in the exhibition houses Bring History, Showing Respect Through Acknowledgement (2019) and Gorr [rattle] (2017), objects designed to radiate and resonate (see UMI shop). The latter is a ready-made, a musical instrument crafted from matchbox seedpods (Entada phaseoloides) and nylon string. It imbues the former with a functionality. The circular shape of this first artwork also bears some physical resemblance to the platters woven for Torres Strait Islander feasts.
However, as a point of difference, the artist engages in coiling. In his article for American Antiquity in 2017, Thomas Connolly posited that this technique of basketry dates back eight millennia in the Great Basin region of the present-day United States of America (US). Within an Australian context, it is affiliated with the First Nations people who resided along the Murray River, including the Ngarrindjeri, Yorta Yorta and Wiradjiri. In the 1920s, the technique was introduced to the Arnhem Land by the missionary Gretta Matthews. Her nineteenth-century Christian counterparts also catalysed the commercialisation of basketry amongst the First Nations people in the US and Canada, at the expense of a diversity of endemic applications such as weaving vessels for cooking. Australian events such as the Weaving Exchange run in 2009 by the Erub Erwer Meta, Darnley Island Art Centre, have provided opportunities for the further amalgamation of traditional skills from disparate regions. As opposed to the palm frond favoured by her ancestors, Nakachi engages wool and banana.
Her juxtaposing of predominantly organic, yet introduced, elements present a powerful testament of the effects of what she describes as the late nineteenth-century introduction of "imperialism" to Australia. The 1 July 1871 arrival of the London Missionaries to her ancestral home is a fulcrum for the research foci of her PhD candidature at the Federation University. This first contact continues to be celebrated in the Torres Strait with the annual calendar observance The Coming of the Light.
Whereas the wool fibres may be a clear reference to British colonialism, Nakachi's embrace of banana fibre is coloured, both literally and metaphorically. In some instances, the artist literally added colour by burning it. Metaphorically, the crop has a contentious history in Australia. The concept that bananas were introduced by Chinese migrants in the nineteenth century retains salience. However, in 2020 researchers from the Australian National University (ANU) released findings suggesting that a variety of banana was cultivated on Mabuyag Island, 177 kilometres west of Erub Island, 2145 years ago. Irrespective, Nakachi's father owned a banana plantation making her use of the fronds and trunks a personal reference.
A tree captures the essence of its environment, year by year and event by event, a testimony accessible by examining its growth rings. Likewise, Nakachi appears to weave sediments of the seismic change imposed upon her people in the coils of Bring History, Showing Respect Through Acknowledgement. But literally at its core, she emphasises their unyielding sovereignty, suggesting that they remain central to contemporary Australian culture. It is a humble yet poignant request for respect and reconciliation.
The other two artworks in this exhibition by Nakachi investigate how this cultural development—or displacement—was dressed. Clothing a Landmark for Change (2021) features an au gemwali traditional dress and a calico. The garments, typically mass-produced in styles introduced to the Torres Strait during the nineteenth century, are now considered "traditional attire" for its women and men respectively. The au gemwali was fashioned by her relatives from festively coloured floral fabric. It may be described as a knee-length A-line dress, which flairs from the waist, with a laced collar and short sleeves. She sewed the calico wrap using similarly brightly coloured cloth and embellished it with a lace trim. Presented in a separate cabinet, And the Truth Shall Set You Free (2021) is a septet of sensuously organic weavings from banana fibre. The innately maternal forms, which audiences may associate with nests or cups, investigate the pre-colonial disposition of women on Erub Island to dress exclusively in woven grass skirts. Their torsos remained bare. The custom is in stark contrast to the modesty imposed by the missionaries.
Academic in nature, Nakachi's four artworks in Our Words, Our Stories arguably offer a polemic perspective on the colonisation of her people, conveyed through the considered application of ready-mades, materials and techniques. At its core, the artworks are conversations contrasting the synthetic and natural, the introduced and the endemic, and the contemporary and traditional. Most impressive is her dissection of the latter dichotomy, as she demonstrates the mutable nature of all traditions. Museum audiences ordinarily find nuance and multiplicity in meaning difficult to uptake. However, through her integration of the familiar, Nakachi provides them with a point of entry. Her contemporary artworks serve to illuminate the traditions of her aunts from the Torres Strait, with whom she is exhibiting, as opposed to challenging them through change.
Further reading
Australian National University. (2020, August 12). Indigenous Banana Cultivation Dates Back Over 2,000 Years.
Cameron, A. (2007). The Recoil Education Kit. Artback Northern Territory Arts Touring.
Connolly, T. (2013). Implications of New Radiocarbon Ages on Coiled Basketry from the Northern Great Basin. American Antiquity, 78, 373-384.
Larner, S. (2021, July 20). Keeping Culture Alive Through Weaving. State Library of Queensland.
Lawrence, K. (2019, October 11). Weaving the Way. Artlink.
Marie, S., & Thompson, J. (2002). Dene Spruce Root Basketry / Dene Ts'ukegháí Tene Tahesi: Revival of a Tradition. University of Ottawa Press.
Powerhouse Museum. (n.d.). History of Aboriginal and Torres Strait Islander Textiles.
Queensland Museum. (n.d.). Coming of the Light – Torres Strait Islands.
State Library of Queensland. (2011, March 11). Weaving Exchange: Erub Island and Hopevale 2009 [Video]. Vimeo.
The Australian Banana Growers' Council. (n.d.). History of Bananas.
Wray, J., & Jarvis, J. B. (2014). From the Hands of a Weaver : Olympic Peninsula Basketry Through Time. University of Oklahoma Press.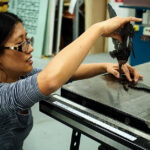 Pamela See ✿ A renaissance woman
Pamela See is indeed a "renaissance woman". Her craft is psaligraphy (paper-cutting), which may seem a lower-order technique involving relatively little skill and a minimal range of creative expression. But she reveals its cultural depth, artistic development and technical challenges in a series of well-researched articles. such as […]
✿
Like the article? Make it a conversation by leaving a comment below.  If you believe in supporting a platform for culture-makers, consider becoming a subscriber.
Tags