Caroline Hornauer tells a story about Planea foundation and how it helps pair complementary crafts for local benefit.
(A message to the reader in Spanish.)
---
(A message to the reader in English.)
---
"Teachers are everywhere. What is wanted is a learner"
Wendell Berry
Five years ago, when we first started to envision a craft school in Viña del Mar, the first issue that arose is what to teach and who will teach. Teaching is supposed to be a form of transmission, a transmission that usually flows in one direction. Students seem to be mere receptors and in that role, they are not individualised. My own experience as a student confirmed just that.
By contrast, teachers carry a name, and looking for the best is a given assumption. We just think that the best craftsman or craftswoman is whom we must follow: he or she has the moral authority, or the accolades, to convert any apprentice into a worthwhile successor. This a story that illustrates how we have learnt to value our students at the same level as our teachers and how a more holistic approach has helped us develop a learning community.
We met Lourdes Chicco Ruiz through a friend and were immediately in tune with her. She lives and works in Buenos Aires, making highly personal shoes in the loft of her store in the Palermo neighbourhood. Technically speaking, she is not a master shoemaker, but her patience, charm and energy have made her explore teaching possibilities.
Above all, she loves to share her experience and continue her learning process. Process and sustainability are a very important part of her work and she takes care of all the steps involved. She travels every year to her native Santiago del Estero staying for a month working with her local providers of hides, pelts, wood and feathers.
So we invited Lourdes to Chile and organised a residence and several workshop sessions. Attending students couldn't believe they were able to make a simple leather sandal in a day or a personally designed shoe in a full weekend. Ok, the stitching was outsourced to a local atelier, but that also served us to visit shops, establish networks and witness the crumbling remains of the once-booming Chilean shoe industry. Just an example: from 1991 to 2018, shoe production reduced from 35 million to under 5 million pairs, cheap imports being the main culprit. Most importantly, it prompted us to have Daniel Vicencio, a highly-skilled second-generation leather craftsman of Valparaiso do a basic punching and stitching course.
We had the teachers. And then came the learner.
We invited Claudina Torres, a goat breeder and cheesemaker. She travelled over three hours by bus to get to Lourdes' class at our Centre…. and they became friends. Claudina has been breeding goats all her life nearby Catemu, a small town at the foothills of the Andes, 140km from Valparaiso.
Goats are bred mainly for their milk. Traditionally, it is women who make the cheese, which is their main source of income. Kids are culled in early spring and the meat sold for the National Day celebrations.
During the winter rainy season, goats graze up in the mountains. In summer, Claudina's family moves to the Aconcagua River valley in search of better pastures. In a makeshift camp, she produces the cheese to be sold at farmers markets and fairs. Pelts are a byproduct. Claudina started tanning pelts in her free time, encountering problems with mites and mould.
She had carried some samples to the sandal making workshop with Lourdes and immediately we thought of helping her with the tanning. Again, Daniel Vicencio offered himself, having worked some months before in a government-funded program with Aymara communities in the north of Chile, teaching how to tan llama pelts.
Together with Claudina, we organised the course at her house. She invited other goat breeders around her area, women of different ages, all eager to learn better tanning procedures. Along five weekly sessions, we went through the proper steps of skinning, pickling, fleshing and tanning. Daniel's approach focused on understanding the process while making the whole experience more enjoyable, less time-consuming, as well as using less water and introducing eco-friendly chemicals.
A cheap pressure washer eased the fleshing and the neighbour's small concrete mixer made breaking the skin a less strenuous exercise. Each session would end sharing stories while gobbling up warm bread and the most delicious goat cheese you could imagine. As a practical result, pushed by Claudina's drive, the women are now capable of tanning over 100 pelts, a number that enables them to sell them at a better price to a leather wholesaler.
It was a back to basics experience, one of direct contact with the material. In knowing the material, we understand its qualities and its limits, as well as our own limits. At the core of this realisation is our relationship to our world, a limited environment in which we seem to have been doing more harm than good. As Lourdes, our shoemaker whispered, "I try to give all I can, but just take what I need".
In a country marked by the impermanence that frequent natural disasters bring and highly exposed to climate change, crafts might be a way of establishing a more durable link to place and nature. After all, sharing our passion for creating handcrafted objects is just the start to making this world a better place.
Author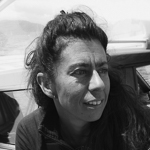 Carolina Hornauer studied jewellery at Escola Massana, Barcelona. A winner of the 2008 New Traditional Jewellery Award at Sieraad Art Fair in 2008, her work has been exposed across the world. She is founder and director of Planea, a non-profit organisation located in Viña del Mar, Chile, that promotes a sustainable life through the practice of crafts and care for the Earth. You can follow these accounts: @fundacionplanea @dvicencioulloa and @chiccoruiz
Tags