Liliana Ojeda's "new" work reflects the beauty of old age, making "contemporary" jewellery more than a celebration of youth.
This society teaches us the value of the new, the immaculate, the fresh and the young.
At the same time, it imposes on us a terror of ageing, of withering, and decline. As if that was the moment to think about suffering and death. However, internally we know that one begins to die at birth, and that one suffers in all stages of life.
Not all people go through the state of old age before dying.
It is impossible to reach old age without having passed through childhood, youth and adulthood.
Today's society reaches maturity and healthy old age, with ease. In Chile, for example, the expectation of life is 80 years old. Therefore, we can say that the life of a human being today is made up of 25% childhood and adolescence, 37,5% adulthood, and 37,5% old age.
That means that thirty years of our life we ​​will be old.
Why our reluctance to reach that state?  Why do most people despise the old for being weak, wrinkled, or useless?
In an urban context, as soon as a person loses its capacity of working, she no longer seems to be useful for production. It's time to retire. It seems like there is no place for old people in society.
On the other hand, we have the example of a rural context, in the Mapuche vision, where the process of getting old is the time for maturing knowledge, and that puts old people in a high position in society.
I have been interested in this phenomenon because it also occurs in the discipline of jewellery. We are expected to make pieces that represent the value of the new and pristine. But what if I confront this sense of the current? I see beauty in old age in so many ways and dimensions, just as some ancestors integrate the process of ageing in life as something positive. For this reason, I decided to do a work that is inspired by the human last stage of life. It is a tribute to all the old people I admire.
To address this issue, I try to make pieces that show fragility and the passage of time. The materials I use are fruit peels that I collect and recycle from daily family consumption, every morning, for a year. I scrape them, dry them in the sun, and let them take unexpected and whimsical shapes, which occurs naturally because of dehydration.  With those materials rescued from my daily life, combined with the ones I normally have in my jewellery and ceramic workshop, I gave myself the chance to develop the Senescent Field series. I had the supervision of Francisca Kweitel from Argentina, during a couple of tutorials we organised with Joya Brava association during 2019.
I compliment the practice in the workshop with visits to my 96-year-old grandmother and conversations with my 84-year-old neighbour friend. They both come from the southernmost city in the country, Punta Arenas, where one of the biggest Croatian migrations to South America occurred.
I even wanted to involve my friend's mature body as part of the work, asking her to pose with the works. I was surprised and pleased that she wanted to collaborate!
I also found inspiration in a poem by the Chilean poet from the 1930s, Vicente Huidobro:
LA POESÍA ES UN ATENTADO CELESTE
Yo estoy ausente pero en el fondo de esta ausencia
Hay la espera de mí mismo
Y esta espera es otro modo de presencia
La espera de mi retorno
Yo estoy en otros objetos
Ando en viaje dando un poco de mi vida
A ciertos árboles y a ciertas piedras
Que me han esperado muchos años
Se cansaron de esperarme y se sentaron
Yo no estoy y estoy
Estoy ausente y estoy presente en estado de espera
Ellos querrían mi lenguaje para expresarse
Y yo querría el de ellos para expresarlos
He aquí el equívoco el atroz equívoco
Angustioso lamentable
Me voy adentrando en estas plantas
Voy dejando mis ropas
Se me van cayendo las carnes
Y mi esqueleto se va revistiendo de cortezas
Me estoy haciendo árbol Cuántas cosas me he ido convirtiendo en  otras  cosas…
Es doloroso y lleno de ternura
Podría dar un grito pero se espantaría la transubstanciación
Hay que guardar silencio Esperar en silencio
(Últimos poemas 1948)
POETRY IS A HEAVENLY ATTACK
I am absent but in the depth of this absence
There is the wait of myself
And this wait is another way of presence
The wait of my return
I am in other objects
I am journeying on my way giving a little of my life
to certain trees and certain stones
that have been waiting for me many years
They got tired of waiting for me and sat down
I am here and I am not
I am absent and I am present in a state of waiting
They wanted my language to express themselves
I wanted theirs to express them
Behold the misunderstanding, the atrocious misunderstanding
Distressing, regrettable
I am moving inwards to these plants
I am stepping out my clothes
My flesh is falling down from me
And my skeleton is covering with bark
I am becoming a tree
How many times I have been turning into other things…
It is painful and full of tenderness
I could cry out but the transubstantiation would scare away
It's needed remain in silence Wait in silence
(Last poems,  1948)
Note
Mapuche are a group of indigenous inhabitants of present-day south-central Chile and southwestern Argentina, including parts of present-day Patagonia. The collective term refers to a wide-ranging ethnicity composed of various groups who shared a common social, religious, and economic structure, as well as a common linguistic heritage as Mapudungun speakers. The Mapuche are particularly concentrated in the Araucanía region. Many have migrated from rural areas to the cities of Santiago and Buenos Aires for economic opportunities.
Author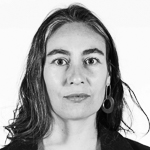 I am a Chilean contemporary artist and jeweller, born and raised in the city of Santiago. The oldest of three sisters. I have been practising crafts for twenty years. I am a founding member of Joya Brava, the Chilean association of contemporary jewellery, and the mother of two girls, Aranda and Diamela. I have beautiful memories of a free childhood, together with my maternal grandmother Esther Slavic, of Croatian origin, who took care of her grandchildren during the summer holidays. We were transferred to a stay in Patagonia, where we lived within a wild nature so different from what we experienced in an urban context. Ester is still alive, isolated from the world in a nursing home, her gaze seems lost and she does not know who I am anymore. I can no longer share with her those summer adventures, which I still keep so alive in my memory. This year I have organised together with my eldest daughter Aranda, the Ojo Chile project, in the memory of all the victims of eye damage caused by the Chilean police, during the social outbreak of October 2019. IG @ojochileconvocatoria. See www.lilianaojeda.com and @lojoyas
Tags