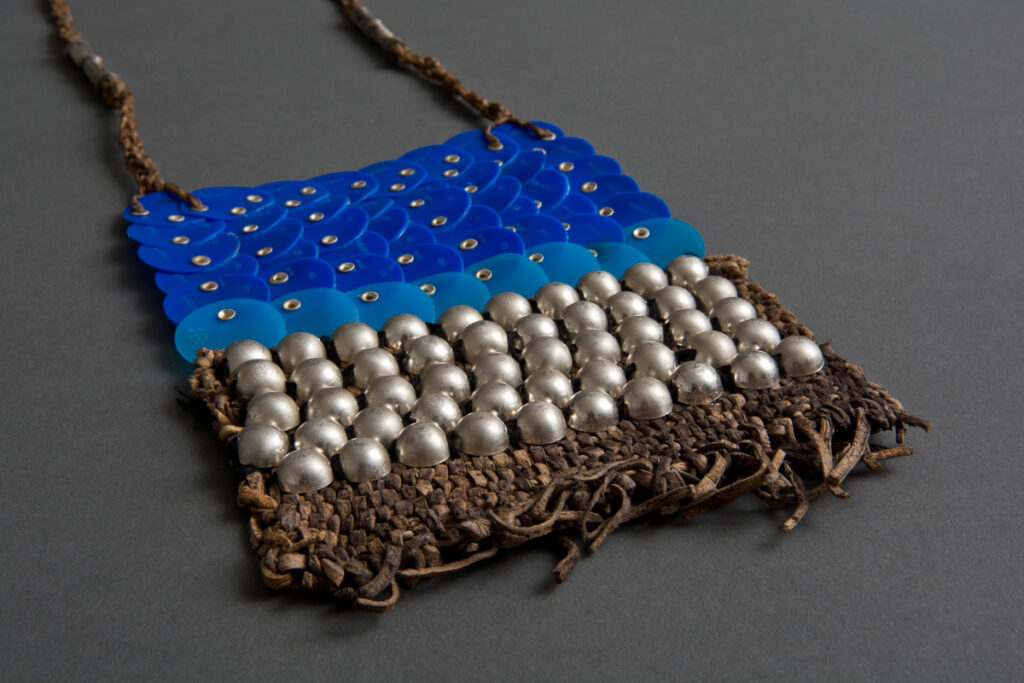 Amal Al-Ismaeli was inspired by her grandmother to discover a traditional adornment that is designed by women for women.
(A message to the reader in Arabic.)
(A message to the reader in English.)
---
The Sultanate of Oman occupies the south-east corner of the Arabian peninsula. It has a long history, but its development as a modern state only began in 1970. I am a product of that Omani renaissance, and I have benefitted from the Sultanate's interplay between the traditional and the contemporary.  I am an Assistant Professor of Handicrafts, teaching in the College of Education at Sultan Qaboos University, an institution that only dates back to 1986.  I completed my Master's degree at Coventry University, and my Doctorate at Sheffield Hallam University, where my thesis explored the inherent functions and meanings of traditional Omani jewellery.
I was inspired to undertake this research by my grandmother, who was a Bedouin lady from the Eastern Province of the Sultanate. When I was a little girl, my grandmother used to show me pieces of her own traditional jewellery, but in those days I was too young to appreciate their significance. Put simply, before 1970, traditional Omani jewellery served a double function. At the most obvious level, rings, earrings and necklaces were adornments that could be worn on occasions like weddings, or at the Islamic Eid celebrations. In a society without banks, however, the Bedouin also used this jewellery as the family exchequer. By contemporary standards, and modern tastes, many of the pieces were extremely heavy, and they often incorporated coins like Maria Theresa thalers or rupees from the time of the British Empire in India. These coins, however, were not chosen for their aesthetic appeal; they were valued for their weight in pure silver.
Periodically, therefore, such jewellery could be broken down and sold for its monetary value. Collections of such jewellery were also broken upon the death of their owners, as Sharia law lays down strict rules to govern inheritance. Both these factors explain why it is very rare to find traditional Omani jewellery with any great age. Even the examples that are displayed in museums are unlikely to predate the nineteenth century.
After 1970, moreover, traditional jewellery fell out of fashion. Expatriates would often buy examples as souvenirs, but the Omani market demanded something more modern. With the rise in living standards and a commensurate rise in expectations, Omani brides expected to be presented with gold, and married women bought newer, more contemporary styles, or traditional designs worked in more precious metals.
When I started my research, however, I came to understand that some traditional Omani jewellery had a greater significance. Women like my grandmother were far more than mere consumers of artifacts designed and created by male silversmiths. The use, and reuse, of silver, gave these women an agency that had been overlooked. In many cases, when a necklace was broken down so that some parts of its elements could be used as currency, the remaining parts were reformed into a lighter, but still wearable, artifact. Loose silver beads, for example, could be strung on a thread spun from wool, or onto thread crafted from leather.
This led me to contact a network of women, many of whom had maintained specialised craft skills, and to my surprise, I discovered that all of them had their own small collections of traditional jewellery; pieces that were either of particular sentimental value or which had been regarded as effectively unsaleable. I was able to see how this jewellery often integrated "found" objects, or locally produced crafts. This was the genesis of my own "saqal" necklace, which won an Enjoia't Award from the Fomento de las Artes y del Diseno in Barcelona.  My necklace incorporated beachcombed plastic bottle tops with silver beads and hand-processed leather thread.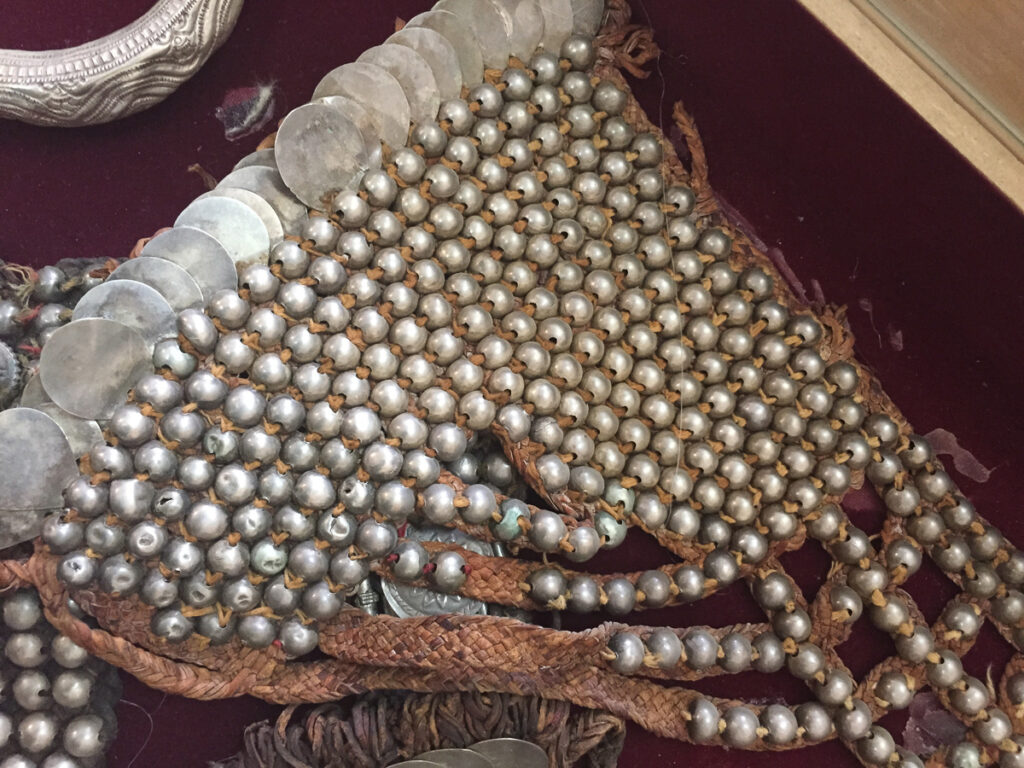 It also led me to the discovery of a unique piece of Omani traditional jewellery, and one which has hitherto gone unremarked. This is the "Shaabook" headdress, a piece of jewellery designed by women, and created by women, for women, so that it could be worn in the most intimate of domestic surroundings. The Shaabook consists of a leather base, molded to the wearer's head, and that base is then ornamented with silver. Being made of leather, the leather framework absorbs any perfumed oil that the wearer uses on her hair, and so it becomes doubly personal. The Shaabook is designed to fit on her head alone, and it carries her personal scent.
What is most special about this headdress, however, is that if it is worn outside, then it is covered with an Islamic headscarf. Thus this jewellery is designed to give satisfaction to the wearer, and to her closest family members, but it remains private. It is not designed to attract the attention of strangers, or to be a demonstrable indication of wealth or status.
I found this fascinating, as it tied in so completely with my own designs using hybrid materials, and also because of what it told me about Bedouin life in the past. So a woman from the Arab Gulf, I had always known that I came from a rich artistic heritage that is often underestimated by Western-oriented critics, but the Shaabook offers a unique example of how previous generations of women were able to create their own artwork, combining craft skills with an aesthetic vision that still gives pleasure today.
Further reading
Camcigil, O. (Forthcoming). Eastern Treasures: Ottoman Oman Yemen and Turkoman Jewellery. London. Gilgamesh Publishing.
Hawley, R. (2000) Silver: The Traditional Art of Oman. London. Stacey International.
Rajab, J.S. (1997) Silver Jewellery of Oman. London. I.B.Tauris
Shelton, P and Richand, R. (1998) Oman Adorned.Essex. Apex Publishing.
About Amal Al-Ismaeli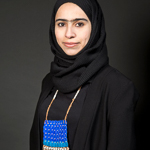 Amal Al-Ismaeli is an Assistant Professor of Handicrafts. She teaches in the Department of Art Education in the College of Education at the Sultan Qaboos University (SQU) in Oman. She took her first degree from SQU and then completed her Master's degree at Coventry University, specializing in jewellery making as a contemporary craft. She is completing her Doctorate from Sheffield Hallam University.  Amal has conducted research into the meanings and functions that are inherent in the creation of traditional Omani jewellery, and she has extended those signifiers into the creation of contemporary artifacts, Her findings have been presented in a number of academic conference papers, and she has exhibited her work in Oman, the United Kingdom, Italy and Spain. In 2019 she became the first Omani, and the first Arab, to win an Enjoia't Award from the Fomento de las Artes y del Diseno in Barcelona.
✿
Like the article? Make it a conversation by leaving a comment below.  If you believe in supporting a platform for culture-makers, consider becoming a subscriber.
Tags