(A message to the reader from Asad Hayee in English.)
(A message to the reader from Asad Hayee in Urdu.)
(A message to the reader from Sheraz Faisal in English.)
(A message to the reader from Sheraz Faisal in Urdu.)
The ALIEL initiative is a unique collaboration between artists, jewellery designers, jewellery manufacturers, art gallerists and a jeweller.
The crafting of fine jewellery is an art form and jewellery is often termed "wearable art", so this union of minds is particularly appropriate. In creating this initiative of offering young talented artists the facilities and availability of natural gemstones and precious metals, ALIEL believed that VASL is a beginning of a new chapter in the life and the times of fine jewellery in Pakistan (in conversation with Mohammad Ali Hassan Ali).
In one of the interviews, Sheraz Faisal mentioned how ALIEL spotted his work and encouraged him to work in fine jewellery. This was a once in a lifetime experience, allowing him to work in a professional system with experts of fine jewellery. He designed the VASL Collection I with ALIEL. It involved seven artists who include Salima Hashmi, Farida Batool, Ghulam Mohammad, Wardha Shabbir, Shakila Haider, Yasir Waqas and Sheraz Faisal. This collection comprised eleven pieces, either inspired by artists' works or by direct use of their artwork. This collection was showcased in March 2018, in Lahore. The response to this unique collection was phenomenal. The display of artworks of participating artists along with fine jewellery pieces was a unique experience for the viewer. The extension of art in wearable sculptural forms added a new dimension to precious metals and stones.
The VASL Collection II included nine more artists and marked its presence as a vibrant collection of sixteen artists with a total number of 23 pieces under the House of ALIEL in December 2018, in Karachi. This included Shehnaz Ismail, Naazish Ataullah, Adeela Suleman, Hamra Abbas, Masooma Syed, Ali Kazim, Muzzumil Ruheel, Maheen Ausaf and Amra Khan along with previous participants. The diverse practice of artists was a real highlight of this collection. This ranged from painters, sculptors, textile designers, printmakers, graphic designer to miniature painters. The common factor in these artists was their courage to be a risk-taker and include personal, political or social narratives.
In this ALIEL Collection, apart from using precious materials, gemstones, imagination, and state of the art craftsmanship; the artworks played an important role. Although the technique of manual stone carving and hot enamelling is also incorporated, but what makes this collection really unique is the aesthetics and the risk factor that was initiated to break conventional boundaries of jewellery to explore new artistic directions and possibilities.
Rohtas 2 facilitates research; providing access to its slide library and visual database. The stated aim of Rohtas 2 has always been educational, for both artist and audience. The city of Lahore was also in desperate need of an exhibition space where younger artists could exhibit work, which did not cater to the commercial gallery circuit. It fosters an environment of inquiry and debate on cultural and art-related issues, with a view to promoting tolerance and creativity among all those who come into contact with its modest establishment.
Recent exhibitions have included video installations, photography and performance-based works. Whereas this gallery was privileged to host Zarina Hashmi's first solo show in Lahore in 2003. It also witnessed Faiza Butt's homecoming marked by her solo exhibition The Linear Return in 2008. Huma Mulji's Arabian Delight was acquired by Saatchi Gallery in a preview at Rohtas 2 before its unveiling at Dubai Art Fair in 2008, in a show titled Desperately Seeking Paradise. Waqas Khan was given a chance to show his first body of work in an exhibition titled Shift in 2009 which became a turning point of his career.
Parallel to this, two major shows were given to Indian artists Pritika Chowdhry and Manisha Parekh in 2012. These exhibitions gave a counter-narrative to the Pakistani art market and audience. In the last decade, this gallery has supported many significant projects and has given opportunities to very young artists in the field to prove themselves. Ghulam Mohammad became the first Pakistani to claim the prestigious Jameel Art Prize 4 which was hosted by Pera Museum in Istanbul in 2016. The Victoria & Albert Museum, London is the executor of the prize. Following the tradition of Mohammad, last year Wardha Shabbir was selected as one of 11 finalists of 2018 Jameel Prize 5. She had her first solo exhibition at Rohtas 2 in 2012.
Rohtas 2 counts on the continuing help of its many friends and enlightened patrons, but above all, its supportive artists. This joint venture of VASL collection with ALIEL is a significant example of Rohtas's ideology. One can see the promise of future talent exploring its potential in close liaison with ALIEL as an enlightened partner.
Amra Khan
Amra's curious nature has led her to explore the world in its broaden format and she has been a risk-taker against the norms of a society. That was a hunt of exploring the found object in a culture and how one comes across multiple versions of one single object or phenomenon.
Sheraz Faisal has taken inspiration from this concept of hers' of a mosque only for ladies and explored further her quest of daring questioning nature against the tide. This ring is a true interpretation of the oneness of God and theories of geometry in our tradition. The unique sense of an artist has been combined with valuable materials like crystal quads, hot enamel and Pink opals set in 18 K rose gold. It's a unique ring in its own nature.
Amra's poppy series was another inspiration for the designer to work with. He converted her minuscule oil painting of poppy buds, painted on wood into a pendant. The free-floating poppy flowers made in 18 K yellow gold with open hot enamel technique and diamonds were added to complement the painting inside the pendant. From the same series, Sheraz created a striking pair of earrings with poppy flowers. Again the open hot enamel technique was a highlight of the piece. This pair of earrings was studded with diamonds and a drop of emeralds to complete its glamorous and exotic look.
Amra Khan was born in Islamabad. She achieved her BFA in Painting in 2008 and Masters in Visual Arts at National College of Arts from Lahore a few years later. She also had the opportunity to attend Ecole Nationale Superieure des Beaux-Arts (ENSBA) Paris, France, for a semester as an exchange student. Khan started off as an oil painter, but more recently her work has taken on a three-dimensional twist. She has made soft, sculptural works and uses found objects.
Hamra Abbas
The esthetic and geometrical patterns of the Islamic world in "Kaaba picture as a Misprint" by Hamra inspired Sheraz Faisal to look at the practice of the artist. The square black onyx piece itself represents the form of Kaaba and yellow citrine, blue iolite, pink and green tourmaline quietly represent the CMYK printing format. Showing the different beliefs within religion is remarkable and how it unites its followers together. The highlight of diamonds set in 18K white gold unites all the elements together to represent the "misprint" as one.
Hamra Abbas was born in Kuwait in 1976 and lives and works in Boston and Lahore. Abbas' artistic practice draws from a myriad of sources and takes a diversity of forms. Her works originate from encounters and experiences—an image, icon or gesture—that are manipulated by the artist transforming its scale, function or medium. Her intention is to deconstruct the act of seeing by recreating images that form part of collective memory. Unrestrained by subject matter or media, she takes an investigative approach to produce a diverse and holistic body of work addressing notions of cultural history, sexuality, violence, ornamentation, devotion and faith.
Ali Kazim
Kazim's approach towards his practice is a very keen observation of its surroundings. His subject matter has varied over time but always grounded in his roots. "Lover's Temple Ruins" became an iconic work as it inspired him at multiple levels; his work has shown an inordinate skill shift from sensitive graphite or watercolour on paper to terracotta ceramic works.
Sheraz has been following his work right after Kazim's graduation from National College of Arts and has always admired his approach to the selection of material and its use in his practice. "Hold me close to your heart" a pair of earrings were designed by Sheraz with utmost care and love, similar to what Kazim has always adopted to his sensibility. The use of blue aquamarine became a highlight of the collection as the carving on the aquamarine stone in the shape of the heart was done very sensitively. The root-shaped veins curled around the stone in 18K white gold studded with a diamond cluster, which created an illusion from a distance that these tiny hearts are freely hanging in the air like "Hanging Gardens of Babylon". One can see how the designer has taken inspiration and reference from history.
Ali Kazim was born in Pakistan, in 1979. Currently, he lives and works in Lahore, Pakistan. He received his BFA degree from the National College of Arts, Lahore, Pakistan in 2002 and an MFA from the Slade School of Fine Art, London, UK, in 2011. Kazim worked in the field of visual arts for the past eleven years. His work exhibited widely in solo and group shows internationally. His work is in the collection of the Metropolitan Museum NYC; Asia Pacific Museum, USA; British Museum UK; Victoria and Albert Museum UK; Queensland Art Gallery Australia; Burger Collection Hong Kong; Creative Cities Collection, Beijing; Kiran Nadar Museum of Art, New Delhi, India; Devi Art Foundation, Delhi, India; Samdani Foundation, Dhaka.
Muzzumil Ruheel
Muzzumil's work is fuelled by the social fabric of society that surrounds him. From political developments to the incessant chatter of everyday life, his work seeps and weaves through all that is mundane. Sheraz approached Muzzumil with the idea of collaborating together to make a piece for VASL. "Text" has been a solid ingredient in Muzzumil's practice and this how they settled down: Jann-e-mann in Persian means "sweetheart". It is a true representation of the minimalistic approach of contemporary aesthetics. The calligraphy done by Muzzumil was hand-carved on hexagon shaped agate stone. The 18 K liquid gold was used to highlight the layer of the carved base. Diamonds filled the visual aesthetic to replace the dots of the Urdu text.
Muzzumil Ruheel is a visual artist based in Karachi. He was born in Lahore in 1985 and is a graduate of the School of Visual Arts, Beacon House National University (BNU) 2009. He has been part of the faculty at the Indus Valley School of Art and Architecture (Karachi), the School of Visual Arts, Beaconhouse National University (Lahore) and the Visual Studies Department at the Karachi University, Karachi. Muzzumil has established himself as a young, contemporary artist, exhibiting nationally and internationally. His work is part of important public and private collections.
Masooma Syed
Memory and time are the essential elements of Masooma Syed's practice. The sensitive personality of the artist has led her art practice to explore the unusual means and mediums. "Sawal Jawab aur Dhadken" (meaning "A question answer and heartbeat") was one of the moments that Masooma decided to bring to life.  The form of cactus is unique: it appears hard, dry and rough on the outside but when you peel it, it's moist from inside. Sheraz became fascinated with this difference and converted the work into a pair of earrings using transparent hot enamel, 18K yellow gold and diamonds.
Born and brought up in Lahore, Pakistan, Masooma Syed studied painting and later studied MA in Visual Arts from National College of Arts, Lahore. Since then she has been involved in studio practice, and has exhibited in Pakistan and abroad, participating in several artists' residencies and workshops.
Masooma has also taught art in various art institute's namely The National College of Arts, Lahore; Beaconhouse National University, Lahore; Indus Valley School of Art and Architecture, Karachi; as well as School of Art and Design, Kathmandu University, Nepal and Manchester Metropolitan University, England.
Salima Hashmi
Salima Hashmi's art practice spans over four decades. Its narrative is poignant with social and political commentary of the hardships of the time. Her practice talks about the upheaval of a society and its culture that is dependable on political unsustainability and power show of establishments. Where democracy is often challenged and put to halt. "Heart Still" a 13-foot long scroll drawing done in 2006, is a strong approach taken by the artist to address the issues. Sheraz has used the shallowness of the political moments in a very subtle manner to make a pair of earrings, using the mother of pearls curved into the shape of a heart. The overexciting situation, the overly distressing pressures abstractly painted in the work were melted down in the piece with yellow citrine and diamonds flowers in 18 K yellow gold. The back of the pair was ornate with hot enamel. "Softly I will leave you softly" was another inspiration for a pendant piece from her mixed-media work from the '80s. Sheraz used the hand-carved mother of pearl, red jasper, black onyx, and hot enamel, highlighted with diamonds to set it in 18 K white gold.
Salima Hashmi is an artist, curator and contemporary art historian. Professor Hashmi was the founding Dean of the Mariam Dawood School of Visual Art and Design at Beaconhouse National University, Lahore. She taught at the National College of Arts [NCA] Lahore, for 31 years and was also Principal of the College for four years. She is a practising artist and has participated in many group exhibitions and has had 6 solo exhibitions at national and international levels. She was awarded an Honorary Doctorate by her Alma mater Bath Spa University in a ceremony in Bath Abbey in 2016. She was awarded the title of Professor Emeritus from BOG Beaconhouse National University on the occasion of 12th convocation in 2017.
Farida Batool
Farida Batool's four jewellery pieces were very carefully designed to keep the integrity of her art practice, which is personal and political at the same time. The use of material and techniques are simple yet complex to create the magic of a fairytale. "Oblivion", a choker with 18K yellow gold barbed wire, is a stunning piece. The hanging six layers of Burmese rubies highlighted the beauty of the piece against the blue velvet of the choker.  The ruby beads evoke the crucifixion, of blood dripping out of a surface/body, a statement that compels you back to history and notions attached to its nostalgia. Her reference is to the bloodshed and extremism in the region.
Farida was born and raised in Lahore. The city recurs in many ways in her work. She has been a silent observer who has a keen interest in the changing landscape. The city that was full of life was traumatized by the terror of suicide bombings. Once the city roads were full of street vendors in the evening, selling garlands of Motia (jasmine) and Rose flowers. It was suddenly taken over by the razor or barbed wires, blockheads and police check posts. "Story of that day" was done with pearls, iolite, onyx beads set in 18 K white gold and highlighted with diamonds.
"Stay with me I & II" the two pairs of earrings were designed, where Sheraz has used her original leatherette skins from one of her works. This was series of 60 footballs titled "World Cup", with blown-up images of her friends, family and colleagues skins or body parts (it was in response to one of Taliban leader's act, who played football with beheaded human skull). The use of sapphires, rubies, and diamonds, white and yellow gold complemented each other and changed the interpretation for the viewers.
Farida Batool is a Lahore based visual artist and researcher in visual culture. Farida Batool completed her Doctorate in Media and Film in 2015 from SOAS, London University. In 2003, she acquired her Master of Arts in Art History and Theory (Research) from the College of Fine Arts, University of New South Wales, Australia, and received her Bachelor of Fine Arts from National College of Arts, Lahore, Pakistan in 1993. Batool is interested in developing a comprehensive cultural critique of Pakistani, Islamic, and Western modes of everyday life, which is also reflected in her recent short film for the BBC online called The Clash of Masculinities.
Adeela Suleman
Adeela Suleman's pendant "Sing a song to me love" followed a work featuring dead sparrows, titled "After all it's always somebody else who dies". This piece talks about the casualties of innocent people who have lost their lives in bomb attacks. Adeela's approached the subject matter in a very delicate manner. During the process of making these jewellery pieces, Adeela said it's going to be a challenge to see such a sad subject of my work getting transformed into beauty. Sheraz took the challenge and transformed the dead birds as guarding angles of a lily pond. The blue sapphires in the eyes of these birds added life and element of hope. The tiny scale of the piece really became exceptionally beautiful and exciting to look at. The hand-engraved water waves filled with hot blue enamel created a magical and mysterious moment for the viewers. A small tiny lotus flower highlighted with a white diamond floated in the middle of it to enhance the charisma and leave the viewer spell bounded.
Adeela Suleman received her BFA from the Indus Valley School of Art and Architecture, Karachi in 1999 and before that she did her MA in International Relations from Karachi University in 1995. Currently, Suleman is Associate Professor and Head of Fine Art Department at The Indus Valley School of Art & Architecture, Karachi, Pakistan. She is the founding member and Director of Vasl Artists' Association, Karachi, Pakistan.
Works are part of notable international public collections including the Barts Health-NHS London, UK; Devi Art Foundation, Gurgaon, India; Kiran Nader Museum of Art, New Delhi, India; Art in Embassies Collection, USA, Art Gallery New South Wales, Australia; Orlando Museum of Art, Orlando, Florida, USA; Flame Towers, Baku, Azerbaijan; Four Seasons Hotel, New Delhi, India, Art Gallery NSW, Sydney, Australia and Pinakothek Der Moderne, Munich, Germany. Adeela Suleman lives and works in Karachi, Pakistan.
Naazish Ata-ullah
"Pouring Hearts" of Naazish Ata Ullah was another great example of minimalistic aesthetics. Sheraz used a simple object from her possession, a large conch shell, as a symbol of celebration of womanhood and as a symbol of chadar (a large scarf to cover the head and upper body). The Conch shell has significant marks of aging over forty years. Using 18 K white gold and moonstones, Sheraz replicated the form to its nearest to translate her emotions and feelings attached to the object over these forty years.
Professor Naazish Ata-Ullah, an artist, art educator, curator, writer, social and human rights activist lives and works in Lahore, Pakistan. Professor Naazish Ata-Ullah retired from Government service in 2010 as Principal and head of academic and administrative affairs at the National College of Arts, Lahore and NCA Rawalpindi Campus. The Republic of France awarded her the title of Knight in the Order of Arts and Literature in 2010, for services to art and culture.
Ata-Ullah was born in Australia in 1950. She undertook her post-graduate studies in printmaking at the Slade School of Fine Art in London and in art education at the Institute of Education, London University, in the early 1980s. She is a graduate of Kinnaird College for Women, Lahore and the National College of Arts, Lahore. She was awarded a British Council Scholarship for post-graduate studies. At present, she is a Senior Fellow at the School of Visual Art and Design, Beaconhouse National University, Lahore. At BNU she is undertaking personal research, teaching courses in Art History and studio practice and has been instrumental in the development of the first MA program in Art Education in the country.
Shehnaz Ismail
In older times when people used to travel on foot, they used to pack their essentials in a piece of cloth to keep it light so to carry it becomes easy for them. Shehnaz Ismail remembers that the potaly was an essential accessory even for women in those days. She has used potaly as a metaphor in her own practice as a textile designer: a metaphor of memory bank that has everything packed in it. The potaly was usually used to keep gifts for children of visiting family and some personal stuff at hand. Sheraz and Shehnaz collaborated together and came up with this wonderful piece titled "Chilmaan". It's designed/inspired from a simple part of a loom called heddle. It's a thin metal wire with an eye in the centre to keep the warp thread separate from the weft. Sheraz used the 18 K yellow gold to replicate the heddle wires to create a form of a Potaly that were filled with south sea pearls and pear shape cabochon emeralds to make the studs for the pair.
Shehnaz Ismail is one of the Founders of The Indus Valley School of Art and Architecture, Karachi. Mrs Ismail has spent the majority of her working life in academia, including a 13- year stint in secondary education. Since the inception of IVS she has led the Textile Design department resulting in it being amongst the best in the country. She is actively involved in craft revival and has developed and led many training and design intervention programs for non-profit organizations, throughout the rural landscape of the country.
Mrs Ismail has done consultancies over the years in textile design and interiors, some examples have been the Shigar Baltistan Fort Residence and the Khaplu Palace Residence that have been conserved and restored under the aegis of the Aga Khan Trust for Culture. The Shigar Fort Residence was awarded the UNESCO Award for Excellence in Conservation and Restoration in 2009 and the Khaplu Palace Residence was awarded the UNESCO heritage distinction award in 2012. Mrs Ismail has also completed textile commissions for the Presidency in Islamabad as well as the Jinnah International Airport, Karachi. She was commissioned in July 2012 by Alchemy, Bradford Museums and Galleries entitled Silk: Bradford and the sub-continent which resulted in a talk about her work in Bradford with the Textile Historian Brenda King. This was held at Cartwright Hall in September 2012. Her most recent work was shown at Aicon gallery New York, USA titled Pale Sentinels to remember the 70 years after the partition of the sub-continent.
Wardha Shabbir
Wardha Shabbir's practise takes you to the inner consciousness of the human mind. It evokes a state of metamorphosis, where good and evil, hybrid forms of insects, humans and plants play theatrical performance for the human mind. The dream that makes you vulnerable in a state of sleep and wakes the inner consciousness becomes important to you. The Parrot brooch designed by Sheraz Faisal is an extension of Wardha's doodling drawing done while she was working for a large scale work on wasli paper. The parrot with human body/torso is a stunning and unique piece. It's a remarkable example of human skill that has transformed it from 2D surface to a 3D form. This Parrot brooch is made of black diamonds, Tanzanian rubies, emerald, iolite, carved mother of pearls, red coral, turquoise, white pearls and 22, 18K Yellow Gold assembled in the technique of Okas work (hand-beaten).
"Saway" was another preparatory drawing. It was a study of the lotus flower, which Sheraz has converted into a pendant piece. Each petal of the flower was designed individually and set together from base petals at five-degree angle to create the cup-like shape of the flower. Tanzanian rubies, mother of pearls, yellow citrine and diamonds were used in 18K yellow gold to create this piece. The "Labyrinthine", a zig-zag path (pair of earrings), is another example of stylization done in miniature painting and how subject matters are aligned on top of each other to get the illusion of perspective. This piece is done in 18K yellow gold, emerald drops and with hand engraving to make it a real example of contemporary culture.
Wardha Shabbir lives and works in Lahore, where she graduated from National College of Arts with honours in 2011, followed by the prestigious Principal Honour Award. Wardha has been awarded many scholarships, grants and was also selected for an exchange program in Paris, 2010 with (ECOLE) during her Academic years (2007-11). She has been awarded the best young artist Award from AL-Hamra Art Gallery, Lahore, Pakistan (2011). She was the first artist from Pakistan selected for Flacc, Belgium where she initiated a research-based experiment on human Sensorium while transforming a 2D miniature painting into 3D Interactive Environment. In 2016, she became part of the Summer Intensive Program at The Slade School of Fine Arts, London, UK. She has part of DAS (Dhaka Art Summit), Scope (Basel), Contemporary Istanbul (Turkey) and various group and solo exhibitions in the well–renowned galleries of Pakistan. Wardha has recently been shortlisted for the prestigious Jameel Art Prize 2018 of Victoria & Albert Museum, London, United Kingdom.
Maheen Ausaf
Maheen Ausaf a graduate of the textile department from Pakistan Institute of Fashion and Design came on board with VASL and created this remarkable traditional style bracelet titled "Rang-e-Abar" (colour of a rain cloud). Sheraz and Maheen worked closely to develop the weave on handloom (an art form that is dying in Pakistan due to lack of patronage) and came up using Islamic geometric pattern of zig-zag lines as its been mostly used in Mughal architecture to show and create the impression of progression. The Mughal's mostly used this pattern in fountain areas at Shalamar Garden with black and white marble. It became a symbol of progression as the water falls down and sparkles like diamonds. The use of turquoise in weave was an exceptional experiment to give the simple cotton and gold tilla (a thread) weave a royal look. The large central piece of turquoise was designed with Polki Diamonds inlay in 18 K yellow gold to pay homage to weavers of handloom.
Born (1990) in Pakistan, Maheen Ausaf was trained as a textile designer and studied textile design at Pakistan Institute of Fashion and Design, Lahore. In 2012, after completing her bachelors at Pakistan Institute of Fashion and Design, she worked as a designer at a clothing brand Generation PVT Ltd Lahore, Pakistan. She worked for their cottage line involving crafts of hand embroidery.
Currently, Maheen is a tutor for Textile design in Pakistan Institute of Fashion and Design She has always been fascinated by the dynamism of fabrics. She is focused on setting up a label with a clear and unique vision and creates clothing that people are excited to wear and which makes them feel edgy yet elegant, and also creating striking designs for utilitarian woven objects.
Sheraz Faisal
Sheraz Faisal's practice as a designer and fine artist overlap to each other and he showed an enigmatic vocabulary of visuals that are sensuous and edgy. His approach to his subject matter is always very minimal and refined. Bullet is an object of destruction, a universal notion to show masculinity and power. He wanted to negate this idea and convert it into something ornate object for everyday life. His fascination kept him going to discover the symbolism and taboos attached to a bullet. In the last ten years, the war against the terror brought Pakistan into limelight and western media around the world focused to sell the stories of Pakistan, either true or false, bullets or veil, the negative image projected of the country always bothered him. Sheraz was compelled and passionate to see through the haze and do his bit to let the world see the creative side of the nation.
He started collecting empty fired bullet shells to make very simple pair of earrings by adding tiny semi-precious stones or engraving roses on it. His fellow artist admired his creativity and encouraged him. Soon ALIEL discovered and got him on board to get a conscious and professional attitude towards his work and manufacturing. "Oblivion" was created using copper fired bullet shells, gold plated with 18 K yellow gold, pink tourmaline, white pearls and a halo of diamonds added a new character to the piece.
With degrees of Masters in Art Education and Graphic Design, Sheraz Faisal has critically observed his culture, surroundings and politics to establish his art practice. His art practice varies from drawings to digital medium to address his concerns with the audience. His teaching experiences with Pakistan Institute of Fashion Design led him to understand the diversity of jewellery as a medium and its making. He has exhibited his work nationally and internationally    "Art without Boundaries – an Exhibition of South Asian Art" at NM Art Gallery, Dubai. October, 2010. First solo show "Viscous Rivers" at Color Gallery, Lahore 27th September, 2013.
Yasir Waqas
Yasir's work deals with compromises and conflicts, between idea innate and idea implanted, and the damage to the personality and the idea itself. The earrings "Swing I & II" are striking pieces. Sheraz has used the original art works (gouache on wasli) along with diamonds, tourmalines, button pearls and pulki settings in 18 K yellow gold. Yasir Waqas is a miniature painter and works with concepts of spirituality in Buddhism and flights of birds as a symbol of freedom. Both pairs were designed with an image of a mandala and a bird. This is a real celebration of the idea where art and fine jewellery merges and translates well.  "Circle of Life" is a large pendant consisting of a 3D construction of a mandala with seven layers of paper to show stages of spirituality. The piece is a clear statement of minimalist aesthetics done in 18 K white gold and sapphires.
Yasir Waqas was born in Quetta Pakistan and graduated from the National College of Arts Lahore in 2013. He specialised in miniature painting and currently based in Lahore. His distant memories of growing up including learning mechanics of aeroplanes and watching the details of engines. Being a GPL Pilot and a CAA authorized aircraft mechanic felt limited and constrained. Something started a contradictory conflict within. What lies between is a huge haze of confusion, clash of ideas and flight from certain circumstances.
Shakila Haider
Haider uses her art practice to tackle issues of cultural injustice. As an artist she feels that her duty is to look deeper into issues rather than simply observe; one must consider the consequences that each event will have on society as a whole. Political instability, the contentious issue of asylum seekers, and racial discrimination all play a part in her analysis as she acutely draws on personal experience to communicate her thoughts.
Sheraz has used the traditional motive of Shakila Haider's hazara tribe to create jewellery pieces. "Kaptomar" is a simple geometric design that is considered as a symbol of protection. Hazari women drew it on the amulets of the new-born to repel the evil. This geometric symbol became nostalgic for the artist as she was born in Quetta and following the tradition of forefathers became a commitment for her. Shakila has paid homage to her community by using the geometric motive in her own art practice. Sheraz has used the original art works with gold leafing on wasli to create different pieces like earrings, pendants and a bracelet, using 18 K yellow gold, emeralds, rubies, silver foils and highlighted with diamond halo.
Shakila Haider lives and works in Lahore. She is a graduate in miniature painting from the National College of Arts and currently doing a Masters' degree in Art Education from Beaconhouse National University, Lahore. She has exhibited in several solo and group shows. She has participated in artists' talks at several platforms including BQ residency and Khayal festival. In 2015 she was also named as Beaconhouse Emerging Artist of the year at the Lahore literary festival. She was nominated from Pakistan for the prestigious Sovereign Asian Art Prize in 2017.
Ghulam Mohammad
Ghulam Mohammad's interaction with Urdu language is quite unusual and his use of text becomes an exception in his collage works. Ghulam Mohammad hales from a small village in Balochistan, where education is not a priority for anyone. Inhabitants of the area are only concerned to make their daily living, a possible meaning of life to them. For Mohammad, it was a long struggle to get through the barriers of stereotypical mindsets of a culture and get to Beaconhouse National University for higher education. His makes collage works of Urdu text from old found books. The visual may appear gibberish to the viewer, however, each piece has a story behind that he twists, leaving the viewer to interpret its meaning.  "Two Loves I & II" were made using an oval shape wasli paper (traditionally an oval was used in miniature tradition to paint the portraits of Kings and Queens). Mohammad created these portraits in collage and Sheraz transformed the works to its finest and exotic forms to celebrate the VASL of two mediums using emeralds, amethyst, savorite, mother of pearls, Tanzanian rubies, rubellite and covered with sapphire rock crystal glass.
Ghulam Mohammad is a visual artist, born in Kachi, Balochistan, Pakistan, lives and works in Lahore, Pakistan. He graduated with distinction in Fine Arts from Beaconhouse National University Lahore 2013. During his student days, he was selected for Inspire Trip to University of Central Lancashire (student exchange program under British Council). He completed his Masters In Art Education from Beaconhouse National University in 2017. Currently, he is teaching as a Senior Lecturer in Fine Arts department at Beaconhouse National University.
Author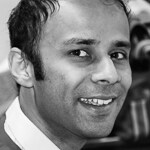 With degrees in fine arts and art education, Asad Hayee has been honoured to be the first Pakistani to be part of International Training Programme of The British Museum, 2012 for curators around the world. Hayee has been curating in the first Pakistani contemporary art gallery, Rohtas 2, since 2007 and liaises with a number of art galleries/museums in Pakistan, India, Nepal and USA to showcase Pakistani contemporary art. As an artist, he has participated nationally and internationally to represent Pakistan.  In 2018-19, he was awarded UNESCO-Faiz Foundation Trust, Consultant for an educational outreach programme for Chitral Museum, Chitral and 2017 The British Museum's Curatorial International Training (Specialization in permanent and temporary museum exhibitions), London. He has exhibited his work internationally including the 2015 "11th issue of PIX, dedicated to photography in Pakistan, titled Surge". Siddhartha Hall, Goethe-Institute / Max Mueller Bhavan, New Delhi' India. He has contributed for online Newsletter of British Museum for International Training Programme since 2013.  He is currently based in Lahore.
Tags