Sayumi Yokouchi, Mari Ishikawa and Mikiko Minewaki are inspired by the short Japanese poetry of Senryu to make beautiful jewellery.
The exhibition Invisible Thread features a collaboration between all three artists and a Senryu poetry artist, Rui Minewaki. Senryu is a form of short poetry Rui has practiced for over 40 years in Japan. Similar in form to Haiku, Senryu references aspects of human nature and emotions based on the theme of living "now"as it follows the structure of three lines with 5.7.5.
In response to Rui's Senryu, artists Mari Ishikawa, Mikiko Minewaki and Sayumi Yokouchi each made a set of new works. Together, their works, along with the words by Rui, become a meta-meaning, one that travels throughout the work in the exhibition, connecting one piece through to the next like an invisible thread.
Mari Ishikawa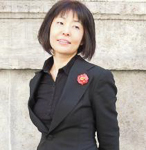 Mari Ishikawa sees a parallel world through her everyday life and she translates them into jewellery."We can't see anything unless we try. Discovery begins with the sense of sight".
Various elements from the natural world as a theme, her jewellery offers tactile sensations which remind us of the physical presence of nature's ever-changing moments. Ishikawa lives in Munich, Germany where she maintains her studio. She has been exhibiting her jewellery with photography worldwide.
一粒の雨 海となり 雲となり raindrops-cloud-ocean-promise
Antique Indian glass beads evoke a feeling of handmade that I carefully wove into a neckpiece. I believe that there will be anew story woven into this piece when it is worn by someone else.
枯れ葉にも きっと来世の 夢がある autumn leaves-future-journey-dream
Various plant forms are portrayed with its shadow in a cast silver pieces that I composed into a brooch. A gleam of light (moonstone) on the surface seemingly expecting a new life.
不揃いの 網目から漏る 笑い声 random-spill-joy-pattern
When jewellery is expressed on a body, the wearer becomes the borrowed scenery or alternatively jewellery, may be the borrowed scenery of the wearer. Shakkei (Borrowed Scenery) is one of the architectural theories in Japan. Ishikawa composed the borrowed scenery of "day" and "night" by using the embroidery techniques over the surface of a kimono pattern which has a representation of the photographed scenery of water surface printed on the kimono silk fabrics.
Mikiko Minewaki
"Finding hidden gems behind the familiar objects" is the theme for Minewaki's work. She selects things, such as soup bowls, disposable lighters, computer parts, pen, plastic models, table and stuffed animals, that are commonly used in our everyday life, and she deconstructs them into jewellery.
She is fascinated by the peculiar moments when familiar objects transform into jewellery and they no longer serve their original function. Minewaki studied jewellery making and design at Hiko Mizu no Jewelry College where she has been a full-time instructor since 1991.
一粒の雨 海となり 雲となり raindrops-cloud-ocean-promise
Various patterns that are created by raindrops are like words playfully made by unscrambling the letters. Each alphabet letter by itself is also playful.
枯れ葉にも きっと来世の 夢がある autumn leaves-future-journey-dream
Though it' s no longer useful for tea making, whisk is in bloom now.
不揃いの 網目から漏る 笑い声 random-spill-joy-pattern
I wish to live my life in good health and happiness with joy over sake.
Sayumi Yokouchi
The notion of finding the voice in the materials is the starting point for Yokouchi's work. She is fascinated by the material handling and infinite expression of tactility offered through the process. Each of her pieces is approached seemingly random, while elements are carefully chosen and arranged in order."I like when the material changes its original form and introduces me a whole new impression as jewellery".
Yokouchi is an independent artist and currently based in Tokyo Japan. She has taught at New York University as an adjunct professor and is invited as lecturer, visiting critic and workshop instructor at many schools worldwide.
一粒の雨 海となり 雲となり raindrops-cloud-ocean-promise
Life has many special facets. Our friendship has come along way, like the pieces of driftwood landed from the ocean.
枯れ葉にも きっと来世の 夢がある autumn leaves-future-journey-dream
I enjoy finding inner beauty out of ordinary things. The inside pattern of the envelope is just as important as what came inside.
不揃いの 網目から漏る 笑い声 random-spill-joy-pattern
There's a saying in Japanese, ichigo ichie, which means one time one meeting. Such saying tells me that I should treasure every encounter of the solder marks as it may not come again.
INVISIBLE THREAD is a travelling exhibition currently shown at Micheko Galerie in Munich, Germany through March 20th, 2021. 
About Sayumi Yokouchi
Sayumi Yokouchi is a Japanese jewellery artist, based in Tokyo, Japan. She explores materials and processes while engaging with her hands through various techniques. She has trained in the US, Europe and Japan.  She's also an active educator in the field of art, design and contemporary jewellery and has taught and gave workshops at many schools worldwide, including US, Europe, Chile, Argentina, Hong Kong, Thai, Armenia, Japan. Her work has been exhibited internationally. Visit www.sayumiyokouchi.com
✿
Like the article? Make it a conversation by leaving a comment below.  If you believe in supporting a platform for culture-makers, consider becoming a subscriber.
Tags