Sofia Björkman and Karin Roy Andersson together exhibit a series of works that animates discarded materials, re-forming nature out of detritus.
Fish by Sofia Björkman
Landscapes is a body of work that can be seen as three-dimensional objects that move between jewellery and body-related works, installations, drawings and paintings. The pieces are built up by layers of three-dimensional drawings, all unique and made with a 3d pen, a technique that shall not be mistaken for digital technology. The used materials are PLA and acrylic paint. PLA is a filament used for 3d printing and can be bought from stores and webshops that provide equipment for 3d technology. It is a bioplastic derived from renewable biomass, from fermented corn starch (probably rice starch in Asia). The material is light and flexible so, despite the larger sizes, pieces are therefore portable and wearable.
The fish are made of Polycarbonate, the same material as plastic water bottles.
Trained as an artist and craft maker, I started to work with digital technology such as 3d printing, scanning, and milling in 2008. A grant made it possible for me to experiment with the techniques. Later 2014, I got a 3d pen as a birthday gift and started a new body of work by making three-dimensional drawings. Even if the material used, PLA, is the same in 3d printing and 3d drawing, the techniques differ markedly. 3d drawing has nothing to do with computers or digital technology but is often associated with it. However, experimental work is the basis for exploring the different techniques. The hand drawings and pieces made are all one of a kind, they are organic and wild, which is not always associated with digital 3d technology.
About Sofia Björkman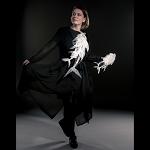 Sofia Björkman is a professional artist from Stockholm. After graduating from Konstfack in 1998, she started PLATINA, a gallery and studio for jewelry art. Photo: Urban Jörén. Visit www.sofiabjorkman.se and follow @sofia_platina.
Bird by Karin Roy Andersson

(A message to the reader in Swedish.)

(A message to the reader in English.)
---
For a long time, I have been working with plastics. Waste material that I search for in garbage containers and ditch-banks, at the hairdresser and in restaurants. The exhibition also shows jewellery and objects made of naturally tanned reindeer skin, in a way also a waste material that is not always used after reindeer slaughter. I was introduced to the material by a Sami colleague and the long tradition of leatherwork and organic material awakens thoughts about heritage, knowledge and maintenance of craft traditions.
In 2019, Monica Blind Påve and I were invited by Anna Sjöberg and Sámi Duodji to collaborate in a project. The purpose is to develop artistically together but also to make arts and crafts made by women visible, to highlight practical knowledge and cultural history.
Monica works with duodji (Sami craft). She works with textiles, sculptures and silver. She is also a reindeer herder which she manages with her husband. We have been working together for four years and at the beginning of March 2023, we will show our third duo exhibition at Nääs Konsthantverk outside of Göteborg.
Monica lives in Övre Soppero. It is a part of Sápmi and it is located northeast of Kiruna in northern Sweden. For this project, she has been visiting my studio in Göteborg and I have also been working with her in Övre Soppero. We have been sharing experiences both from our art and craft practice and from life in general, and we have also made some new discoveries together. It's been a fantastic journey including long rides in trains and cars, swimming in rivers, lots of laughs, craft and new friends.
Karin Roy Andersson, Ulla's II, 2021, necklace, naturally tanned reindeer skin, thread, steel, 43x25x3,5cm
Karin Roy Andersson, Green Exotic Fruit III and IV, pendants, 2022, naturally tanned reindeer skin, thread, textile, brass. 13,5x5x4,5cm/13x5x4,5cm (adjustable length)
I got some reindeer skin from Monica. It was "home tanned" with traditional techniques. I used the reindeer skin in a similar way that I have been using the plastics that I have been working with before. I cut pieces, burn the edges, sew them together, and then build up the pieces bit by bit. The materials have some similar qualities: they are strong and flexible. The plastic I have been using is waste material but the reindeer skin is in a way also leftovers since the meat is the main purpose of the slaughter. Now I buy waste material from a shoe company that makes sami shoes. This reindeer skin is also naturally tanned.
In March, the Covid-pandemic started to affect Sweden, but the whole spring the weather in Göteborg was absolutely wonderful. Crispy mornings, blue skies, trees with new light green leaves, lady frogs walking around with males on their backs and thousands of birds singing. It made a sharp contrast to all the stress, worries and death caused by the virus. I found a lot of comfort in watching and listening to the birds. They seemed very happy, concentrating on eating, mating, building nests and, once in a while, polishing the feathers. I felt an irresistible urge to make birds.
The third trip to Soppero was to make an exhibition showing the result of the first phase of the project. We got to borrow a 200-year-old house from Per-Nils Päiviö where we displayed our pieces.
About Karin Roy Andersson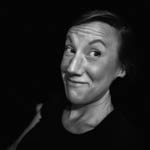 I was born in the northern parts of Sweden but live and work Göteborg. Here I run a gallery for contemporary jewellery – Four. In the back of the gallery, I have a studio that I share with three art jewellery colleagues. Right now I'm working on an exhibition project curated by Elsa Vanier that will be shown during Parcours Bijoux. My work will be inspired by Vincent van Gogh and I have just finished a book about his very interesting and tragic life. Monica Blind Påve and I will also have an exhibition at Nääs Konsthantverk in March so I'm also busy organizing the transport of eight reindeer skulls, all the 1548 km from Övre Soppero. Visit www.karin-roy.se and
Násti by Monica Blind Påve
✿ How is the reindeer herd this year?
The summer and autumn have been great for the reindeer, but now we are worried about the winter. Now there is ice and rain.
✿ Where do you live?
I live in Övre-Soppero.
✿ How did you learn to make jewellery?
I apprenticed in silver at Kristallen in Lannavaara.
✿ What does Násti mean?
Násti means star.
About Monica Blind Påve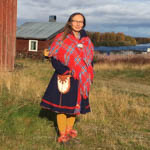 Monica Blind Påve is from a village called Badje Sohppar (Övre Soppero) on the Swedish side of Sápmi. She grew up in a reindeer herding family in an area called Sárevuopmi, where duodji has been a natural part of the living. She is truly grateful for all the knowledge she has learned from her parents, Ánte Juhána Ánne Márjá and Niillasa Lásse. She has continued to practice the traditional duodji and transforming the duodji into something new with traditional Sami materials. She has also taken various educations in duodji, where she has been working with materials such as tree and antler materials, silver and fur, reindeer hide and other fabrics (from Arctic Indigenous Design Archives). Follow @saarevuomit
✿
Like the article? Make it a conversation by leaving a comment below.  If you believe in supporting a platform for culture-makers, consider becoming a subscriber.
Tags