2019 sees the legendary Ghan turn 90 years old. Great Southern Rail decided to celebrate this historic birthday by collaborating with Guildhouse, who selected nine artists to respond to the journey, through short residencies, demonstrations or mini-workshops held with fellow passengers.
As the lucky jeweller, my travels from Adelaide to Darwin included an additional bonus: I could take a friend.
Although I'm accustomed to facilitating workshops in pop-up locations, I was hesitant to teach my usual energetic concept-based "unnatural jewellery" workshops using recycled materials to train travellers who have spent a pretty penny for their 3-day rail experience.
The creative challenge was to deliver an accessible workshop and demonstrations, for up to 30 seat-restricted participants, predominantly in an older demographic, within an hour between dining times and scheduled stops, using only basic hand tools, in different carriages on a continually moving vehicle! Easy, right? So that's when "travelling craft packs" emerged as the solution. These were bags of various natural materials for passengers to experiment, trade, and interact with their travel companions, all housed in a single portable box that could be transported through the narrow corridors of the kilometre-long rocking train.
With a modest budget, I excitedly started sourcing a selection of sustainable Australian materials (where possible) to inspire and charm international and domestic travellers! I foraged for native seed pods during dog walks around the Adelaide parklands, which were then cleaned, dried and frozen for two weeks to eliminate pest transfer. A good friend collected quondong seeds from her parent's property in Broken Hill. I sourced kangaroo leather thonging from a local saddlery and purchased hanks of dyed raffia and jute string. Two weeks before departure, I became concerned participants would be unsure of my "hippy" material selection. I needed something more to add to the Australiana craft box. A flash of inspiration saw me searching online for native timber beads. And who should I find but Chunky, a Kalgoorlie woodturner who creates "chunky" beads from reclaimed timber offcuts sourced around the goldfields. Perfect!
Departure day from Adelaide had arrived, and after a champagne farewell, my mate Jodie and I were escorted to our cosy gold-class cabin and asked to select our tour experiences (my "natural jewellery" workshop featured on the menu). Shortly after I was whisked into the platinum dining car to set up and teach my first workshop. With short notice, enthusiastic passengers joined the experience. After a brief introduction, I quickly realised participants were unsure how to experiment with unconventional materials, and the idea of creating wearable jewellery pieces out of pods, raffia and gnarly beads had them baffled! I quickly abandoned all plans of playful experimentation. Instead, I focused on teaching them individually, step-by-step how to make a simple pair of earrings or a beaded neckpiece. Thank goodness I had my trusty Jodie with me! We were determined to make sure each person made an "outback souvenir", even if some were a bit reminiscent of Kath Day-Knight gumnut earrings! There was one participant who became the "experimenter", an incredibly smiley Swiss traveller who was inspired by my unnatural neckpieces—exhibited on DIY hooks along the carriage's curtain rail—who quietly created a beautiful mobile with every bead and pod she could reach!
The next morning, we stopped at Marla and surrounded a beautiful bonfire to watch a breath-taking sunrise over the desert. While chatting around the fire, I noticed word had spread: there was a jeweller (of sorts) on board, and everyone was going to make a pair of earrings!
My final sessions were intended as "demonstrations". After twenty minutes weaving and beading my "unusual" neckpiece in the first gold-class lounge, I could tell people weren't engaging. I sheepishly offered them the opportunity to make something … and it was on! 24 hours into the journey and passengers were relaxed, laughing with new friends and keen to give this "natural jewellery thing" a go. At times, it was quite a frenzy of making. When materials were low, or I couldn't move to help someone, I would wink or flag down Jodie to assist. Good fun!
This was indeed a magical and luxurious creative journey travelling through the centre of Australia. We visited intriguing national parks, dined with white linen and sumptuous food on the edge of the Katherine Gorge, and stood in awe of ancient rock paintings by indigenous artists from eras passed. But the highlight of the trip was definitely conversing and making with the many participants. Perhaps it was the generation, slow travel (or open bar), but everyone could relate an experience, of using natural materials or handmade craft techniques in some way. After reaching Darwin, the journey continued as we bumped into our new friends at local tourist sites throughout the following days, still proudly wearing their natural jewellery pieces!
Journeys – celebrating 90 years of The Ghan featuring the Ghan travelling artists Thom Buchanan, Daniel Connell, Anna Dowling, Sam Gold, Robert Habel, Kerryn Levy, Haneen Martin, Mervyn Rubuntja, Julie White + Lauren Simeoni was at Adelaide Parklands Terminal. June 1 – August 31 2019
Author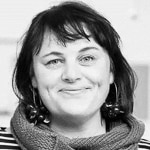 I'm a contemporary jeweller working from my home studio in Adelaide. I also work in Arts in Health as a project officer for the Women's & Children's Hospital Foundation. Coming jewellery activities include an interactive installation for Radiant Pavilion called '#PutaPlantonit' with my Unnatural Jewellery partner Melinda Young, I'm also involved in a performative installation event, the Edible Landscape curated by FELTspace Saturday 19 October 20219
✿
Like the article? Make it a conversation by leaving a comment below.  If you believe in supporting a platform for culture-makers, consider becoming a subscriber.
Tags