Tree of Life is a joint creation of Kamran Afshar Naderi and Leila Farzaneh. The artwork is going to be installed in the near future at the French Institute of the Islamic Civilizations in Lyon, France.
The tree of life is a widespread myth or archetype in the world's mythologies, related to the concept of sacred tree. The concept of the sacred tree can be found in all the ancient cultures and beliefs like ancient Iran, Mesopotamia, Urartu, Buddhism, Ancient China, Christianity, Islam, Germanic paganism and Norse mythology, Jewish religion, European ancient cultures, Mesoamerica and North America, Turkish culture and Hinduism.
In the Qur'an and in the traditions founded by Muhammad, there are numerous references to the sacred trees: Sidrat al-Muntaha with which the Prophet saw Jibril when he was taken to heaven; the great tree in the sky where our Prophet Muhammad saw his father Ibrahim; the tree from which Allah spoke to Moses; the blessed olive tree, the purity of which Allah has described as a parable and the Tooba tree found in Paradise. The tree of life also symbolises human effort in finding common ground between different faiths and beliefs.
The French Institute of the Islamic Civilizations IFCM (Institut Francais de la Civilisation Musulmane) was created in Lyon, France for the wish of the French Ministry of Interior and by the public funds. The centre is dedicated to democratic cultural events, art performances, exhibitions and academic activities.
The work measures 9.50 x 3.5 m (approximately) and contains around 3500 flat hand painted ceramic tiles of different geometrical shapes and 360 irregular pyramids consisted of inox steel mirrors and hand painted ceramic pieces.
The artwork took inspiration from several sources: Kamran Afshar Naderi's studies on Iranian art, ancient iconology, mythology, Islamic geometry, cosmology, astrology and Leila's Farzaneh's long experience in ceramic art and deep knowledge of traditional floral motives, geometrical patterns and Persian calligraphy.
The concept design and engineering of the project have been done by Kamran Afshar Naderi and his colleagues, meanwhile, the calligraphy ornaments, painting and manufacturing of the artwork has been performed at Farzaneh's workshop.
Author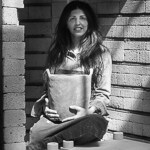 My name is, Leila Farzaneh, 47 years old, born, raised and living in Tehran, Iran. As I went through my university studies learning about Iran's art history and later working with many different materials, I realised my method of delivering my art to the world is pottery. It is the earthy feeling of touching clay, playing and forming it that is inseparable from me and I believe humans in general. Throughout Persian culture, especially poetry, you can find many references about the cycle of life and the connection of humans to soil and clay since upon burial we turn into dust particles and renewed as another life form. This thought process became the foundation of my art. Pottery has been part of my culture for thousands of years. The techniques are perfected but I felt there is room for expansion in other areas such as colors and design. The traditional methods include only seven colors and in time I have been able to create a limitless color palette. During my design process I might depict from traditional elements but in a modern way,because I want to create a version of art that may be used in every day modern life and part of that are the spaces we live in today. I started with dishes and expanded into tiles for architectural and decorative purposes, and now I have added a collection of other items such as light fixtures, mirrors, headboard, chairs and tables, etc. It has taken me many pleasurable years to get here, to have my own studio, two galleries in Tehran and one in Shiraz, where I am the Artistic Director of the business and my husband, Hossein Memarpour, the business manager, with a number of employees in each facility. We both feel it is time for us to expand our horizon and share our modern version of our traditional art with the world.
✿
Like the article? Make it a conversation by leaving a comment below.  If you believe in supporting a platform for culture-makers, consider becoming a subscriber.
Tags