The Stockroom is an iconic space for showing and selling craft especially from Central Victoria. The exhibition New Primitives reflected the active ceramic scene in the region, includingnew works by Sharon Alpren, Andrei Davidoff, Irene Grishin-Selzer, Janetta Kerr-Grant, Kim Jaeger, Kate Jones , Tessy M King, Vanessa Lucas, Tai Snaith, Petrus Spronk, Dawn Vachon and Alichia van Rhijn. We talk with Magali Gentric about her vision for the exhibition.
How did the Stockroom come about?
Stockroom began as Wolf at the Door – a small gallery and shop in Hepburn Springs. As my partner and I both appreciate beautiful objects and contemporary art we wanted to combine these two loves and – as Jason is a practicing artist – make a space to show work by our artist friends and colleagues and give their art a 'second life'. In 2010 we came across this old desolate Butter Factory in Kyneton that was a shell and saw the opportunity to do something on a larger scale,  within a week of seeing the building Stockroom was born. We like to buck the trend of the white gallery space and put contemporary art in the context of the domestic and currently we have a design shop, mens outfitters studios, a dedicated gallery space (a white cube!) and artists studios so there are a myriad of opportunities to display artists and designers work. We want contemporary art to be approachable for everyone, not just the educated middle class or those that are willing to brave the intimidating white cube gallery spaces. As well as living locally in Glenlyon, Jason works out of his artist studio here and our friends and family are always around – the business is really very close to us – an impulsive decision that came from the heart – a decision we are grateful we made!
Why did you choose primitivism as the concept for this show?
The idea for New Primitives came as we were noticing a trend amongst ceramic artists in hand-forming – artists going back to the 'source' or root of making. Not all the works in the show are primitive in form however – thematically there are many links – the ancient wood burnishing technique of Petrus Spronk learned by the Pueblo Indians – and conversely, the loose, playful hand built works of Tessy M King. The unique thing about ceramics is that it's a beautiful age-old technique, yet is still so current and relevant. A medium that began in the Stone Age and is still used in pretty much exactly the same way today.
What guided your selection of the artists and their works?
Artists were chosen for the relationship between their work and the theme of "primitivism". As well as explore the idea of primitivism as a current thread in contemporary art practice, we wanted to show the diversity in contemporary ceramics today and exhibit the work of artists who do not identify purely as "ceramicists" but are using ceramics as a medium for a specific body of work. For instance, Tai Snaith works in a range of mediums from collage to installation and has now begun using ceramics. This interests us because it shows a renewed interest in making rather than process or concept driven artistic practice. Also, there are artists in the show who have always worked with ceramics and use it as the central concept for their work like Andrei Davidoff whose work by way of design and display refer to the history of the "museum artefact". The common thread between all the artists is the thread of primitivism either in form, function or technique.
Can you identify a connecting theme or style in Central Victorian ceramics?
There are many diverse groups and different generations of artists working in ceramics in Central Victoria, However, if I was to link them in some way I would say perhaps a relationship with the landscape is a theme that seems to inform a lot of artists working in the area – whether topographical representations of the landscape (Alichia Van Rhijn) or the mapping of the Moon (Petrus Spronk) or Janetta Kerr-Grant and her images of the landscape painted directly onto the work, landscape is also of course present in the locally sourced materials the artists use.
Author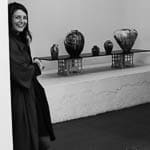 I live in Glenlyon Victoria with my partner artist Jason Waterhouse and our three children. We live in a sustainable "off the grid" house on the Loddon river which is in a constant state of renovation and incorporates an old shipping container and other interesting features we have collected such as early 20 Century church windows. Being part of Stockroom, I am constantly working on our monthly program of exhibitions and curating the shop component of the business. At the moment I am putting together a program of artist-led workshops in our beautiful new studio space and also preparing our sculpture garden for Summer.
✿
Like the article? Make it a conversation by leaving a comment below.  If you believe in supporting a platform for culture-makers, consider becoming a subscriber.
Tags