Nidhi Agrawal documents the dynamic potter's community in Mumbai's enterprising Dharavi neighbourhood.
(A message to the reader.)
---
Kumbharwada – Make in Dharavi was a part of National Institute of Fashion Technology's Craft Cluster initiative in June-July 2015. Through this initiative, NIFT aims to reach out to artisans and craftspersons. The Craft Cluster Initiative program is envisaged to provide the students of NIFT with systematic, continuous and regular exposure every year to the diversely rich and unique handlooms and handicrafts of India.
Kumbharwada is located at the confluence of 90 Feet road and 60 Feet road in Mumbai, Maharashtra, occupying approximately 12.5 acres of quintessential property in Dharavi, the largest slum of Asia. Kumbharwada is the abode to about 500 potters' families who have made their permanent and temporary settlements in this colony. A view of Kumbharwada from a distance divulges an ocean of thousands of compact huts disappearing into the base of Mumbai's towering skyline in the background. It not only encapsulates personal aspirations, struggles and success but also caters to the greater economic interests of the industries across the globe.
During a week-long project, I got the opportunity to walk through the narrow alleyways and lanes of Kumbharwada and interact with the potters who live and work onsite and are owners of pottery business, traders and manufacturers.  Among a multitude of skimpy chats with the potters, my conversation with Nathabhai Chauhan who is a well-known potter, trader and supplier of earthenware, turned out to be informative. He introduced me to a bunch of industrious potters, artisans and their assistants employed at his firm.
On Saturday afternoon, the sun was in its complete glory and the heat was conducive to bake freshly crafted pottery. At Nathabhai's firm, the potters were deployed at the traditional kiln consisting of a brick box with an opening at the top, and a suspended floor made of tiles. I moved forward to click pictures of a man who was extracting earthen pots from the kiln and he screamed, "Don't come near to the kiln". I stopped immediately and managed to click his pictures from a distance. The potter told me that traditional kilns belches out nasty smoke and requested me to visit a restaurant, which sources approximately 10,000 pots a week for selling curd, buttermilk and similar dairy products.
The owner of the restaurant bragged about his acquaintance with Nathabhai and how the colony of potters plays a vital role in his business. While we were strolling through the galleries of Kumbharwada, I came across women who were crafting details on the fancy, decorative items made of clay. Out of curiosity, I asked them about their craft, one of them told me "We have been potters for six generations, mine is the seventh generation, so this craft has been passed down through the generations." It's beautiful to discover a legacy that has shaped the rich craft culture of India and is illuminating millions of houses with lamps and other items crafted with love.
Interestingly, there are two communities of potters in Kumbharwada: Gujarati and Kutchi. They settled here between 1935 and 1940, when they built roofs from clay and were not paid in monetary form. Gradually, they started practicing pottery to make a living and since then, it has become a source of income for the potter families residing in Kumbharwada. The colony is divided into four parts, locally known as wadis and each wadi is designed to produce distinctive products. For instance, the first wadi is accountable for its planter pots and the second wadi is responsible for producing diyas and garbas.
The potters source the clay from Thane, a district in Central Mumbai; first, the clay kneading is done with the feet and it is put in a pit for melting over 15-20 days. Kneading is followed by wedging done with hands to remove bubbles from clay before throwing it into the electric wheel. The clay artists make items on the basis of seasonal demands. They can make 25000- 30000 pots to be sold in the span of 2-3 months.
"What new technology does is create new opportunities to do a job that customers want done." – Tim O'Reilly. Tim O' Reily who is the founder and CEO of O'Reilly Media Inc. and is one of the strongest players in the technology space highlights the importance of technology in creating new opportunities. According to him, "The fundamental design pattern of success with technology is to enable people to do things that were previously impossible." This quote resonates with the pottery of Kumbharwada. Before the introduction of electric wheels, the potters used traditional wheels which slowed down their work. After electric wheels were introduced, their turnaround time has improved magically and they are satisfied with their productivity and speed of work.  Another method is to use moulds. According to Nathabhai, it provides an easy method to produce water pots effectively.
To design pottery is to design a life, for a potter, his craft is his God, the ultimate sophistication. Pottery in the Indian subcontinent has an ancient history and is one of the most tangible and iconic elements of Indian art. Evidence of pottery has been found in the early settlements of Lahuradewa and later the Indus Valley Civilization. Today, pottery thrives as an art form in India.
Many of them expressed their concerns regarding toxic emissions from traditional kilns and requested me to communicate their concerns to the officers of Maharashtra Small Scale Industries Development Corporation. If you visit the place in the evening, you will see a lot of smoke. The traditional furnaces emit toxic gases because they put a lot of waste like sawdust, oil- cotton and pharmaceuticals in the furnace. Furnaces have a lot of additional costs like aluminium sheets etc. It's disappointing that Kumbharwada has been an impressive industry for greater economic interests in the country yet the development is slow and emotionally taxing for the families who aspire to send their children to good educational institutions.
Let us appreciate the craft of pottery. Let us disseminate the art from the top furnace of the funnel to the building blocks of the society to empower the artisans for their rich legacy.
About Nidhi Agrawal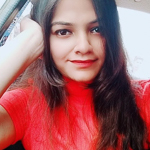 Nidhi Agrawal has a background in communication design in media and entertainment spaces. She strongly feels that poetry is a deal of joy and pain and wonder. She is the author of her poetry collection Confluence. Her work has been published in Chronogram Media, Yale University, South Asian Today, Indian Periodical, Spill Words Press, Rising Phoenix Review and Setu Journal, and elsewhere. She lives in Bihar, India. linktr.ee/Nidhiagrawal
✿
Like the article? Make it a conversation by leaving a comment below.  If you believe in supporting a platform for culture-makers, consider becoming a subscriber.
Tags