Witiya Pittungnapoo admires the unique celadon designs from a Thai maker that reflect the royal Sukhothai culture.
Pui is a female ceramic artist who was born in and lives in Sukhothai Province. She graduated from the Faculty of Liberal Arts, Lampang Campus, Thammasat University, Thailand. She used to work in Bangkok for about ten years before moving back to her hometown in Sukhothai. During her study in Lampang, she was interested in the ceramics industry. Later in 2013, she decided to work with Mothana Ceramics, which is a famous small pottery indigenous to Sukhothai. This was the beginning of her creative chapter as she has since become a full-time ceramics artist running her own business, Paan Sook Ceramics which means sharing happiness in Thai.
The creation of her handmade ceramics is unique. Pui creates her ceramics in a contemporary design by integrating cultural elements, such as architectural ornaments, mythical Thai figures and holy animals. She uses local clay and charcoal to generate a special green celadon glaze particular to Sangkhalok wares, which have been produced since the Sukhothai Era (1238-1438). Sukhothai is the first Siam Empire and in 1991 it was designated a UNESCO World Heritage Park with the UNESCO Creative Cities Network for Crafts and Folk Art in October 2019.
Pui's wind bells were created not only as home decoration, but also as a reminder of how Thai citizens were able to ring a bell to communicate with their Kings during the Sukhothai Kingdom. Interestingly, during special events and her roadshow, Pui set up a DIY workshop that allows customers to create their own bells and decorate them with baked clay beads. Moreover, a wooden tag could be written with blessings and quotes. This interactive activity provides a lifelong learning opportunity for all to create crafts and to learn Sukhothai history in subtle ways. Chiming and tinkling sounds of wind bells will also create peaceful sensations and happiness in peoples' minds.
Pui has recently been concerned more about a friendly environment. She mixes broken glass bottles in different colours with her ceramic wares (baked at 1,250 °C) to create a new product look.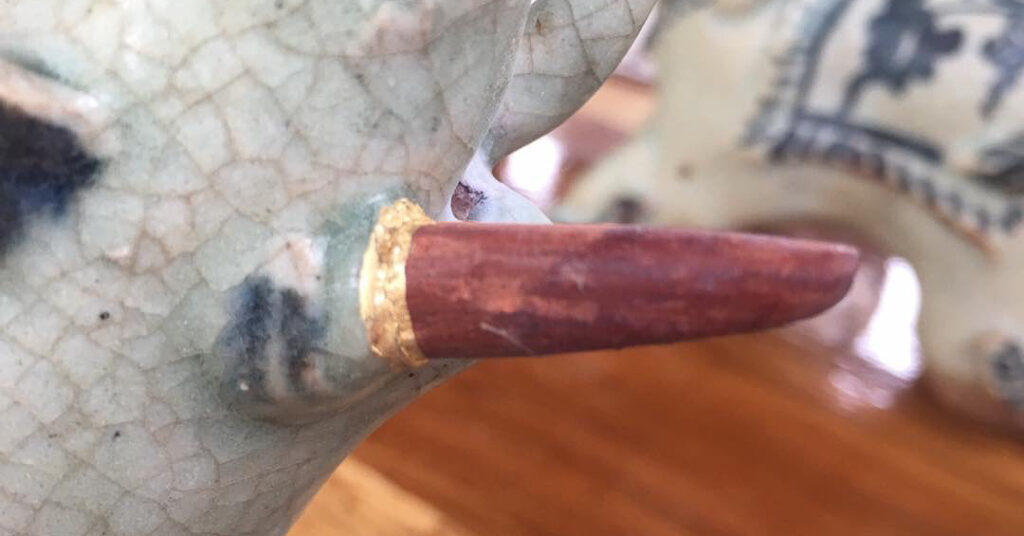 A few years ago, Pui was assigned to repair a small figure of an elephant; as one of its tusks was broken. She decided to replace it with a new wooden tusk by applying a lacquer gilded technique based on Thai wisdom. This successful repair story also maintains its spirit and value in the longer term. For her future challenge, Pui is interested in fixing broken pottery with certain materials across different techniques to maintain their value using more environmentally friendly approaches.
Like: Paan-Sook-Ceramics (170/5 Moo 1, Banloom Sub-district, Muang District, Sukhothai Province, 64000, Thailand; mobile: +66 89-484-9136)
About Witiya Pittungnapoo
Witiya Pittungnapoo is an Associate Professor in the Faculty of Architecture, Art and Design, Naresuan University, Phitsanulok, Thailand. She has worked as a co-focal point of Sukhothai UNESCO Creative Cities Network (UCCN) for Crafts and Folk Art since October 2019. Recently, she has worked on climate change adaptation for cultural heritage preservation based on her research unit in the Lower Northern Region of Thailand. Email
✿
Like the article? Make it a conversation by leaving a comment below.  If you believe in supporting a platform for culture-makers, consider becoming a subscriber.
Tags