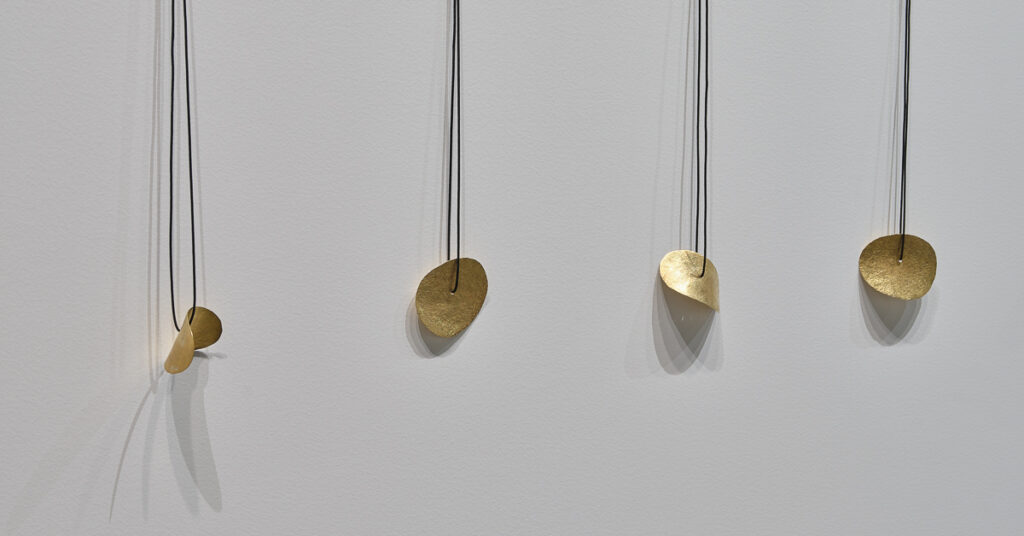 Areta Wilkinson creates jewellery imprinted with stones from her whenua among the braided rivers of Canterbury.
Te wā kua hipa, me te wā e hipa ana. I roto i a Ka Taka Te Wā – Time Passed, ka hopukina te wā mā roto i te hanga taputapu. Ko tā ia mahi he whakaata i tētahi rā o te rāhuitanga i te tīmatanga o te tau 2020, otirā 36 hui katoa. E tohu ana i tētahi rārangi wā i te whānuitanga o te pakitara taiwhanga, e whakaatu ana a Wilkinson i tētahi whakapapa whai pānga, otirā e whai pānga ana tētahi waehanga takitahi ki tētahi atu, i te wā hoki e karanga ana ki ngā kaihanga o mua, ngā tūpuna.
Ka whakamahi a Wilkinson i ngā rauemi angiangi me ngā taputapu kōhatu tawhito, he kōhatu pākuru me te paekuru i tīkina i ngā awa o Ngāi Tahu, hei tārai i tā rātou ake kōrero kaitara o te reanga manotau ki te maitai.
Ko te āhua i hangaia ai te mekameka, kua tāia ki tōna hanga tonu, i tōna mata hoki, mā te tōai i ngā tohu — te patopato, te paopao, te kōpē — i te huringao te wā. E mau ana i ia mekameka te maharatanga o te kōhatu, te tohu o te awa me te pēhanga o te ringa nāna i hanga.
Time passed and passing time. In Ka Taka Te Wā – Time Passed, time is recorded through object making. Each work charts a day of lockdown early in 2020, 36 in total. Punctuating a timeline along the length of the gallery wall, Wilkinson presents a relational whakapapa, where each singular piece relates to the other while calling back to former makers, ancestors, and tūpuna.
Wilkinson utilises fine materials and age-old stone implements, hammer and anvil stones sourced from Ngāi Tahu awa, to imprint their own textured narrative of millennia into metal.
The manner of the pendant's making is drawn in its shape and on its surface, through the repetition of marks—tapping, pounding, pressing—over time. Each bears the memory of the stone, the identity mark of the river and the pressure of the hand that made it.
Text and images courtesy of Objectspace. Photos by Samuel Hartnett. 
How the work came about
✿ How did the idea of Ka Taka Te Wā – Time Passed come about?
A natural development where one body of work sparks the next, or you could say each body of work layers up ideas from the previous investigation.
The black line of the single cord (and the application) is like a horizontal relational family tree diagram. And another visual form of whakapapa (meaning to place in layers) or genealogy.
It's a conversation across time with past practices (cultural production) of tūpuna/ancestors still present. It bounces off the previous investigation, Moa Hunter Fashions.
✿ How did you obtain the stones and tools?
Most are obtained from two main braided rivers of the mid-Canterbury region called Waimakariri and Rakahuri. I live in a village called Oxford midway between the two rivers but by the foothills rather than the coast.
Rivers are identity markers for Maori, and so these rivers are ancestral waterways connected to the local Ngāi Tahu hapū (suburbia) called Ngāi Tūāhūriri whom I affiliate to. These rivers are generally considered mahinga kai: sites of food sources, resources and production.
✿ Where did you make the work and what was the atmosphere?
The atmosphere was NZs first Covid-19 major lockdown, so definitely a slow-motion time. I wasn't that motivated, feeling tired for no reason and not doing a hell of a lot, though spending more time outside in the garden and taking long walks with some food-foraging for mushrooms.
The works were made at home in my studio.
✿ What was the making process like?
It's really simple and tactile and meditative, which is why I wrote it up as a "methodical recitation".
✿ What should people think of when wearing these pendants?
I'd like people to know they have been surfaced using stone tools. Importantly to me, as a connection with whoever wears them, is the knowledge that all our ancestors used stone tools. Whilst I am locating myself through the work to Waimakariri and Rakahuri ancestral rivers, the stone tool is something that links us all.
It's just about passing time. "Time passed, passing time and thinking about times past"
About Areta Wilkinson
Areta Wilkinson's practice explores whakapaipai concepts of Māori personal adornment in the context of bicultural New Zealand. She is concerned with histories of contact, tribal knowledge, genealogical and maker relationships between the cultural production of ancestors and her own objects. Her recent work represents an ongoing investigation into the history of Māori wearable taonga (prized possessions) particularly in regard to her iwi community in Te Waipounamu, the South Island. Areta's practice extends over 28 years. Her work is seen in national galleries and collections such as Auckland Art Gallery, Auckland Museum, Dowse Art Museum and Museum of New Zealand Te Papa Tongarewa. A design lecturer in jewellery 1995-2008, she completed a PhD in Creative Arts through Massey University Te Putahi-a-Toi School of Maori Studies 2014 and is an independent artist. She is represented by Two Rooms Gallery, Auckland and The National, Christchurch. Visit www.paemanu.co.nz/taurakatoi
✿
Like the article? Make it a conversation by leaving a comment below.  If you believe in supporting a platform for culture-makers, consider becoming a subscriber.
Tags