To reach Jessica Ogden: Still, you have to push past market stalls of textiles and fish in north London's busy Church Street. The context, curator Carol Tulloch explains, was an important component of Ogden's support of this intimate exhibition drawn from her personal archive. Tulloch's curatorial strategy—with Ogden's blessing—is unabashedly biographical. Four key conversations between the two women over the past several years have guided the exhibition's curation; the most recent during Tulloch's ten-day visit to Ogden's family home in Ocho Rios, Jamaica where Ogden returned to live after the death of her mother in 2015 and step-father a year later. In her catalogue text, Tulloch explains, "I wanted to provide Jessica with the freedom to re-engage with the designs she produced between 1993 and 2006… to reflect on that period of her life, and consider how that moment is a hinge between her life before and after she began designing commercially in the early 1990s." (catalogue n.pag)
Ogden's London based fashion label declared bankruptcy in 2006. "Crafter and grafter" is the phrase British Fashion journalist Tamsin Blanchard coins for her. But thanks to the prescience of Jean and Judith Touitou, owners of the French brand A.P.C. with whom Ogden has enjoyed a longstanding collaboration, her archive was packed and for the past decade stored at the A.P.C. Paris headquarters. Understandably, memory and its particular qualities and burdens is writ large in this curatorial exercise. Ogden reflects, "In this moment of looking back, especially at the pieces that I stand behind [,] they really are to do with textiles, and working within that come out as clothes." Ogden first studied at the Rhode Island School of Design, before moving to London where she settled at the age of eighteen. In the early 1990s, during her final years as a student at Byam Shaw, she volunteered with Oxfam's NoLoGo project. "By my last year in college… I made work back in art school with what I found there [NoLoGo], and ended up doing a final project of both a 'conceptual' piece, and a very mad fashion show with another student. It was clear by then I wanted to sew and only sew."
This exhibition, designed by Judith Clark, evokes a sense of the archive and memory without literally suggesting the viewer has entered a time capsule of Ogden's studio. Spread over the ground and basement floors of a vacant retail shop, clothing, fabric collections and samples are gently pinned and stitched onto upholstered tables and dressed on mannequins. If these objects feel as though they have been found mid-making, it is less because this is an exhibition about process and more a trademark of Ogden's distinct aesthetic. Below street level, eleven white slip dresses seem to move from the scale of a toy or study sample to child and upwards. Nearby irregularly shaped shelves are packed and stacked tight with folded and rolled colourful patterned cloth and clothing. Clark is a master of fashion exhibition design and her exhibitions move beyond bland formats even when working to very modest budgets. (The credits to this exhibition read like a list of contributions in kind—testament to tenacity and commitment overriding funding constraints). Here the lower room is organised by colour—packed into the wall-mounted shelves and stitched onto horizontal upholstered trestle tables. The garments presented vertically—the slip dresses of descending size as well as six women's dresses—all share a palette of shades of white. The latter are accompanied by a cloth backdrop of black and white photography secured with upholstery pins of Ogden's clothing in action: models (often friends) dancing and moving. If there is any lingering sense of melancholy to be felt, this image and the series of workshops open to the public running upstairs, spirit that feeling away.
Back on the ground floor, hinged display panels allow you to flip through material delicately stitched to archival backing. (The only objects held under glass are potentially pocketable exhibition invitations and sewn jewellery downstairs.) Four mannequins look out through the store windows. Each cleverly layered by Ogden with multiple garments. In place of didactic exhibition labels hand writing on a chalkboard propped against the wall tells us: "It was mum who taught me to sew, that's from her making her own clothes. That link to me makes this whole journey of sewing make sense." (catalogue n.pag.)
Tulloch trusts her strategies of life writing and auto-ethnography to the full and the result here is a real sense of curatorial intimacy. Aprons, collected avidly by Ogden (and by coincidence Tulloch who also has family ties to Jamaica) are mentioned as a new swapping project she soon intends to undertake from her old/new home. Thrift is complex in this atmosphere with the spectre of the label's 2006 bankruptcy impossible to ignore. But anachronisms are unfair. Downstairs lies a wrap skirt with one line of buttons at the waist made entirely of fabric swatches. Requirement and desire tread a fine line. Viewers in 2017 of Ogden's archive need to remember that reuse has been Ogden's constant strategy—from her early years as a NoLoGo volunteer through to her ongoing collaboration with A.P.C. creating quilts from the company's unsold stock.
Of her return to Jamaica, she acknowledges that "this land is beautiful and it's giving all the time. But you also have to give back. There is an exchange going on." (catalogue n.pag.) Ogden's acceptance of exchange is apparent in her relationship to her archive today, but also from the outset of her career in her treatment of materials. Tucked towards the back of the street level gallery and pinned to an upholstered table is a black skirt from Ogden's Whisper Collection. The skirt's cream coloured lining appears on the outside of the garment and was quite literally falling apart from the time it was made. Today Ogden remains unconcerned by the hands that may touch the paper-thin surface—accepting that even material immortality may not be desirable.
Jessica Ogden Still, 31-33 Church Street, London, May 26 – June 23, 2017
Author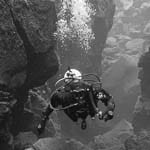 Jessica Hemmings writes about textiles. On rare occasions she writes about other things, as long as they are interesting. She is Professor of Crafts at HDK, University of Gothenburg, Sweden. www.jessicahemmings.com
✿
Like the article? Make it a conversation by leaving a comment below.  If you believe in supporting a platform for culture-makers, consider becoming a subscriber.
Tags