Nina Coimbra's tableware captures the feeling of "Brasildade", the poly-sensory experience of life in Brazil.

(A message to the reader.)
---
After a long history as a successful artist, Nina Coimbra took up ceramics recently during the pandemic.
I didn't have the possibility to draw things and produce them at the speed that I desired. So the ceramics is a possibility where I can think of something, draw it out, then make it and have the finished product in my home so I can modulate the creative process
In 2022, she took up a residency in Mexico to work with one of the families who produce the classic Tree of Life ceramic. She describes it as a "horizontal exchange", which contrasts with the usual relationship where the designer commissions work from the maker, with little scope for feedback or dialogue.
She has recently taken this further with a range of tableware that she designed and made with the assistance of the Olaria workshop. She describes "Dia de Feira" (Day of the Fair) as "a meeting of the most traditional in Brazilian ceramics with the "technicolour" contemporary crystal glazing." The terracotta plates have been lightly polished with a thin slip and then decorated with a strong glaze.
For Coimbre, her tableware gives material form to the sensory manifestations of Brazilian culture, including its musical rhythms.
"Brasilidade" is pure esthetics in its full meaning. It arrests the world through the five senses. Originating from the Greek word "aesthesis" meaning perception and apprehension through the senses. Brasilidade is the feeling one has when hit by goosebumps when something beautiful reminds you of the "samba" from the "morro" or the choro" music from the bar. Brasilidade is when the smell of "acarajé" meets The artist Caribé's stroke and we hear Caymmi singing " o maaaaaaar…"
About Nina Coimbra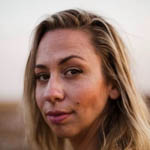 Born in Brasília in 1984, Nina Coimbra is a Brazilian artist. She studied fine arts at the State University of New York and continued her studies in art restoration and conservation at ldm Firenze, Italy. Nina is a multi-artist ranging her technical skills to many different media, from furniture design to painting and ceramics. She has been a co-curator of international exhibitions such as "Casa Brasil NY 2022" and Design Week Mexico 2022. Visit www.ninacoimbra.com and follow @ninacoimbra
✿
Like the article? Make it a conversation by leaving a comment below.  If you believe in supporting a platform for culture-makers, consider becoming a subscriber.
Tags