Next May 2019, the Australian ceramics tribe will gather for the 15th iteration of the Australian Ceramics Triennale. For the first time in its 40 year history, this significant national event will cross the Bass Strait; bringing to Hobart—for the purposes of dialogue and exchange—makers, writers, thinkers, and enthusiasts from across the spectrum of contemporary ceramic practice. The conference will be based around four interlinked themes: HOLDING SPACE MAKING PLACE. These themes provide a lens through which each of us might interrogate his or her practice. They are broad enough to be universally applicable whilst specific enough to allow for a deeply personal response.
In looking at the work of Tasmanian ceramic artists, one can see how these themes evolved. The notion of place is a significant influence for a number of makers. Following are examples of four Tasmanian artists who shape their understanding of and response to place through clay. Working with the materials of their craft in diverse ways, each is deeply informed by this island state they call home.
Neil Hoffmann has worked with clay and fire for over thirty years. His practice, based in Reedy Marsh in the north of the state, has evolved from functional pottery to a sculptural investigation into time, place, and what it means to be human. Using not just clay, but also the material from which clay has evolved, Hoffmann works with whole dolerite rocks sourced from his immediate surrounds and fired with wood. Dolerite is the igneous rock that forms Tasmania's distinctive mountains and has influenced not only the settlement and development of the state, but also its unique biology. Hoffman's sculptural forms show nothing of his hand as the maker. Rather, he allows the symbiosis of material and process to speak, evoking the primordial forces of creation and transformation as the raw elements of earth and fire meet in the crucible like atmosphere of the kiln.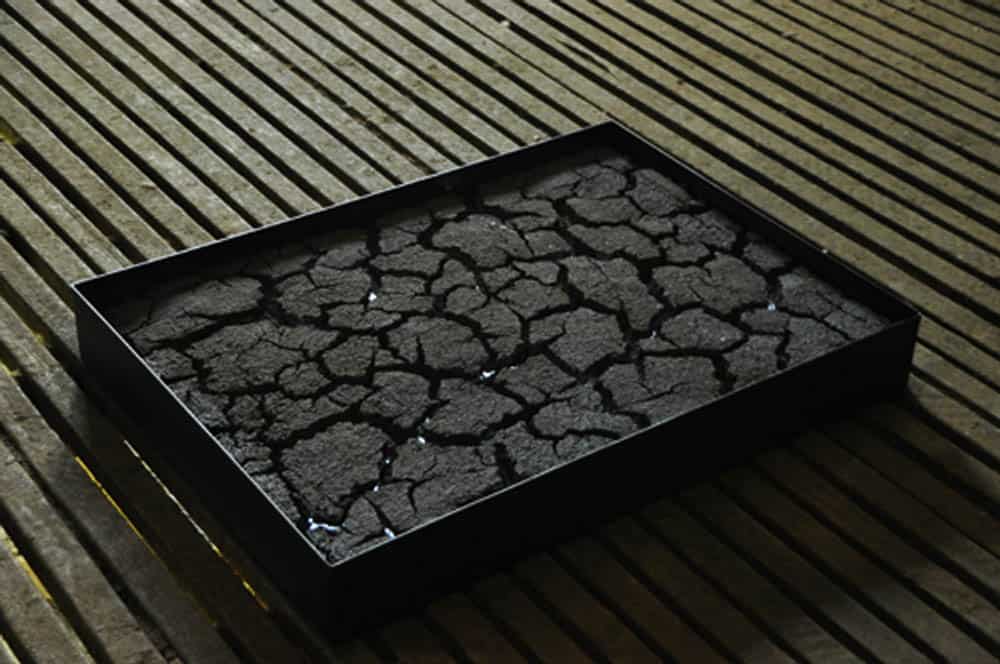 The transformative nature of elemental forces is also employed in the work of Serena Rosevear. While Hoffmann's work requires the intense atmosphere and heat of a wood kiln, Rosevear's relies on the cool, passive, but no less exacting laws of nature and time. Based in Launceston, a small but historically rich city balanced between the agricultural northern Midlands and the port of the Tamar Valley, Rosevear is keenly aware of the impact of colonisation on the Tasmanian landscape, and, conversely, of the effect of the landscape on the people who dwell within it. In works such as Native (2016), Rosevear examines the constant interplay (battle, perhaps) between farming practices and the power of nature to transform the land—a dynamic between man and nature, which each farmer knows intimately. Rosevear shifts the local black clay just slightly out of context, from the grounds of the historic Marathon property to a box frame on the raised slatted floor of its shearing shed. She allows nature to take its course: she invites us to consider both the beauty and the trauma inherent in this relationship.
Whilst Rosevear's work suggests a "pushing back" by nature, Jane Bamford's sculptural work asks us to consider nature's ability to do so in the face of sustained assault. Working from her coastal home south of Hobart, Bamford is inspired by her observation of coastal and marine landscapes and a concern for the effects of climate change on the fragile ecosystems of Tasmania's unique marine environment. Working predominantly with porcelain—the medium for her thoughtfully designed functional wares—Bamford incorporates elements of the natural environment in her sculptural work. Dried bull kelp woven with porcelain urchin spines form delicately precarious weavings. These are emblematic of the fragile ecosystems tipping into collapse as warmer eastern sea currents see the long-spined sea urchin migrate south. Their unchecked population growth and destructive grazing on kelp forests renders large swathes of the marine environment barren.
Ben Richardson also works on the coast, describing his place on the edge of the Southern Ocean as one of eroded cliffs and refracted ocean swells. Since first studying ceramics in the 70s Richardson has forged a career in functional tableware—what he calls pragmatic expressionism. His vigorously place-based approach is informed in part by the words of another well-known Tasmanian artist, Olegas Truchanas;
If we can revise our attitudes towards the land under our feet; if we can accept the role of steward, and depart from the role of conqueror…
Richardson's clay bodies are prepared from local clays. Fuel is harvested from his land in a sustainable rotation of native woods, and glazes are made from local rocks, clays, wood ash, and ochre. This ethos of sustainable practice is further elaborated in collaboration with local food establishments, such as the Agrarian Kitchen in the Derwent Valley, who echo Richardson's desire to offer high-quality produce from local sources. The tableware he created for this well-known eatery, farm and cooking school were glazed with feldspathic sandstone and dolerite rocks from the area, thus connecting the ceramic materials of place with produce of place.
The strong presence of and affection for place demonstrated by these Tasmanian artists suggest that place is inseparable from being and being inseparable from making. We look forward to sharing this unique quality with visiting guests from around Australian and the world, each of whom will no doubt bring their own deeply personal sense of place to the Triennale in 2019. To finish with the rest of those words from Olegas Truchanas;
If we can accept the view that man and nature are inseparable parts of the unified whole, then Tasmania can be a shining beacon in a dull, uniform and largely artificial world.
Authors
Dee Taylor-Graham and Janny McKinnon are the creative force behind Waldie's School for the Ceramic Arts. Located in Snug (yes, that's really a place), south of Hobart, Waldie's is an ever-evolving pottery, permaculture garden, and kitchen – a place for the sharing of all forms of creative endeavour. Dee is also on the organising committee for the Australian Ceramics Triennale – she and her colleagues look forward to welcoming artists from around the country and the world to Tasmania in 2019.
✿
Like the article? Make it a conversation by leaving a comment below.  If you believe in supporting a platform for culture-makers, consider becoming a subscriber.
Tags