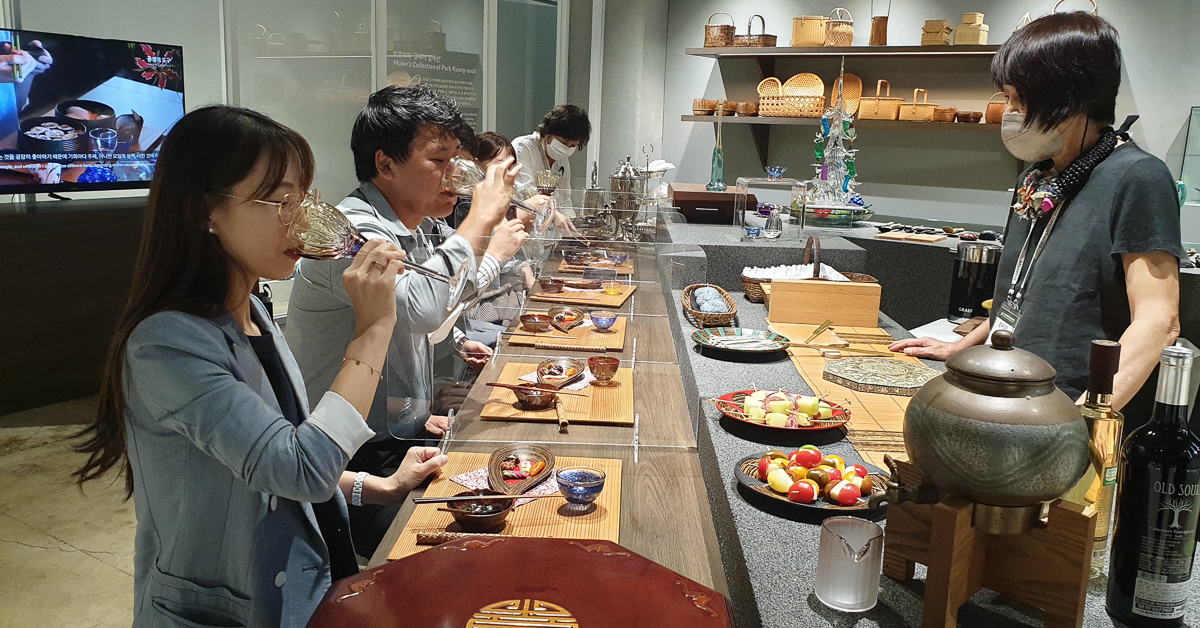 Misun Rheem explains why she brought a dinner party into the Cheongju International Craft Biennale
The 2021 Cheongju International Craft Biennale took on the theme Tools for Conviviality. The curator Misun Rheem divided this theme into four sections, including "Life: The Aesthetics of Everyday Life". She describes it:
Life refers to the force through which organisms breathe and move. In order to sustain life, humans must undertake to experience the outside world under their free will. Activities for sustaining life comprise living, and living leads to social activities and hobbies based on repeated daily activities connected to food, clothing, and shelter. Crafts are both basic items for everyday living and special objects that can reflect individual tastes. Following the outbreak of the recent pandemic, we have increasingly begun to examine our surroundings and lives in detail, and this has newly illuminated the value of ordinary everyday life.
"Life: The Aesthetics of Everyday Life," emphasises the interdependence between humans and nature and introduces craft works from everyday life that are required for harmonious coexistence. To effectively convey the value of everyday life, it unfolds in the order of crafts relating to clothing, food, shelter, and upcycling. From fashion and art accessories that reveal a social and aesthetic identity through their tiny sculptural forms, to tableware, furniture, and lighting that satisfy both functionality and aesthetics, to upcycled crafts that give a new regenerative meaning to abandoned objects, this section introduces works that enrich people's daily lives.
Among the artists featured in this section, she included a personal collection of the ceramicist Kyungsook Park. These were objects she used every day in entertaining guests in her home at her legendary dinners. Misun Rheem explains her reasons for including this work.
✿ First, can you say how you discovered Kyungsook Park's collection?
I knew her for a long time. When I was a director of the Clayarch Gimhae Museum, she did a residency program at the museum. Since then I had a chance to visit her home to see her collection. She usually uses all the collection as her tools for dinner parties. She is an excellent cook and served the ceramics she made with other craft vessels and tools together beautifully.
I was thinking of having a workshop to present craft culture on the occasion of the exhibition quite a while ago. This time I asked her to show all her collection with a workshop to present craft culture on-site and live online. She accepted my proposal and here we go—Be My Guest- Craft Banquet.
✿ Do you see a connection between her collection and the ceramic works she makes herself for the exhibition?
Yes, very much so. She is a ceramic artist and makes tea utensils like bowls, pots and jugs, therefore she researched other crafts for her works.
She collected beautiful things mostly which have been made by hand and individual craftsmen she likes from all over the world. She is a world traveller. Also, she practices flower arrangement, tea ceremony, and food styling. She loves cooking and drinking alcohol.
Most of the installation comes from 45 years of her life. I knew her very well and she lives exactly like in Be My Guest- Craft Banquet.
About Misun Rheem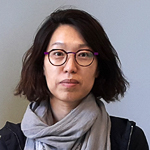 Misun Rheem lives and works in Seoul, South Korea. She worked with the Korea Crafts and Design Foundation (KCDF) for the Korean contemporary crafts exhibition at Les Arts Decoratif, Paris and currently teaches at the Kook-min University Graduate school as well as Sook-Myeong Woman's University graduate school as a lecturer.
About Kyungsook Park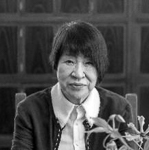 Kyungsook Park, who majored in ceramics and has held 15 solo exhibitions, works in a wide spectrum of projects ranging from formative installations to ceramics for use in everyday life. In particular, she gives lectures featuring her own ceramic works to help more people enjoy crafts in diverse ways, teaching us how to utilize ceramics in everyday life. Also, as a creator and craft afficionado with a sophisticated taste, she exhibits the crafts and folk objects she has collected locally and around the world over the past 45 years. Park has submitted two types of work to this exhibition: her own ceramic works, and the hundreds of pieces of crafts and folk objects by local and global artists that she has collected over the decades. Her ceramic works are composed of three different types of ceramics, which started with the comparison of a person's character to a bowl. Just as bowls have generous or deep capacities depending on their functions, everyone is imbued with their own sense of beauty despite their differences in personality and characteristics. The crafts collection which includes the silver cutlery, wooden tableware, metal kettles, ceramic teaware, woven bamboo baskets, and glass goblets that she uses in everyday life, will change the audiences' perception of crafts from objects for appreciation into objects for use.
✿
Like the article? Make it a conversation by leaving a comment below.  If you believe in supporting a platform for culture-makers, consider becoming a subscriber.
Tags